Last week I travelled to Disney World for the grand opening of the expanded areas of Fantasyland. And while the new rides are awesome, my favorite part wasn't a ride, it was a restaurant. Specifically, the building.
The Be Our Guest restaurant is housed in The Beast's Castle, from Beauty and the Beast, high on a hill.
The walk over the stone bridge to the castle does an excellent job of setting the mood for what's to come.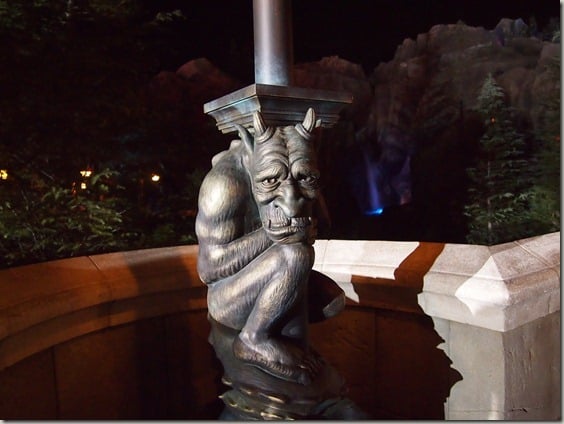 And once inside, you're transported into the world of The Beast. There are three dining areas: the beautiful Rose Gallery, the dark and mysterious West Wing, and of course, the Ballroom.
The Ballroom is one of the most beautiful rooms I've ever been in. From the gorgeous ceiling to the mosaics on the floor to the "view" of the French countryside with falling snow, no detail has been left out.
The Rose Gallery is just as beautiful, but more intimate. The centerpiece of the room is a giant music box, with Belle and The Beast dancing on top. The same music from the ballroom can be heard in the Rose Gallery, but re-scored for a music box and in sync with what's playing in the other rooms.
The West Wing is dark and mysterious, and the music has a foreboding, sad tone. Details from the movie are everywhere.
For lunch, which is more casual, guests put in their orders on touchscreens and the food is brought to them at their tables. The evening meals are more formal, without the touchscreens, and it's worth noting that the Rose Gallery is closed during dinner.
The menu includes dishes inspired by Beauty and the Beast, and everything is made to order. Freshness is a focus, with even the ketchup being made from scratch.
And I'm thrilled to say that I was able to try the gray stuff, and it's delicious! Rather mousse-like.
I also ran into The Beast on the way out, and told him a secret in his furry ear.
Originally posted on Selfish Mom. All opinions expressed on this website come straight from Amy unless otherwise noted. This post has Compensation Levels of 7 and 16. Please visit Amy's Full Disclosure page for more information.