My son's summer birthday has never worked out all that well. It's at the end of July, when so many of our friends have fled Brooklyn for The Hamptons, upstate NY and Cape Cod that one year, we had to cancel his party altogether because not one person could come. Try explaining THAT to a kid.
After that horrible experience we made his party smaller – quality over quantity. He got to pick a few friends (who we verified would be in town) and go to a baseball game or something like that. That seemed like a good plan.
Then, this year, our kids wanted to go to sleepaway camp. And with Jake's birthday right smack dab in the middle of summer, there was just no avoiding it: he would be gone for his birthday.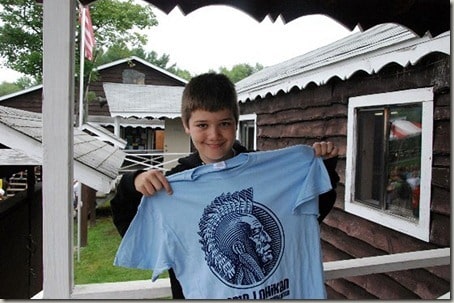 Jake getting his special camp birthday shirt
He said that he was OK with this. The camp made a big deal out of birthdays, we would arrange to call him (which turned out to be a bad idea), we sent him presents, and we'd make it up to him before and after. We took the kids to Olive Garden the night before they left for camp (his usual birthday request), and today I'm making him some Devil's Food cupcakes with a peanut butter center (OMG yum). And we'll do the whole candle and singing thing.
But it's just not the same. It's not the same as getting to treat him special all day, of planning a party and a big dinner and watching him unwrap presents, giving him big birthday bear hugs, and watching him pause for a moment before blowing out his candles because kids take those birthday wishes very seriously!
We'd toyed around with celebrating his half-birthday before, but camp is finally making us officially pull the trigger: I just put January 30th on the calendar as his big day, and I'm excited. He'll finally be able to give invites to his class, and bring in cupcakes just for his birthday (instead of the "Summer Birthday Cupcakes" I'd been bringing in the last few Junes – it had been his idea to share the honor with the other kids in the same situation).
And he's really excited that he can do something "wintery" for his party now – ice skating maybe. But mostly, I think he's relieved that he won't be choosing camp over a special day with his family every year. Every kid deserves to be fussed over on his birthday.
Originally posted on Selfish Mom. All opinions expressed on this website come straight from Amy unless otherwise noted. This post has a Compensation Level of 0. Please visit Amy's Full Disclosure page for more information.