This post may contain affiliate links.
If you buy something from one of the linked sites you won't pay anything more, but I might make a commission.
I'm proud to say that this is the fourth year I've supported my friend Shari's Bake It Happen Fundraiser. Shari's mom died from breast cancer eight years ago, and Shari and her sister Stacy started their charity to honor their mom and raise money for breast cancer research.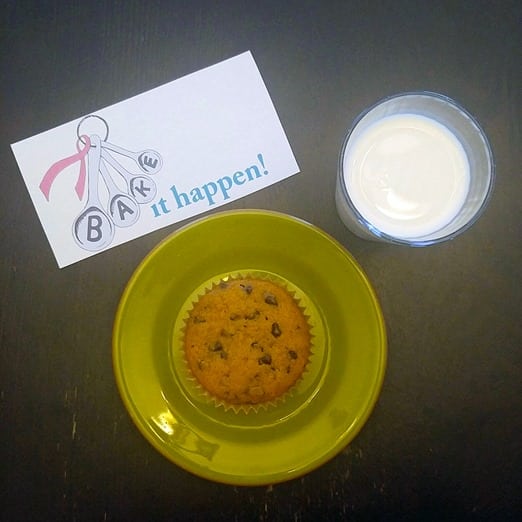 The great thing about their fundraiser is that they're not asking any of us to donate money! Just go to the Bake It Happen website and sign up, then you'll get access to some great recipes (including pumpkin recipes because hey, it's fall!). Pick one, bake it, and then share the picture on social media with the hashtag #BakeItHappen. That's it! You're done!
But how does that raise money? For every picture shared with the hashtag, an anonymous partner will done $5 to the Pink Pumpkin Patch, and organization that gives out grants for breast cancer research! You've got until the end of the month to participate, so only until midnight Monday. But that gives you a whole weekend to bake! And you can share as many pictures as you like.
Plus, each time you post you'll be entered to win an iPad mini and 100 Baked By Melissa cupcakes!
Last year, Bake It Happen raised an incredible $20,000.
This year I decided to make Pumpkin Chocolate Chip muffins, one of the recipes you'll have access to if you sign up. It's a great recipe for two reasons. One, the muffins were DELICIOUS. Two, the recipe is super easy and only uses one bowl!
I'm actually out of town at a conference right now, so I did my baking earlier in the week, and brought some of the muffins into the studio when we recorded a Parenting Bytes podcast episode with Shari and Stacy.
Muffins are generally one of the easier things to bake, but here are a few of my best muffin baking tips (and they work on cupcakes, too!).
Use a kitchen scale whenever possible. I used it in this recipe for the pumpkin and sour cream, two ingredients that are difficult to measure in cups and spoons.
Measure out muffin batter with an ice cream scooper. You'll get the same amount each time, without messy drips!
Always test for doneness by pressing gently in the center of a muffin with your finger. If the muffin springs back up, it's done! But if there's even a tiny bit of an indentation left, it's not done.
Don't let muffins sit in hot pans, it can make them tough. Take them out as soon as you can handle them safely.
Happy baking! Don't forget to sign up at BakeItHappen.net. And if you get a chance, check out some of the other Bake It Happen posts!
Click tweet to share on Twitter:
#BakeItHappen: you bake, someone else donates to breast cancer research! via @AmyOztan Click To Tweet
Click image to share on Pinterest:
Click image to share on Facebook: