This post may contain affiliate links.
If you buy something from one of the linked sites you won't pay anything more, but I might make a commission.
I like to think my normal egg salad recipe is really good. Mayonnaise, onion, dill, mustard, salt, and pepper are all mixed with hard boiled egg for creamy eggy goodness. And it is. But Bobby Flay's egg salad recipe is another thing altogether: spicy and tangy with some crunch, it's a hearty, tasty egg salad that will make you the hero of any bake sale or brunch.
My favorite thing about this egg salad? Bobby Flay made it for me personally. I was at an event last year for Hellmann's Mayonnaise that was presented to me as a lunch event. So, I didn't eat lunch before I went. I was hungry when I got there, and by the time the cooking demonstration started I was downright starving.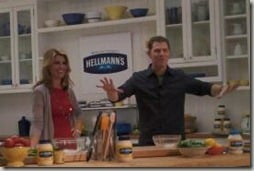 Bobby Flay (assisted by Lori Laughlin – that's right, Uncle Jesse's girl) started by saying he was going to make us three different dishes. The first one, a chicken gyro, looked fantastic, but had meat in it. I salivated a little as it was offered to me, but I had to turn it down because I'm a vegetarian. The second dish – a mini-taco – had some kind of fish in it, and my stomach was starting to hurt.
When he announced the third dish, egg salad, I got excited. I LOVE egg salad! Finally, I'd get a little bit to eat.
I watched in horror as he crumbled turkey bacon into the bowl.
This was too much. Honestly, I was a little pissed (probably hunger-induced – I wasn't quite thinking clearly). It's not like I wandered into this event off the street. I was invited. My about page states clearly that I'm a vegetarian. I don't usually check to see what's being served at these events because there's always something without meat in it.
So, I raised my hand, and in front of a whole bunch of bloggers I know, I confessed that I hadn't been able to eat any of the three yummy-looking dishes he'd made, and could I please have something, anything? I honestly wasn't asking him to make me anything special. I just thought that since my stomach was audibly growling at this point and I was feeling light-headed, he could toss me an English muffin or a slice of cheese.
There was still one hard-boiled egg sitting there, so Bobby and Lori (yeah, I'm first-naming them – they cooked for me!) whipped up some bacon-less egg salad, just for me! And Bobby himself served it to me. And I'm pretty sure I turned a shade of red I'd never turned before. But it was worth it: it was delicious. I've made it about a dozen times since.
I've made a few small changes to the recipe. For one thing, I use Morningstar Farms Breakfast Strips instead of turkey bacon. I only have green onions if I'm planning on making this egg salad ahead of time, so I often use regular white onion (but it's better with green). And I don't tend to like cheese with my egg salad, so I make this on a variety of breads, usually with lettuce and tomato. But trust me, this is a killer egg salad recipe, no matter how you serve it. You can find Bobby Flay's Egg Salad recipe here. Hellmann's seems to have removed the recipe, so I've reprinted it below.
Why am I just getting around to posting this now? Because I made it today, and wanted to share.
EGG SALAD, CHEESE & BACON ON TOASTED ENGLISH MUFFINS
A Bobby Flay Recipe
Serves: 4
Prep Time: 15 Minute(s)
Cook Time: 20 Minute(s)
Ingredients:
6 large eggs
1/4 cup Hellmann's® or Best Foods® Real Mayonnaise
1 Tbsp. Dijon mustard
1 tsp. sweet paprika
1/4 cup thinly sliced celery
1 green onion, thinly sliced
4 slices turkey bacon, crisp-cooked and crumbled
4 slices cheddar or Swiss cheese (about 3 oz.)
4 tomato slices (optional)
4 whole wheat English muffins, split and toasted
Instructions:
Cover eggs with cold water in small saucepan and bring just to a boil over high heat. Cook 1 minute. Remove from heat, cover pan and let stand 15 minutes. Drain and rinse under cold water or place in bowl and refrigerate until ready to use. Can be made 1 day in advance.
Combine Hellmann's® or Best Foods® Real Mayonnaise, mustard and paprika with wire whisk in medium bowl. Season, if desired, with salt and pepper. Chop eggs, then stir into mayonnaise mixture. Gently fold in celery, onion and bacon.
Arrange muffins on baking sheet, cut-side up, then top 4 halves with cheese. Broil just until cheese begins to melt. Evenly spread egg salad on remaining muffin halves, then top with cheese halves.
Originally posted on Selfish Mom. All opinions expressed on this website come straight from Amy unless otherwise noted. This post has a Compensation Level of 1. Please visit Amy's Full Disclosure page for more information.