This post may contain affiliate links.
If you buy something from one of the linked sites you won't pay anything more, but I might make a commission.
I love cruising. I love only unpacking once but getting to visit different places. I love the days at sea when I can relax, eat, go to the spa, eat, sit by the pool, eat, watch a movie, eat…you get the idea.
There is one part of cruising that is stressful for me, though, and that's getting to the boat on time. It's not like a hotel where if you arrive a day late the hotel will still be there. The boat will leave without you!
Only once have I sailed out of the NYC area, and it was so awesome to take a taxi from my home to the boat. So I'm always looking for opportunities to take a great cruise out of NYC. And while I just spent a week at Disney World in Florida for a conference, the Saturday before that I spent the day on the Disney Magic ,with some other bloggers and members of the media, while it was docked in New York. Disney Cruise Line has announced some NYC-based cruises for 2017, including some with special surprises!
I sailed on the Magic years ago with some other bloggers for a media trip to the Bahamas, and it was an amazing trip. The only thing better would be doing a similar trip without the flights on either end! I especially have my eye on this itinerary: the ship leaves from NY and you get two full days at sea. Then you get a day at Cape Canaveral and a day at Castaway Cay, Disney's private island (I've been there, it's amazing). Then two more days at sea as the ship returns to NYC! Plenty of time to relax.
Or, if you don't want that many days at sea and instead would like to make more stops, there are lots of sailings that go one way, and you can fly the other way. There are NYC-based cruises to the Bahamas, the Caribbean, and north to Canada!
Travel to the Caribbean, the Bahamas, or Canada without stepping on a plane!
Click To Tweet
For the Kids
Kids 3-12
The kid care area on the ship is called The Oceaneer Club, and you can check your child in and get some free time. You're given a pager in case your child needs something. (I've heard many stories about kids not wanting to leave the club, ever).
Cleanliness is always a priority on Disney Cruise Line, and there are automatic hand-washing stations outside of The Oceaneer Club to help the kids stay healthy.
If you're a Marvel fan, many of the sailings out of NYC next year will also have a Marvel Day at Sea! There will be movies, trivia, appearances by Marvel characters, and more. And the Oceaneer Club is part of that Marvel action. You can read about it on the Disney Parks Blog. I don't mean to brag, but I met Captain America.
Here's my friend Rene Syler getting suited up (virtually) as Ironman in the Oceaneer Club.
The Oceaneer Club has many different areas, for kids with different interests.
Tweens & Teens
For tweens there's a club called Edge, and for teens it's called Vibe, where they can hang out with other kids their own age.
For the Family
Each stateroom on the Magic comes with special ship-to-ship phones, so that you can communicate with your family members while on board.
Food
There are three main family restaurants on the Magic, and numerous casual dining options, including pizza, burgers, tacos, and of course, 24-hour room service.
During your cruise you rotate to a different restaurant for dinner each night, and your waiter goes with you, so you don't have to tell a new person each time that you prefer Diet Coke and hate mushrooms.
We had a delicious lunch at The Animator's Palate, including the prettiest desserts I've ever seen!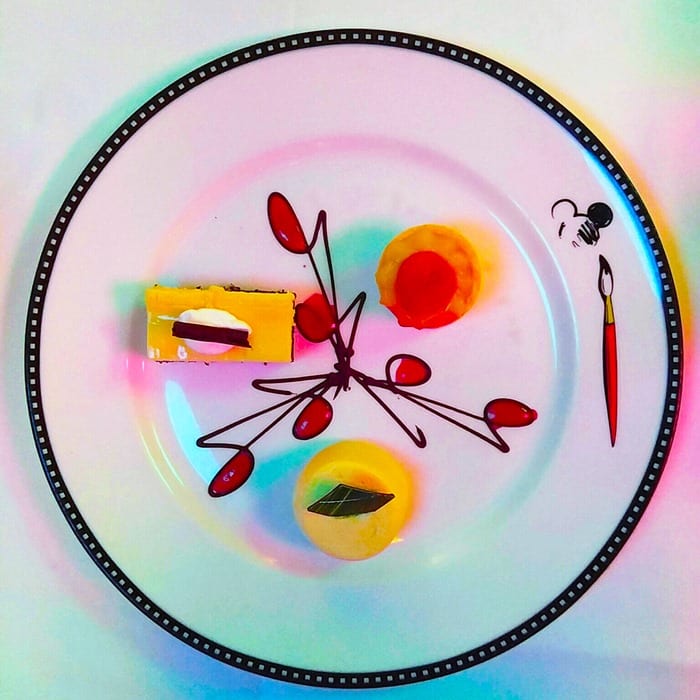 On the longer cruises, you get to color a sheet that gets turned into a musical presentation by the end of the meal! You have to see it to believe it.
Family Entertainment
We also saw the stage version of the Disney movie Tangled. It was so good! I'm not just saying that. I have had very unkind things to say about cruise ship shows in the past. But Disney Cruise Line shows are on a different level. I mean, the original composer for the movie, Alan Menken, came back to add three new songs to the stage version!
Curating all of the amazing activities on board is the Cruise Director, Clayton. We asked him what it takes to work on a Disney Cruise Line ship, and his answer was simple: you have to love people "Notice I didn't say 'like,' I said 'LOVE.'"
Clayton oversees a huge roster of deck parties, performances, character greetings, activities, movie showings, fireworks, and more.
And don't forget the pools and the AquaDunk waterslide!
For the Grown-ups
What sets Disney Cruise Line apart from other cruise lines is that they will take care of your kids in the Oceaneer Club while you get some adult time.
We checked out the amazing spa, Senses, from the same people who pamper you at the Grand Floridian in Disney World.
And if you like to drink, you have to check out Keys, O'Gill's Pub, and Fathoms, all adults-only. There's also Palo, an adults-only restaurant.
There's also an adults-only pool area.
The Disney Magic is a truly amazing ship, and very different from when I sailed on it years ago. They are constantly updating and upgrading to keep everything fresh and new, and I can't wait to check everything out for myself on a cruise!
See ya real soon, Captain Mickey!
Click tweet to share on Twitter:
What could be easier than cruising with Disney out of NYC? via @AmyOztan @DisneyCruise
Click To Tweet
Click image to share on Pinterest:
Click image to share on Facebook: