This post is sponsored by DOSH!
Looking for DOSH app reviews and experiences? I've been using it for a while now, and I've saved a lot of money!
There's a new app called DOSH that I'm really excited about. I love saving money (who doesn't?), but I don't want to spend time on it. I don't like clipping coupons or scanning in receipts. Is it too much to ask that I get money back without having to do anything? :-) DOSH doesn't think so! They've made it incredibly easy to get actual money back—not credits or points, CASH—for eating in restaurants, booking hotels online, and shopping.
When you first start using DOSH you register your credit cards with the app. DOSH uses strict security standards to keep your card information safe and encrypted. Linking your cards is essential for getting cash back with the DOSH app – when you pay with a connected credit card, DOSH can verify your qualifying purchase and give you some cash back, often without you even knowing that the cashback is coming!
Get cash back instantly with the DOSH app!
Click To Tweet
And unlike other sites and apps, DOSH doesn't make you wait weeks or months for your money to appear by mail in check form. In many cases, it appears in the DOSH app moments after your credit card transaction goes through!
The DOSH app is basically divided into two different categories: Offers and Travel. Let's look at how each one can get you cash back!
Offers
The Offers section has two main ways to get cash back: Nearby and Online. Whether you're shopping locally or online, DOSH has worked out cash back offers with more than 100,000 merchants.
Nearby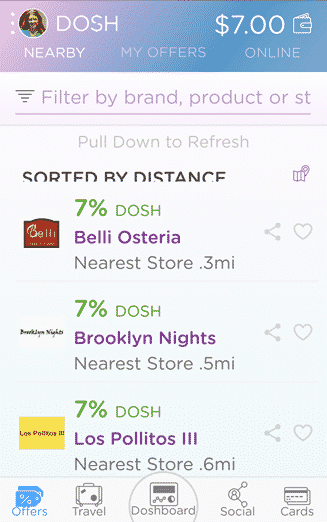 The DOSH app shows you restaurants, salons, and stores that are both near your location and offering cash back through DOSH. If you're hungry, or want to get your nails done, or your hair cut, you can look for a place nearby that gives you a percentage of your total bill back, instantly. One DOSH user told me that he paid a restaurant bill and got a notification on the DOSH app that his cashback was in his DOSH account, before the waiter got back with his credit card! Other cashback sites do not do that.
But here's the best part: you will get that cash back even if you don't know you're in a participating restaurant or store. There's nothing to tell the cashier. No receipts to scan. Nothing to do except pay with a credit card registered to your DOSH app. So while you can use the app to find a place to eat, you don't necessarily have to be aware that you're getting cash back. You just get it.
Online
When you shop at participating online stores through the app, you get cash back to your DOSH account. But again, you don't have to wait 30 or 60 or 90 days for the money to show up. Every store I looked at on the DOSH app gave the cash back within two business days. That's it. Buy some sneakers through the DOSH app on Nike.com, get up to 4.5% back within two business days, without doing a thing. Put in an order at The Body Shop through the app, get up to 6%.
Plus, the online stores often have offers for BOGO, free shipping, and other incentives and coupon codes. The info is all on the app.
Travel
The Travel section is where the big cash back offers really come into play. There's a Hotels section and an Activities section, and they both work basically the same way. Put in the dates you're traveling, how many people, and what city you're traveling to, and you will see offers for hotel rooms, tickets to local attractions, and other travel-related activities. (Car rentals are coming, too.)
The rooms offered in the Hotels section are the cheapest prices available online, period. You won't find a lower price anywhere. Their algorithm is set to match or beat any other price. So you don't have to worry that you could find a better deal somewhere else.
But here's where it gets really interesting: each hotel room (or activity) gets cash back each night. That's above and beyond getting the best price on the room! So if you stay at the Marriott Marquis in New York on a particular long weekend in June that I looked up, you'll get a discounted rate of $497 per night. But on top of that, you'll get $123 cash back for every single night, in your DOSH account. Without filing a claim. You just book the room through the DOSH app, and pay with a registered credit card.
Take a look at some of the other deals I found! The amount of cashback you would get from this extremely expensive NYC hotel makes it a really good deal.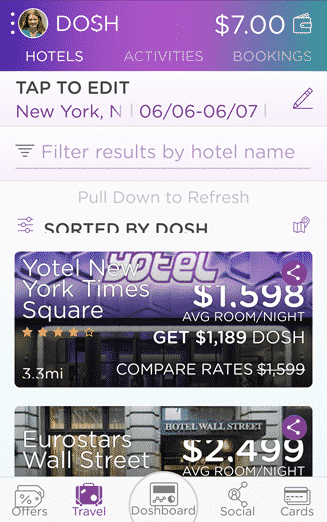 Fall in Paris? Get a third of your room rate back every night!
Visiting my home town for a weekend just got cheaper.
Visiting my kids at camp would even get me a little cash back.
You can sort the results by rating, price, how much DOSH you'll get back per night, by name, or by distance, allowing you to find just the right hotel.
Business Travel
And if you travel for business and get those hotel costs reimbursed? The cashback in your DOSH account happens outside of any receipts you're submitting to your employer. It does not show up as a discount on your room. That DOSH money is yours to keep, and you've still gotten your employer the very best rate available on your room.
Getting your money
Once you have $15 in your DOSH account you can access your money. You can transfer it to your bank, to PayPal, or donate it to a charity. No credits to deal with, no points to spend. It's just cash. And it's yours.
Referring friends
If you get your friends to sign up, you'll earn $5 in DOSH for each one!
Download the DOSH app
The Dosh app is brand new and is still in a public beta, meaning that they're still testing things out, but you can start getting cash back right now. Just download the DOSH app and see for yourself how much it has to offer. I immediately found three restaurants within a few blocks of my house that I already love and go to. I have travel coming up that I need to book rooms for. I'm ready to start getting cash back!