This post may contain affiliate links.
If you buy something from one of the linked sites you won't pay anything more, but I might make a commission.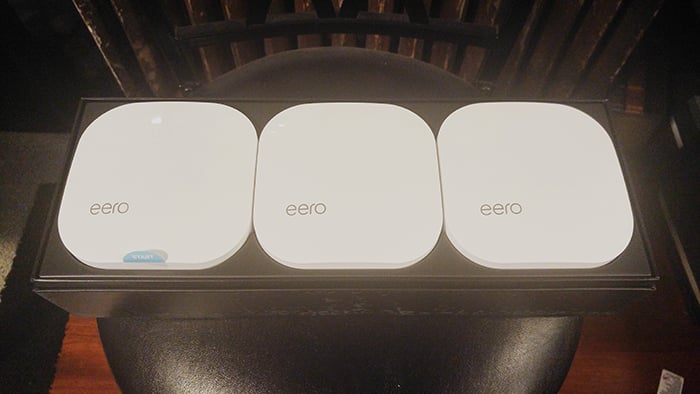 My house is a nightmare for WiFi. We've lived here for ten years, and it's really only in the last few years that I managed to get reliable WiFi throughout most of the house through a series of extenders. We actually have six separate WiFi signals throughout the house, so my phone is constantly telling me that it's disconnecting from one network and connecting to another. It works well enough, but it's annoying and not something that most people would be able to set up easily, if at all (it's a wired system).
I was sent the eero Home WiFi system to review, and in literally ten minutes it had achieved what it had taken me years to figure out – and more. I was slightly annoyed at how easy the set-up was. Where was this system six years ago???
Wireless Mesh Network
The eero is a router that creates a wireless mesh network. Instead of switching from one network to another as you move around your house as you would with network extenders, the eero units talk to each other and give you continuous coverage. And also unlike extenders, there's very little signal loss. I get similar speeds all over my house now.
With good placement and the right number of units, you won't have any dead spots. I can now use the internet in my entire house, including a bathroom I was never able to get WiFi in before.
The app and website have a lot of advice about placement. They say it's best if the eero units can "see" each other with line-of-sight placement, but that just wasn't possible in my house at all. The app also suggests that the units be no more than 40 feet away from each other.
The eero is not a modem. You connect one eero to your existing modem (if you've got WiFi, you already have a modem) with the included ethernet cable. That's the only unit that needs to be connected to the modem. Any other units you add only need to be near a power outlet. (You can connect the units to each other with cat5 wiring also, if your house is wired for it, but I'm guessing most aren't.)
How Many Do You Need?
How many eero units you need depends on how big of a space you need to cover. If you live in an apartment or small house, one eero might be all you need. I would guess that most average houses could get away with two units. My awkwardly-designed house—four long and narrow stories—is set up with three. You can add as many as you like, as far as I know. But I'm guessing that my house is probably harder to get a WiFi signal throughout than yours, so if I'm good with three, most other houses probably would be too.
Eero recommends four units for a 3,500 square foot, 2-story house. You can see some examples of placement in different types of homes here.
Set-Up
In order to set up the eero, you need an iPhone, iPad, Android phone, or Android tablet. If I were still using my Windows Phone I'd be out of luck. You could just borrow a device for set-up I guess, but you'd be missing out on all of the great features of the eero app.
Once you download the app and start setting up your first unit, you just swipe through screens that tell you exactly what to do. It's incredibly easy. If you feel like you don't know what you're doing when it comes to tech stuff, you don't have to worry. The eero app makes it incredibly easy to get everything going.
After set-up was done I had to update the units (which just involved tapping a button on the app). The app told me this could take up to fifteen minutes, but in my case it took about three.
There are little information circles that you can click on all over the app, in case you aren't sure what something means (and it's all in-app – those circles aren't sending you to a help website).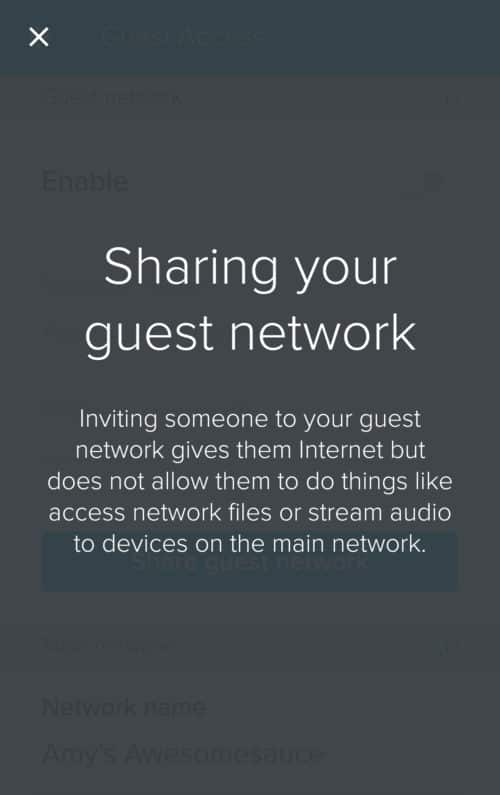 After you've connected all of the units that you want to set up, you can start signing devices into the new WiFi network. No matter how many eero units you have, it's just one sign-in and one password. It's all the same network. If your wireless printer is on the bottom floor and you're all the way on the top floor at the other end of the house, you will still be able to print from your laptop over WiFi, because it's all one network.
The App
Family Profiles and Devices
The next step is to make profiles on the app for each of your family members. Any devices that are on the network (or have been recently) will show up under "Connected Devices," and you can assign them nicknames so that it's easier to keep them straight.
Computers are usually easy to identify because you've probably already named your computer something, and that name should show up on the app. Phones can be a bit trickier. My son and I both have LG phones, so I connected mine first and gave it a nickname before he got on the network.
You only have to do this once. Once you've named devices, that's it. They're named unless you choose to change them, no matter how many times they go on and off of the network.
Each device can be assigned to a profile. And each profile's internet access can be controlled individually. Let's say I want to turn Fiona's internet off every weeknight from 10pm-6am. I can schedule that! Or, if I just want to pause her internet while she cleans her room, I can hit the pause button on her profile. Seriously, it could not be easier.
Each device can only be assigned to one profile, so if you have a device that's regularly used by more than one person (in our case, the Xbox), I would just make a separate profile for that device. That way, you can just shut off the internet to that device, no matter who wants to use it.
Sharing With Guests
Another handy feature is the ability to share either your main network (which may give access to other devices on the network, depending on how you've set each of those devices up), or a guest network, which gives WiFi access only.
There's no need to scribble passwords on a piece of paper or yell them out. You simply choose how you want to share (text message, email, etc.) and the message auto-populates with the network's name and password.
Other Features
The app will also run a speed test for you, to let you know how fast your download and upload speeds are at any given time. I ran a test on SpeedTest.net as well for comparison, and the app was accurate.
The app can tell you at any given time which devices are on the network.
Each unit has two ethernet ports in the back, so that you can hook up non-wireless devices too. There's also a USB port in each one, but these are inactive so far. I'm guessing that at some point, there will be an update to the system and these will be usable.
And last, the eero looks good sitting out on a table or counter! That's important to me, since the unit needs to be out in the open to work well. It looks like a little Apple product. I'm actually trying to figure out how to hang this one up in a hallway, since it's servicing two floors and there are no surfaces to place it on:
I highly recommend the eero Home Wifi System. I would recommend it on ease of set up alone – all of the other features (great coverage, great app controls) are just gravy. But if you find yourself constantly having to police your kids and their devices, you'll find the Family Profile controls invaluable.
Click tweet to share on Twitter:
WiFi without dead spots? Parental controls? All that and more with #eero. via @AmyOztan Click To Tweet
Click image to share on Pinterest:
Click image to share on Facebook: