This post may contain affiliate links.
If you buy something from one of the linked sites you won't pay anything more, but I might make a commission.
When I was growing up my whole family was vegetarian (they aren't now – I'm the only one left!). On Thanksgiving my mom would make a Chickpea Turkey. She was kind of famous for it, because it was so weird. She would mix chickpeas in a blender with flour and some spices and bake it up on the back of a casserole dish, then shape drumsticks and wings and bake those too. The whole thing was comical, but also really sweet! Even though we were vegetarians, we had a turkey to carve and some drumsticks to fight over, just like everybody else!
This year I decided to make a Chickpea Turkey for Thanksgiving. (Don't worry, I'm still making an actual turkey – I'm the only vegetarian around here on Thanksgiving.) And since I've never done it before, I made a "test" turkey over the weekend.
I used the new MX-ZX1800 High Speed Blender that Panasonic sent me to review. So far I've used it to make smoothies and the chickpea batter, and it's great! It has a "tamper tool" that fits through the top of the lid and stops just above the spinning blades, so you can move food around while the blender is on. I used this to make sure that all of the onions got to the blades.
Anyway, I ended up making two test "turkeys." I tried baking the first one over the back of a casserole dish (actually, a Pyrex bowl) like my mom did, but I couldn't get it to stay in one place. I was afraid that it would stick to the bowl if I didn't put oil on it, but I think the oil made it slide down to the bottom as it was baking. Plus my chickpea batter is different than hers, and maybe that was affecting things too. I needed a new plan.
I had some Reynolds Pan Lining Paper around, and I knew it would be perfect for this! One side is foil, and the other side is parchment paper, so you can mold it to the shape you need. I tried again, on the inside of the bowl this time, and it worked perfectly!
Well, almost. This is what it looked like when I thought it was done.
Something was wrong.
I looked at it for several minutes before I spotted it.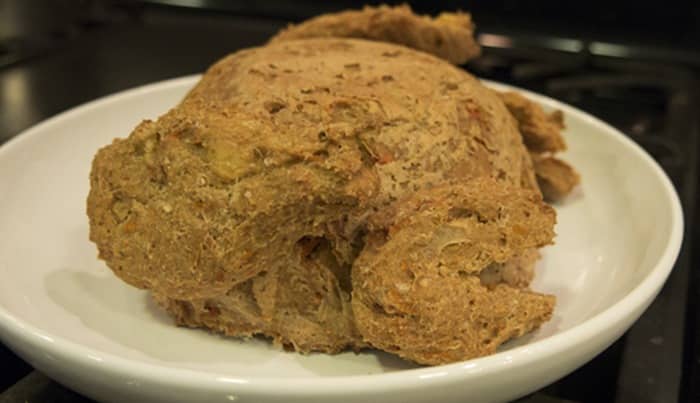 The legs were on backwards!
There, that's better!
One note about the Chickpea Turkey: It doesn't taste as good as if you just fry up the batter in a little olive oil. You have to bake it really well for it to hold its shape, and it's not fried. Everything tastes better fried. (When I make it again tomorrow I might experiment with spraying some olive oil on it before baking.) But it's such a cute presentation! Take the chickpea recipe below and fry it up some other time as a chickpea veggie burger. You won't be sorry!
Edited to add: When making our actual Thanksgiving chickpea turkey, my mom sprayed some olive oil onto the "turkey" with my Misto before putting it in the oven each time. It tasted much closer to when I fry it! I've changed the instructions below to reflect this yummy improvement.
Chickpea Turkey Directions
Once you have your Chickpea Burger batter made (below), preheat oven to 350 degrees.
Line the inside of a small oven-proof bowl with Reynolds Pan Lining Paper. Take one-half to two-thirds of the batter and put it in the lined bowl.
Press the batter evenly up the sides of the bowl. The batter should be about 1/3-1/2 inch thick.
Spray olive oil onto the batter after pressing it into the bowl. If you don't have a sprayer you can gently brush some oil on with a pastry brush.
Line a baking sheet with Reynolds Pan Lining Paper or regular parchment paper and place the bowl on it.
With the remaining batter shape two drumsticks and two ovals. Spray or brush some olive oil onto the parchment paper before putting the legs and wings down onto the baking sheet with the bowl. Spray/brush some olive oil on top of them as well. (If you have any batter left, I recommend frying it up in a little olive oil as a snack.)
Put the baking sheet in the preheated oven and bake for 45 minutes to an hour. While turkey is baking, make your stuffing.
The "turkey" is done when it is cooked through and browning, and feels crispy.
Remove baking sheet from oven and carefully peel the drumsticks and wings from the parchment paper.
Cut a skinny "V" out of each oval to make it look like a wing.
Increase oven temperature to 400 degrees.
Fill the "turkey" to the top of the bowl with stuffing, pressing down gently.
Place an oven-safe plate upside-down on top of stuffing and carefully invert bowl onto plate.
Remove bowl from parchment wrap.
Carefully peel parchment wrap from "turkey." Spray or brush some olive oil onto what is now the outside of the "turkey."
Put back in oven for 20 minutes to crisp up the outside of the turkey.
Cut 2 or 3 toothpicks in half and use them to stick the drumsticks and wings on.
That's it! When it's time to carve, you can remove the drumsticks and wings and slice the "turkey" like a cake.
Happy Thanksgiving!
8

ounces

red or yellow potatoes

peeled and quartered

1

small

yellow onion

chopped

1

can

canned chickpeas

rinsed and drained

1

large

egg

1

large

carrot

peeled and shredded

1

cup

all-purpose flour

2

cloves

garlic

minced

1

teaspoons

ground cumin

1

teaspoons

ground coriander

1/2

teaspoon

salt

1/2

teaspoon

ground pepper

1

tablespoon

olive oil
8

ounces

red or yellow potatoes

peeled and quartered

1

small

yellow onion

chopped

1

can

canned chickpeas

rinsed and drained

1

large

egg

1

large

carrot

peeled and shredded

1

cup

all-purpose flour

2

cloves

garlic

minced

1

teaspoons

ground cumin

1

teaspoons

ground coriander

1/2

teaspoon

salt

1/2

teaspoon

ground pepper

1

tablespoon

olive oil
Boil potatoes in water with a pinch of salt until cooked through; drain and mash with a fork

Put onion into blender and blend until no big pieces remain

Add chickpeas and egg and blend until you have a smooth paste

Put chickpea mixture into a bowl and add shredded carrot, mashed potato, flour, minced garlic, cumin, coriander, salt, and pepper

Stir well until completely combined

Heat olive oil in a frying pan over medium-high heat

Carefully add chickpea batter by the spoonful - about a tablespoon for little croquettes, 1/4 cup for burgers

Fry until golden, about 3-4 minutes per side