This post may contain affiliate links.
If you buy something from one of the linked sites you won't pay anything more, but I might make a commission.
Between a laptop, a desktop, and a large external hard drive, I think I have about 40,000 photos saved (it's hard to tell because when I do an image search, many are parts of programs and not photos).
You can tell when I got inspired and started a new method of organizing them. If you scroll through you'll hit on pockets of pictures that are tagged in some way, or organized into folders. But 99% of them are just sitting there, mocking me with their disorganization.
PhotoMove 2.0
A few days ago I finally decided that I need to get a handle on them. I started with my laptop. My first goal was to separate the pictures out into folders by date. I googled and decided to try a $9 program called PhotoMove (available for Windows only) that had promise: it claimed it would search whichever folders I wanted, find images, and put them into folders according to exif data (the info that cameras – including cell phone cameras – attach to images and other files with details like date taken, type of camera, etc.).
There's also a free version, but I wanted the extra features that came with the paid version, so I did not try the free version.
Running the program was very easy. I set it to search my entire C drive.
Occasionally I would get a pop-up saying that a certain file wasn't accessible. This seemed to happen with program files, which is a good thing – mostly images that are part of programs, stuff you don't want to move around. The good news is that the program did not stop working while waiting for me to press "OK" regarding those files – it was still scanning in the background.
It took about six hours for the program to search my entire C drive. It looked at image files and found the ones that had exif data, and those were the ones that I wanted to separate out into dated folders. I set it to move jpg, jpeg, mov, wmv, mp4, png, and ai files. The last two were a mistake – just move jpeg and jpg files, and movie files. I messed with too many images that were part of programs like Word and, well, we'll see what happens next time I need to use those programs.
Once the program started moving photos, things got annoying.
Any time the program tried to move an image that couldn't be moved, it gave me a pop-up and needed my permission to continue. There was no option to just skip all files that couldn't be moved. Instead, I had to take care of the pop-up each and every time – hundreds of times. And the program did not continue while waiting for me to do this. So, for a couple of hours, I did other things I needed to do on my computer, and took care of the pop-ups as they occurred. Super big flaw.
Once this process was over, I was mostly happy with the results. The png and ai files that I'd been hoping were images I'd created were not, and I'll have to take care of those at some point. But the pictures and videos I did actually take – more than 8,000 – are now organized in folders according to date, and then sub-folders according to which camera they were taken with. All in all, worth the $9.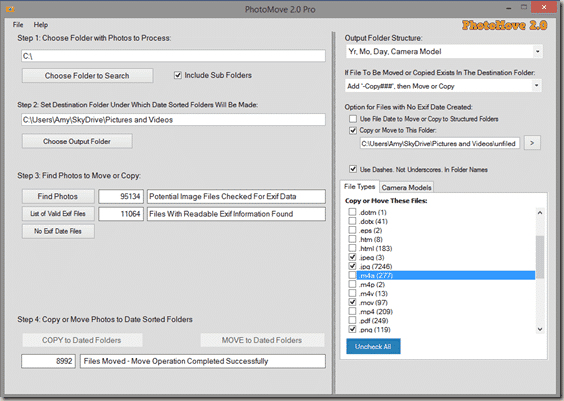 Annoyingly, I think I would have to buy the program again to use it on my desktop computer. I may transfer all of those jpegs to my laptop and take care of them that way – an extra step, but one that will save me from buying the program again. Most paid programs allow you to use them on multiple computers, so this is annoying.
Duplicate Photo Cleaner
Once the images were sorted and in their new folders, I wanted to try to take care of the duplicates. I tried a supposedly free program called Duplicate Photo Cleaner (available for Mac and PC). No matter what I did, I couldn't get it to start searching my computer. It wanted me to register, which included "upgrading" the program for at least $39 (depending on how many computers you want to use it on). Annoyed, I uninstalled it from my computer, which brought me to a page that offered me $10 off of the upgrade. I should not have bought it. I hate these bait-and-switch tactics. But I was desperate to get this job done, so I bought it at the discounted price, licensed for three computers.
Running it was easy, and it only took about ten minutes to scan my C drive. It doesn't examine data. Instead, it looks at pictures visually and finds matches. I'd set it to only find images that were 100% duplicates. It found a couple hundred matches. Comparing them was easy, and I could delete the unwanted ones right from the program. Note: the image that it said was the original wasn't always, so hover over each image to see which is bigger; you don't want to keep a smaller copy and delete the high-res original.
The same image, but the one on the right was the high-res original and the one on the left was the smaller copy
Once I was done, I started looking through folders, and was still finding duplicate pictures. Annoyed, I ran the program again, this time setting it to find pictures that matched as little as 50% (the lowest setting). It found about 800 matches, many of these exact copies of each other. I don't know why these weren't found during the first scan. So my advice it to always set it to the lowest percentage.
The same exact pictures – same size – but the program only caught the duplicates when I set it to search for photos that matched only 50%
Even after the two scans, it still didn't find all of the duplicates. I did a search on my C drive for *.jpg, and then sorted the files by size. Looking through those files, I found the problem: Most of the images "on" my laptop are not actually on my laptop; they're actually saved on OneDrive (off of my computer), and while they're supposed to be visible at all times, the program had a problem with a lot of them.
When I repeated the process with the files on an external drive (no OneDrive), it worked much, much better. It found all of the exact duplicates. I will probably download all of the photos from OneDrive to my desktop computer (which has much more storage space than my laptop) and run this again.
Even set at 50%, it did not find photos that were almost exact. Sometimes I take a bunch of pictures in a row with burst mode, and it would be nice if it caught those so that I could compare them all and pick the best, but it did not.
In the end, despite the surprise cost, I guess I'm glad I bought it, although I think it's too expensive for what it does. There are probably cheaper (or free) programs out there that will do the job, but I just wanted to get it done.
Going Forward
Now that my duplicates are gone and the photos are organized by date, I'm going to start the long process of naming them. I've found that the most effective way of finding pictures on my computers isn't a program, but just the native File Explorer. Searching "Fiona birthday" brings up all of the images with those words in the title, so the title functions not only as a description but also works really well for search.
Since the images are now organized by date I can batch name a lot of them. For example, I can choose all of the photos from last Christmas (which were all taken on the same day, so are now all in the same folder), right click, choose "rename" and rename them "Christmas 2013." Later I'll go in and add the names of the people in each picture, and any special characteristics I might search for in the future (funny face, tree, etc.).
The most important part of this whole process, though, is doing this to all pictures going forward, adding them to folders and naming them as soon as they're downloaded to my computer. It really is a quick process if you're not trying to deal with tens of thousands of pictures at once!