This post may contain affiliate links.
If you buy something from one of the linked sites you won't pay anything more, but I might make a commission.
I just had my first FastPass+ experience, and I'm mostly happy about it.
FastPass+ is a system being rolled out at Walt Disney World that's the next iteration of their awesome FastPass system, which was introduced about 15 years ago to reduce the length of time guests wait in lines.
My pre-FastPass visits to Disney World were all awesome, but we did spend a LOT of time waiting in lines. And that was before we had smartphones to help pass the time.
FastPass made things much better by letting you insert your park ticket into a machine next to certain rides a make a "reservation" to come back to the ride later. When you came back you went through a special line that was much much shorter than the non-FastPass line.
Between FastPass and TouringPlans my own kids have never known Disney World with lines. They will never fully understand just how lucky they are.
The FastPass+ Reservation Process
FastPass+ takes things to the next level by letting you make your FastPass reservations up to 60 days in advance. This is not available to everyone yet – just like the new MagicBands, FastPass+ is available now only to select people staying at some Disney World properties. But eventually, FastPass+ will be available to all guests. (In the meantime, regular FastPass is still available for guests who do not yet have access to FastPass+.)
My next trip to Disney World is in about a month, for the Princess Half Marathon. I logged on to My Disney Experience earlier today and made my FastPass+ picks for the two days I'll be in the parks (one day at the Magic Kingdom, one day at EPCOT).
Once I signed into My Disney Experience, I clicked on "Make FastPass+ Selections" on the right side of the screen.
Next I chose which day I wanted to make my FastPass+ reservations for. Notice that the dinner reservations I've already made are noted for each day – very helpful when choosing which parks to go to on which days. I chose Sunday.
If I were traveling with other people, I could choose which ones I was making FastPass+ reservations for. Just me traveling this trip.
Next I chose which park I wanted to make my reservations for (Magic Kingdom). This was easy since I did not buy Park Hopper passes, but if you do have Park Hopper passes, you might be disappointed to learn that you can only make FastPass+ reservations for one park per day.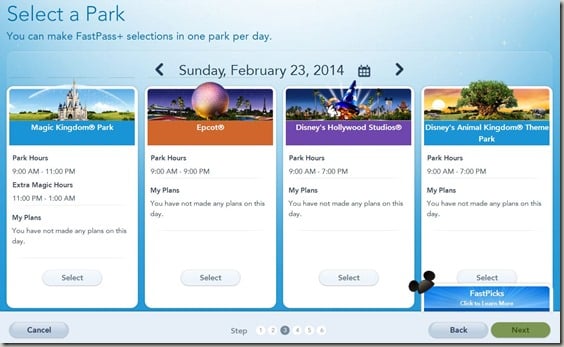 This is the part where I had to make the big decisions. I was allowed to select up to three attractions from the list. I've heard that this number may differ based on time or year and other factors.
As I chose my attractions, they popped up on a map of The Magic Kingdom – this is really helpful if you want to plan things that are close together, or want to end up in a certain place.
Next I prioritized which ride was the most important to me. I think this is only really important during busier times or closer to your travel date – I played around with the order and it didn't change my results much.
Next I got to look through four different choices for my chosen rides. I wasn't happy with any of them. Option A was way too early – I wouldn't be getting to the park until after lunch.
Options B & C, as well as the Best Match option, all had some sort of conflict with my dinner reservation (which is noted on the screen there at the bottom – very helpful). This is where I think the reservation system is weakest. As you'll see in a moment, I had no problem manually changing my FastPass+ time for Enchanted Tales with Belle to one that didn't conflict with dinner, so I'm annoyed that three of the four choices the system gave me had a conflict.
I chose the Best Match option since I liked two out of the three times it gave me.
I still needed to take care of that dinner conflict, so I clicked on "Make Changes" next to that reservation.
I chose that I wanted to change the time for that ride.
I was given a huge choice of available times.
I chose a time that didn't conflict with any of my plans.
I confirmed my changes.
Confirmed!
My itinerary for Sunday now showed my FastPass+ reservations, along with my dinner reservation.
I could also show those reservations on the map.

And that was it! All-in-all it was very easy to figure out, and user friendly.
The Downside
I went back in and made my FastPass+ reservations for Saturday as well. I was really disappointed to see that I wasn't able to choose both Test Track and Soarin', my two favorite EPCOT rides, on the same day. For both EPCOT and Hollywood Studios, the FastPass+ rides are divided into two groups, one with the more popular rides and attractions, and one with less popular ones. You can only choose one ride from the more popular group, and two from the other group.
In EPCOT, that means you can only get a FastPast+ reservation for one of these rides each day:
-Epcot Character Spot
-IllumiNations
-Maelstrom
-Soarin'
-Test Track
And at Hollywood Studios, you have to choose between these popular attractions:
-Beauty and the Beast – Live on Stage
-Fantasmic!
-Rock 'n' Roller Coaster
-Toy Story Mania!
How in the world do you choose between the Rock 'n' Roller Coaster and Toy Story Mania?
On the other hand, when I'm at Disney for races I tend to get to the parks really late (after each race I go back to my room, shower, nap, and whine and moan for a while from the soreness), and the FastPasses are  usually totally gone for the most popular rides. At least now I have something.
Should my plans change when I'm at the parks, I can try to change my reservations using the My Disney Experience app.
So, pluses and minuses. I can't wait to see how it all plays out in person!