This post may contain affiliate links.
If you buy something from one of the linked sites you won't pay anything more, but I might make a commission.
I've been using this gorgeous HTC HD7 Windows phone for a month now, so I've gotten to know it pretty well. It was provided to me to use at the Consumer Electronics Show in Las Vegas last month as part of a sponsorship package between Windows Live and the Blogging Angels. The word I would use to describe the new Windows 7 Phone operating system  is "elegant."
Live Tiles
The home screen of this phone is delightfully simple: big "live" tiles that update as you get new emails, calls or texts, or as friends post to facebook (I'm still breathlessly awaiting similar integration for Twitter). There are pre-defined tiles that can be added or dropped from the home screen, plus just about anything else you use regularly can be made into a tile. My husband is a tile. A few of my favorite websites are tiles. Instead of having to open a program and then navigate to what you need, you simply click on the tile, and you're there. (I would like to see an option for more than one home screen though. I'd love to have one for entertainment, one for work, one for contacts, etc.)
Keyboard
I had some trepidation about not having a physical QWERTY keyboard, but the keyboard on this phone is excellent. I can type very fast without any lag on apps native to the phone and most websites, and the autocorrect is very good. I don't miss having a keyboard at all, which was really unexpected.
Watching video
If you already use Hotmail, Outlook, Word, OneNote, etc. then this phone is a no-brainer for you. If you also like to watch a lot of video on your phone, you should run to a T-Mobile store and get an HTC HD7. With a giant screen that takes up pretty much the entire front of the phone, (the bezel is very thin) video is really enjoyable to watch. Knowing that the phone would get a lot of use this way, the designers were very smart to put a kickstand on the back that props the phone up in landscape mode. On a recent flight as the guy across the aisle struggled to prop his phone up on a book, I was able to just set mine on my tray table with the kickstand open.
With such a beautiful set-up for videos my big hope was that the process of getting video to the phone and watching it would be easy, and it was. First off, there's Netflix. If you already have a Netflix account (which I do) you can sign in on the phone and be watching a movie or TV show in about a minute – no special mobile account, just the regular "on demand" choices you already watch on your TV or computer. It really couldn't be any easier. With a good Wi-Fi or 3G connection (not even great, just good) the video playback for me has been flawless every time, like watching Netflix on my TV (which I do through my XBox).
It's also very simple to watch videos through the phone's Zune software. Zune might be a new concept for a lot of people, but since I actually have a Zune player (also given to my by Microsoft) it was very familiar (and I have to say, Zune is way easier to use than iTunes). Videos (as well as music and pictures) can be dragged and dropped from a computer to the phone during a sync, and the best part is that if you're trying to add a video in a format that isn't playable on the phone, Zune will automatically convert it to one that is (though this can take a while, so if you're transferring a lot of big videos that need converting, best to do it overnight; if they don't need to be converted, transferring is super quick). Zune can be set up to sync your media automatically (even wirelessly over your home WiFi network!) or you can transfer manually.
Camera
The camera on this phone is so good that I did not use my "real" camera even once at CES. The autofocus produces pictures that are crisp, even close-up. Pictures taken without the flash have a lot of depth and good color. The flash, though, needs a "low" option – it's just too powerful to use for anything other than a far-away shot, everything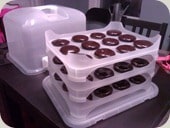 looks washed out and shiny. On the other hand, the powerful dual flash comes in very handy with the video camera. That's right, you can set the flash to stay on while using the video camera! It's like having a little portable spot light. Video on this phone is also good, although when subjects are moving a lot or the camera is moving, it does refocus too much, which can be a little annoying.
Pictures can be shared from the phone via email or text, put right onto Facebook, or uploaded to SkyDrive, and the pictures that you've already put on SkyDrive and Facebook are all right there on your phone. This was a very nice surprise.
Games
Playing games on the HTC HD7 is a lot of fun. If you have an XBox Live account your avatar carries over to your phone. Honestly I haven't really checked out yet what I can do on the phone involving XBox Live – I'm much more likely to play some blackjack or Tetris – but it's nice to see the XBox version of me hanging out on her tile on the home screen. There are a ton of great games for free download, plus favorites for purchase in the Marketplace like Fruit Ninja.
Google integration
It says a lot about how great this phone is that I'm still using it after a month, because I'm very heavily "googlefied." I've been using Google voice, Google calendar and Gmail for years, so my last phone – a Verizon Droid – worked seamlessly with those programs. The trade-offs with the Droid, though, were a lack of windows compatibility, a clunkier operating system, and entertainment options that were more difficult to use and not part of an organized package, like Apple's iTunes or Microsoft's Zune.
If it were just a matter of having to go directly to the Google sites to use Gmail and calendar, that might be fine. Not as easy as having an app, but fine. But Gmail, calendar, and Google voice seem especially and extraordinarily difficult to use with this phone (although my contacts transferred over with zero problems). For some reason, the keyboard simply does not work well on the Google sites – there's a huge lag and it misses some characters. It's almost comical how badly they work together, considering how great the keyboard is!
It is possible (and quite easy) to use Google calendar with the phone's calendar, but it only shows your main calendar. This is pretty useless for those of us who have multiple calendars (I think I have nine – yes, I know). It is also very easy to read and send email using the phone's email app, but what I can't do is sort the emails into their Gmail folders for later action,  or tag them, or see my priority inbox. Plus, since I get ALL emails in one stream, I get all of those spammy ones in the stream that I started filtering out years ago.
So I'm hoping that some apps appear in the near future to deal with these problem.s However, I like this operating system so much that I'm actually considering switching which email and calendar programs I use (Google voice I'd stick with because I don't need to type more than a few letters to make a call). I could always have my old email address forward to a new one, so that's not as crazy as it sounds. I really want to continue using Windows Phone 7 phones but I'm simply not as productive over email without Google integration.
Overall? Thrilled
Overall I'm thrilled with this phone. The fact that the platform is so new only means that fixes for many of the things I mentioned above will be coming with future software updates and apps.
Originally posted on Selfish Mom. All opinions expressed on this website come straight from Amy unless otherwise noted. This post has a Compensation Level of 1. Please visit Amy's Full Disclosure page for more information. Amy also blogs at Filming In Brooklyn, Behind the Screen, and Momtourage, and podcasts with The Blogging Angels.