This post may contain affiliate links.
If you buy something from one of the linked sites you won't pay anything more, but I might make a commission.
Are you, like, so bad when you speak that you totally sound like a valley girl? There's an app to help you speak better!
On this week's episode of the Parenting Bytes podcast we interviewed the creator of the LikeSo speech app, Audrey Mann Cronin. LikeSo analyzes your speech and helps you to reduce the number of filler words you use. It was a really interesting conversation, and when I got home I bought the app (it's 99 cents, available for now only for iOS). You can listen at the bottom of this post!
Do you, like, literally talk in all filler words? Do you want to stop? There's an app for that!
Click To Tweet
Here's how it works. There are two modes. The first is FreeStyle mode, where you pick a length of speaking time and which words you want the app to look out for, filler words like "actually," "basically," and "so." There are fourteen total, and you can choose as many as you want, or just choose to have the app listen for all of them.
The second mode is TalkAbout mode. You choose a broad topic from a list, such as "At Work" or "Small Talk" or "The College Interview."
You choose whether to speak for 30 or 60 seconds, and you choose which words the app should listen for. The app then gives you five prompts from the topic you chose, like "Who is your contemporary hero" and "What clubs will you join?" for the College Interview topic, or "Brussels Sprouts" and "Lasagna" in the "On The Menu" topic.
When you're done talking, the app tells you how many words you said total, your pace (how many words per minute), and how many filler words you used. You can also see exactly how many times you said each of the words you told the app to listen for. It's all very intuitive. Over time, as you use the app and record your scores, you can see your progress.
I tried it on Fiona first, in FreeStyle mode for one minute. She knew what we had talked about on the podcast, and I was worried that her knowledge of the topic might skew her results, but if she was purposely trying to stay away from filler words it did not show.
I tried it on myself next, in the TalkAbout mode. I picked the "On The Menu" topic, because I can talk about food for days.
Two-and-a-half minutes later, I understood why Fiona couldn't stop saying "like" even though she knew that word was being counted. I knew exactly what the experiment was, and only scored a B+.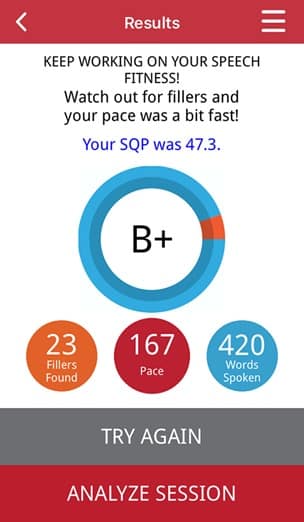 Swiping right from the home screen brings you to the Goal page, where you can choose a goal (Toast, Presentation, etc.), the target date, length, and how often you want to be reminded to practice. This is a great way to stay on track for something that's coming up.
According to Audrey there are more features coming, maybe even the ability to listen for vocal fry and uptalk. For now, you can use the LikeSo app to track your progress in getting rid of those ubiquitous filler words.
Can I ask a small favor? Rating and reviewing the Parenting Bytes podcast on iTunes really helps us out. And if you want to really do me a solid, please share this post so that other people can discover Parenting Bytes!