The new Fitbit Versa 2 has some fantastic features! Read on to find out what's new, what great features are still there from the original Versa, and when you can get your hands on one.
Are you missing your steps when you forget to wear your Fitbit? Track your steps automatically with Mobile Track on your phone, when you're not wearing your Fitbit! Read all about this free tool for your Fitbit app.
Yesterday I went to a special sneak preview for the Fitbit Versa 2, and I'm super excited to share with you what's new!
Fitbit gave me my very own Versa 2. I chose the Mist Grey case with the pink athleisure band. In fact, I'm wearing it right now as I write this!
Best new features
Anyone who has the original Versa will find the Versa 2 very familiar, but there are some really great new features that make the Versa 2 a substantial upgrade from the original, including:
Alexa
This is the feature I'm most excited for. I now have Alexa on my wrist at all times!
The Versa 2 has just one button, on the left side (the original had three buttons), and you can choose whether a long press on that button activates Alexa or Fitbit Pay. I chose Alexa.
You do not need a separate Amazon Echo device to use Alexa on the Versa 2, you just need to connect the Versa 2 to an Amazon account. Once you've done that you can just talk into the Versa 2 and add items to your shopping list, set reminders and timers, control your smart home devices, ask questions, and more!
Spotify
You can now control Spotify right on your Versa 2!
Fitbit Pay
With the original Versa, Fitbit Pay was only available on the more expensive Special Edition, but all versions of the Versa 2 have Fitbit Pay! It takes just a few minutes to add credit cards to your Fitbit account, and then you can pay anywhere you see the little contactless payment symbol. And you do NOT need to have your phone with you in order to use this feature!
Longer battery life
The Versa 2 can last for more than 5 days on one charge. Of course it all depends on how much you use it, but that upper limit is higher than it was for the original Versa.
Great new colors and bands
There are lots of new colors and materials for the new Versa 2!
Three case colors
The smartwatch itself is available in three new colors: Carbon, Copper Rose, and Mist Grey.
Lots of new bands
The really good news is that the original Versa bands fit the Versa 2, and vice versa (pun not intended, but noted). So if you bought some really nice bands for your original Versa (raises hand), they'll fit on the Versa 2 (and the Versa Lite, for that matter).
Silicone bands
These are the basic bands that come with the regular edition Versa 2. They're waterproof, stain-resistant, and comfortable.
They're available in a bunch of new colors, including black, petal, stone, midnight blue, olive, emerald, and bordeaux.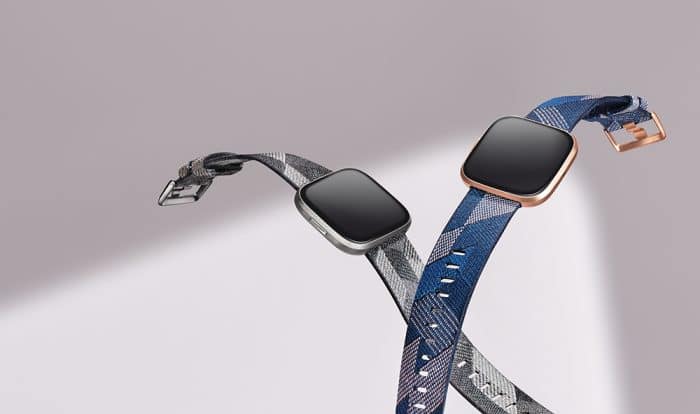 As far as I know, the two woven jacquard bands are only available if you buy them in the Special Edition bundle.
Unlike the original Versa, which had extra features on the Special Edition smartwatch itself, the only difference between the regular Versa 2 and the Special Edition seems to be the additional upgraded bands (you also get a silicone band). There are two combinations to choose from:
Copper Rose Aluminum case with a woven jacquard band in navy and pink, which also comes with a silicone band in navy.
Mist Grey case with a woven jacquard band in smoke, which also comes with a silicone band in olive.
Sports bands
The sports bands are very similar to the classic silicone bands, but they're perforated for better breathability while exercising.
Plus, they come in different colors: navy, black, glacier, frost white, and coral.
Athleisure bands
These bands are sporty, but nicer looking than the silicone bands. They're made from recycled materials, and have a reflective stripe.
The athleisure bands come in charcoal with an orange stripe, pink with a pink stripe, and navy with a navy stripe.
RECCO Rescue Technology band
These woven navy bands are secured with a velcro strap, making them ideal for the roughest exercise. They also have a super reflective strap that makes you more searchable by professional rescuers.
I'm not sure who the consumer is for this band (hikers, maybe?), but it looks really cool, and the reflective strip lasts for a lifetime without any kind of charging necessary.
Leather and suede bands
These are made from premium Horween leather and suede, and are perforated. They're available in moss and charcoal.
Designer Collection bands
Fitbit has again partnered with the Council of Fashion Designers of America for some very special bands. These are designed by New York designer Kim Shui, and are inspired by friendship bracelets, but super nice ones: they're made out of Horween suede.
They come in two versions: a grey and mist woven band, and a double-wrap bracelet in merlot.
Where to buy the Versa 2
Amazon is the best option, since they have six combinations available, including the two Special Edition combos.
Fitbit Versa 2 price
The Versa 2 with a silicone band started out at $199.95, but can now be frequently be found on sale for much less.
The Versa 2 Special Edition with a woven band and a silicone band started at $229.95, but can also now be found at a discount.
Other Versa 2 features
There are some other great features on the Versa 2, some new, some carried over from the Versa. I'll be talking about them in more detail in my review.
24/7 heart rate monitoring
Always-on display mode
On-screen workouts
Swim tracking
Connected GPS
Bluetooth headphone pairing
15+ exercise modes
SmartTrack automatic exercise detection
Female health tracking
Personalized reminders
Guided breathing sessions
Hourly movement reminders
Customizable clock faces
Wireless syncing
Hi-res touchscreen
Other Fitbit announcements
The Versa 2 wasn't the only thing I got a preview of! There was so much info it will take me a little while to write it all out, but in the coming days and weeks looks for more information on Fitbit Premium, Sleep Score, Smart wake, and more!