This post may contain affiliate links.
If you buy something from one of the linked sites you won't pay anything more, but I might make a commission.
This morning my husband grabbed our NY Times from the steps and started grumbling, as usual. He only uses our digital subscription, but I still like to get the actual newspaper, so we've been having this same argument for years. (In his defense, the paper often goes right into the recycling bin without getting read. In my defense, I don't care. I want it when I want it.)
But this morning he stopped mid-kvetch and said "Hey, what's this?" There was a little cardboard contraption packed in with our paper. It was the size of a big disposable camera.
It was a virtual reality player, produced in cooperation with Google. The Google Cardboard Virtual Reality Viewer.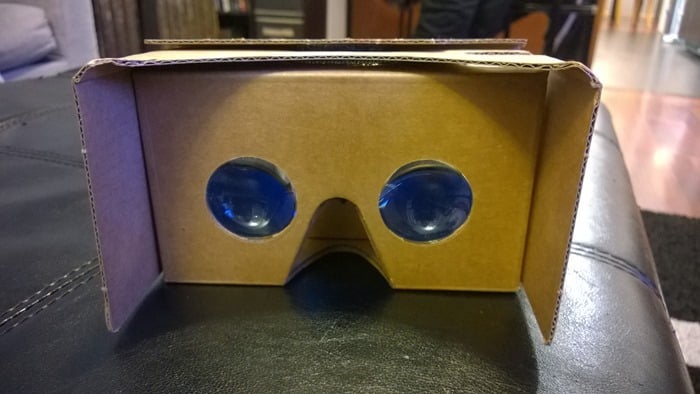 It works with smartphones. iPhone and Android only, of course – this Windows Phone user is used to that. Sigh. There's more info about it on the NY Times website.
Basically, if you're a Times subscriber, you'll get one of these players delivered sometime this weekend. If you're a Times Insider subscriber who has opted in to getting marketing emails, you'll get a code emailed to you for a free player. Otherwise, you can buy a player here.
After putting the VR player together (helpful video here), and downloading the NYT VR app to your smartphone (iPhone or Android), you choose a movie from the app and download it (you can't stream it, you have to download it). Then put your phone into the player (the phone compartment closes with Velcro – it feels very secure), and get ready to be amazed.
I don't want to give too much away, because there are lots of surprises!
Keep in mind, you don't necessarily need the cardboard VR player to watch the videos – you can watch them just with your smartphone, or even on a computer. But trust me, you want to use the player and headphones if at all possible. And you want to stand up and turn around. And look around. And up. And down.
My daughter and her friend also discovered that sitting in a chair that spins around was a great way to use the player.
I had the opportunity almost a year ago to try out Oculus, a virtual reality gaming headset. The big advantage with Oculus is that I didn't have to hold it up to my eyes like binoculars. But other than that, the experiences are similar. I was really impressed with this little player.
You can also get the Google Cardboard app in the Play Store or App Store and find other videos.
I hope you can get your hands on one this weekend, it's a lot of fun!