This post may contain affiliate links and/or codes. You won't pay anything extra, but I might make a commission.
I'd made a "skinny" peanut butter banana muffin recipe from another blog about a month ago, and while the flavor was good, the muffins were dry. And since the recipe hadn't been designed with Weight Watchers in mind, I knew I could make some substitutions to get the points even lower. I made a couple more versions of that recipe, trying to make them more moist, but I kept making them worse. Then, I realized that I already had a really good peanut butter banana chocolate chip recipe, so I decided to scrap what I'd been doing and start over with that recipe, trying to make it lower-point.
The peanut butter in my original recipe was from either Reese's Peanut Butter Chips or Reese's Peanut Butter Cups, both of which would add too many points. I tried using actual peanut butter, but I wasn't able to add enough for a good peanut butter flavor without hiking the Weight Watchers points up way too high. I considered just leaving the peanut butter out, but that made me sad, because the combo of peanut butter, banana, and chocolate is one of my all-time favorite flavor combinations ever!
Then, I remembered the peanut butter powder. I'd bought it to add peanut butter flavor to that non-dairy, no-point banana "ice cream" that I love so much. Peanut butter powder is basically peanut butter with most of the fat removed, so you're just left with the flavor. And while I've been putting it in frozen banana whip for months, I'd never used it for baking! I substitute it for some of the flour, and it actually worked!!
My family doesn't want to see a banana muffin ever again, but I think I've almost nailed the recipe. The only reason it isn't finished yet is that I think I can get even more peanut butter flavor in there. So, I need to make a couple more batches, substituting even more of the peanut butter powder for the flour. I've only been baking with this stuff for the past couple of days, so I'm not sure how far I can push it. Once I figure that out, this recipe will be finished!!
Yield: 12 Muffins
Peanut Butter Banana Chocolate Chip Muffins Recipe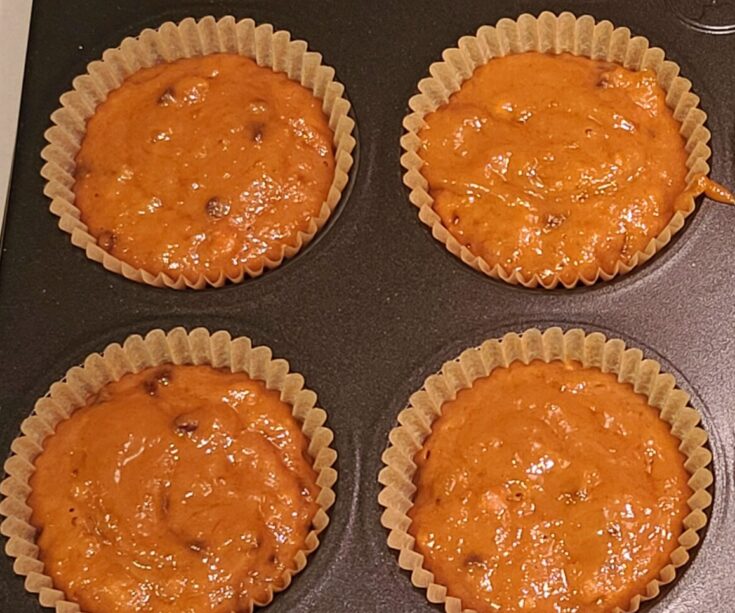 Ingredients
Dry Ingredients
150 grams all-purpose flour
65 grams peanut butter powder
1 teaspoon baking soda
1 teaspoon baking powder
1/2 teaspoon cinnamon
1/4 teaspoon table salt
84 grams semi-sweet mini chocolate chips
Wet Ingredients
1 cup over-ripe bananas
1 small/individual container unsweetened applesauce
87 grams light brown sugar
2 large eggs
80 grams molasses
Instructions
Preheat oven to 425°F and line 12 muffin tins with paper baking cups
In a medium bowl, whisk together the flour, peanut butter powder, baking soda, baking powder, cinnamon, and salt; add the mini chocolate chips and whisk to disperse; set aside
In a larger bowl, mash the bananas with a fork
To the bananas add the applesauce, brown sugar, eggs, and molasses and mix with the fork until well combined, making sure to break up any lumps of brown sugar
Add the dry ingredient mixture to the wet mixture and combine gently with a rubber spatula, scraping the sides and bottom frequently, until there's no visible flour; do not mix any more than necessary
Divide the batter between the 12 muffin cups (each should be about 3/4 full, or one leveled ice cream scoop)
Bake at 425°F for 10 minutes, then reduce the heat to 350°F (don't open the oven) and bake for another 7-9 minutes, until the muffins spring back completely when pressed down gently
Remove the muffins from the pan immediately and put on a cooling rack; cool for 5 minutes before eating, or cool completely for storing
Will keep for three days at room temperature in an airtight container, after that put in the fridge or freezer
Recommended Products
As an Amazon Associate and member of other affiliate programs, I earn from qualifying purchases (but you won't pay anything extra!)