This post may contain affiliate links.
If you buy something from one of the linked sites you won't pay anything more, but I might make a commission.
[ETA: Since this post is so long and packed with info, I've added a Table of Contents and an Index in case you want to jump to a specific topic.]
Due to my contrarian nature, I tend to ignore things that are popular. But when something gets SO popular that even the haters are talking about it ("Am I the only one who doesn't like/watch/eat…"), then I can no longer resist, and I check it out. That's pretty much what happened with Pokémon Go.
I ignored the Pokémon Go rumblings on Facebook for the first few days. But then I started seeing posts like, "Am I the only person who doesn't care about Pokémon Go?" and I had to be contrarian to those people. I downloaded it. Besides, my podcast cohosts and I had decided to do an entire episode on it, so I had to know what I was talking about.
The basic point of the new Pokémon Go game is the same as the card game: to collect and train pokemon creatures. It's the kind of game I usually stay away from. But where the phone-based game veers off wildly is that you actually have to get up off of your ass to play. You have to leave your house, even. (Well, most of the time. I can access two pokestops from my couch. More on what those are later, and why people hate me.)
The first time I caught a pokémon was very much like the first time I had sex: I didn't know what I was doing, I didn't know where to look, I fumbled around, something happened but I wasn't 100% sure what, and then it was over. I vowed to pay attention and go more slowly next time.
I've been playing for a week now, and I have a pretty good handle on the game. I'm a level 10. I didn't really think that the world needed another How To Play Pokemon Go post. There are so many! But most of them seem to be written by gamers. I'm not a gamer. And I've answered a ton of questions over the past few days from moms who aren't gamers either. Some really basic questions that the seasoned gamers are skipping over. So maybe there is a need.
This post is going to cover everything you need to get started w/#PokemonGo. But no gamer crap.
Click To Tweet
This post is going to cover the basics. How to sign up, what to do, some tips. Everything you need to know before about level 5. No weird gamer crap – yet. I'll have to get into things like CP and HP and gym battles and other stuff I don't really care about in the next post, but not now. I'll talk about the more complicated stuff in a few days. This will get you started.
I'm also going to tell you how to play without staring at your phone. From what I've seen on the streets of NYC in the past week, this is needed advice.
Don't be confused if you see two different trainer names on my screenshots. I created a dummy account yesterday so that I could go back and get screenshots from the beginning of the game.
Downloading
You can find the game here for Android and here for Apple. I've played it mostly on Android, but what I've played on my iPod has been exactly the same.
WindowsPhone people, I was one of you until a few months ago. I don't know what to tell you. You may never get this game. I wonder how many WP users are going to jump ship because of Pokemon Go.
Signing Up
Google
If you just want to sign in with your existing google account and start playing, google is the way to go.
Pokemon Trainer Club
If you don't want to use your google info, or you want to sign your child up for a child's account under your account, you need to create a Pokemon Trainer Club account.
After registering, you'll have to wait a few minutes for the email confirming your account.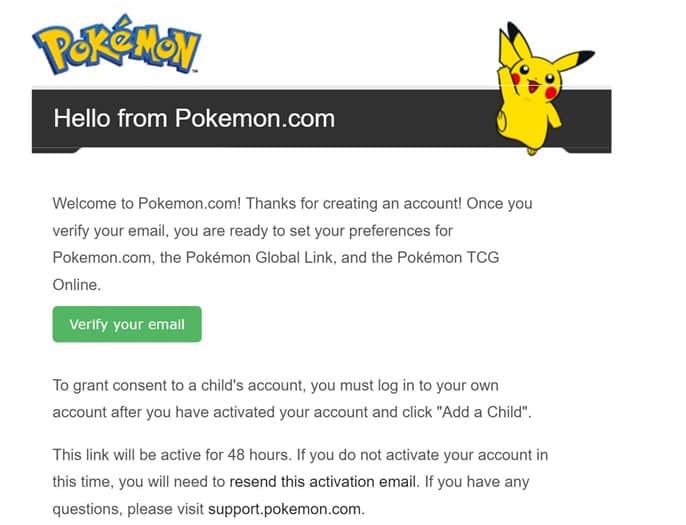 Click on the confirmation link, and then you can verify your identity.
Once you've done that you can sign up your kids.
Child Account
Your kids do not need an email address in order to have a child's account, you can check the box to use yours if you want. Once you have them signed up, you can control things like whether or not their "nicknames" are shown in the game. 
Right now there's no communication between players and only a couple of instances where other players can see your nickname, so you might not think you need a child account. But the rumor is that trading pokemon will be allowed at some point, which would definitely involve some kind of communication. If this is a concern for you, you might as well just sign your kids up this way. It doesn't look like there's any way to switch later without starting a new account. They would lose all of their progress.
Signing In
Once you sign into the game on your phone you'll be greeted by Professor Willow. I don't know who he is and I don't care. If you care, ask a ten year old.
After you meet Professor Willow you'll get to customize your look a little bit. You can choose a gender, change hair and skin color, personalize a few accessories, and that's about it.
Now you're ready to play.
[Update: As of the end of July, you're now able to change your look any time. Just click on your avatar in the lower left corner of the map screen, and you'll see a menu icon on the lower right side of the screen. Click there to customize. Thanks for the heads up, Sarah!]
Your First Catch
You're now on a map. It's a real map, of where you are, but it doesn't have any street names. I do wish there was the option to have street names because I suck at reading maps to begin with, but they're probably worried about kids taking screenshots and sharing their exact locations with the world. Kids ruin everything.
Pikachu
Almost immediately you will see three pokemon. What you do next depends on whether or not you give a rat's ass about Pikachu.
I don't really know what Pikachu is, but a lot of people seem to care. There's a high nostalgia factor with Pikachu. If you don't care but your child does, what I'm about to tell you will make you a hero.
If you want Pikachu to be your first catch in the game, read on. If not, skip to the next section, Throwing The Ball.
Those three pokemon near you? None of them are Pikachu. Walk away. DO NOT TAP ON THEM. Just walk. Keep walking until those three disappear from the map (I had to walk a bit less than one city block).
Almost immediately three more pokemon will appear on the map. It will be the same three again.
Walk away again.
Keep repeating this until you get FOUR pokemon to choose from. One of these will be Pikachu, the little yellow guy.
I had to walk away four times. My fifth group included Pikachu.
Throwing The Ball
Click on the pokemon that you want to catch. At this point, you'll be given the option to turn your camera on. Go ahead, or don't. We'll talk about it more a little later.
If your camera is on, you'll see the pokemon you chose in your real-world surroundings. For example:
If you left your camera off, it will be in a cartoon world. For example:
Either way, after a moment there will be a red and white pokeball there too.
Ring Colors
When you press on the pokeball you'll see a ring form around the pokemon. In the beginning, you're mostly going to see a green ring. This means that the pokemon is pretty easy to catch. Pokemon with yellow rings are harder, and red rings are the hardest.
This ring will get smaller and smaller until it disappears, and starts over again big. What you want to do is flick the ball towards the top of the pokemon, and try to time it so that the ball hits when the ring is small. The smaller the ring is when you hit it, the more bonus XP points you get. (Don't worry about what these are, just know that you want them.) This is how you catch a pokemon.
Aiming
I've found that I'm more likely to make a catch if I aim a bit high, so that the ball falls down onto the pokemon from the top. Trying to shoot the ball straight into the circled doesn't really work for me.
[Update: Forget what I just said and try this guy's trick instead in the video below. Amazing. It doesn't prevent the pokemon from escaping after you catch it, but I've hit every pokemon on the first try. If you find yourself low on balls a lot (heh) this is a life saver.] [Update: This trick doesn't appear to be working after the end-of-July update. It used to allow you to throw the ball when the pokemon were very close, but now the ball doesn't appear until the pokemon have moved all the way back. Thanks, Stephanie!]
If you're lucky, after the ball shakes a bit, the screen will tell you that you captured the pokemon.
Escaping
However, occasionally they escape the ball. Usually, they stick around long enough for you to try again with the ball throwing, but sometimes they run away. I had one escape seven or eight times and then I finally caught it. But others have run away after escaping once.
Once the screen says "Gotcha," though, it's yours.
Don't worry for now about all the info you're given about your captured pokemon. Doesn't matter yet.
Running
You also have the option of exiting this screen without catching the pokemon. It's the little running icon on the top left of the screen. There's little reason to do this, but it's an option. 
Choosing Your Nickname
It's at this point that you'll be able to choose your nickname. I don't know why you don't choose it in the beginning. I didn't design the game.
The Map
The map is pretty basic. If you move, your avatar moves. See that circle radiating out from your avatar's feet? That's your range. Anything within that range, you can access.
Orientation
If you click on the compass in the top right corner you can switch from always having the map point north, to having the map turn around when you do. Or you can just touch the map with a finger and spin it to whatever view you want. 
Pinch & Zoom
If you pinch the map with two fingers you'll be able to see more of the surrounding area.
If you spread your fingers apart you will get a close-up view.
Settings
From the map screen click on the ball, then click "Settings" in the upper right corner. Keep in mind that if you sign out of the game and sign back in, your settings might go back to the default settings.
Sound
Here is where music and sound can be turned off. I highly recommend it. It's annoying. Plus I'm usually listening to something else while I'm walking around.
Vibration
Leave vibration checked at all times. Why? So that you don't have to stare at your phone like a moron. Why? Because your phone will vibrate whenever there's a pokemon near by.
Battery Saver
Checking battery saver doesn't do a thing if you're looking at your phone. However, if your phone is pointed down at the ground, your screen dims and you use less battery. So look at the location of the next pokestop, point your phone down, and walk there like a normal human being who isn't going to bump into things. Remember, your phone will vibrate if there are pokemon nearby.
There's something to note, however, and I hope it gets fixed soon: when I put on battery saver, my game freezes every few minutes. I'll still be moving on the map so I won't realize that it's frozen, but I can't click on anything. If your phone is doing that, turn off battery saver and pray for a fix.
[Update: I've heard from an iPhone user (thanks, Kuleen!) that the Battery Saver option disappeared from both her and her daughter's phones after the recent update. I can still access it on my Android, but it still freezes the game when I try to use it. My hope is that they removed it from iPhones in order to fix it and will do the same for Android, but this is a complete guess.
Running in Background
Note that you can't just run the game in the background. If the game isn't actually running, with your screen on, nothing is happening. You're not logging kilometers for your incubators, and your phone won't vibrate to let you know that there's a pokemon near you. So you can't save on battery that way.
Pokestops
Pokestops are where you go to get stuff for your bag. They look like this, those blue blocky things:
Supposedly when you get close enough to actually stop at one they change into this round shape:
I say supposedly because I can usually access the pokestops successfully before they go into that shape. It never hurts to try. If you tap on a pokestop and it's too far away, it will just tell you that, and you can try again when you're closer.
And occasionally, a stop will change into that round shape but tell me I'm too far away. So it's not exact at all.
When you tap on a pokestop that's within range it will look like this.
Swipe your finger across the circle in one direction over and over to get it spinning, and stuff will fall out. Usually, you'll get three items but I've gotten as many as five.
You can click on the items while they're floating around and pop them, or just wait until they pop themselves, or X out of the screen back to the map. Doesn't matter. Once they fall out of the spinning circle, they're yours. They're in your bag.
Once you've been to a pokestop it turns purple. As long as it's purple you can't get any more stuff out of it. But it only stays purple for four or five minutes, and then you can go back in!
That really big thing off in the distance, in the top left corner of the screen? That's a gym. You don't have access to those until level five.
So here's why people hate me: my house is in the middle of a short block. there's a pokestop on each corner. And I can access both of them from my couch. One I can only access from my phone, the other only from my iPod. It's weird. I guess each one puts me in a slightly different position on the map.
I can just sit on my couch and every five minutes or so put a few more items in my bag. My bag is always full.
If it makes you feel any better, there are so many players in my area that I'll never ever get to take over a gym. Ever. So, pros and cons.
It's OK to hate me. I would hate me too.
Augmented Reality
When you're in the "throwing the ball" screen you can turn AR (augmented reality) on or off, which basically means turning your camera on or off. There are advantages to both modes.
AR on
This is how you see the pokemon in your real-world surroundings. There's was a Poliwag on the footstool in my living room. It's cute. But it also uses more battery, and in my opinion makes the pokemon harder to catch. With AR on you have to point your phone where the pokemon is. You might have to turn in almost a complete circle to find it.
But you can also angle your phone so that the pokemon is higher or lower on the screen, which might help your aim. Sometimes helpful for getting a cute picture, sometimes useful for aiming the ball.
With AR on you can also take a picture of your pokemon. Click on the camera icon and take as many as you like. I've become a little obsessed with doing this around food. I don't know why. Follow my new PokeFoodPics account on Instagram if you care.
When you take a picture this way your nickname will be saved on the picture on the bottom right. If you don't want your nickname on the picture you can use your phone's screen capture mode, but the game will still be playing while you're doing that – a pokemon could run away.
AR off
I find that pokemon are almost always easier to catch with AR off. When AR is off, the pokemon just stays in the middle of your screen, no matter where you point your phone. You can even have your phone lying down on a table. Doesn't matter.
You'll also use less battery this way.
My AR Advice
I keep AR off unless I'm in one of these two situations:
If I actually want to take a picture, I turn AR on, take the picture, and turn it off.
Occasionally my aim with the ball gets weird, and no matter what I do the ball goes high and to the right. A glitch in the game? I don't know. But turning on AR always solves it, because then I just angle my phone so that the pokemon is in the top right of the screen, and I hit it.
Your Bag
Pokeballs & Incense
So what kind of stuff are you getting at the pokestops? Mostly the pokeballs that you throw to catch the pokemon. But there's other stuff too. From the map screen click on the red and white ball at the bottom of the screen, then click on the backpack under "Items" and you can see what you have. (You can also access your bag from the screen where you throw the balls at the pokemon.)
The game starts you out with 50 pokeballs and 2 incense. Incense is handy. If you click on it and decide to use it, pokemon will be attracted to you for half an hour. The incense will follow you wherever you go for those 30 minutes. So don't waste it. Only use it when you have a solid half hour to play the game.
BTW, I tried using incense in my house, and it did nothing. I think you actually have to be out and walking around for it to work. Which is weird, because I've caught plenty of pokemon from inside my house. [Update: A reader who does not live within walking distace of any pokestops told me that when she uses incense inside her house, she attracts one pokemon every 5 to 10 minutes. Without the incense she doesn't catch any in her house. So perhaps you will get more mileage out of incense inside your house if you are farther from pokestops than I am. Thanks, Donna!]
Also, the rumor is that incense only attracts pokemon for you, not for people near you, but I haven't confirmed that yet. [Update: Another reader has tested this out with friends, and confirmed that yes, when you use incense only you can see and catch the pokemon that it attracts. Thanks, Stephanie! And also thanks to this week's Parenting Bytes guest Brian, who was the first one to tell me that he didn't think incense worked on other people.]
Incidentally, you can also see how many balls you have when you're throwing them. It's that little number down there next to the ball. I had 178 balls in my bag at that point.
(Update: At higher levels, there are also Ultra Balls and Master Balls. Good thing, because some of the pokemon get really hard to catch, escaping multiple times.)
Incubator
You also start with an incubator that you can use as many times as you want (the ones you collect later will have a limited number of uses). It's for hatching eggs. More on that later.
What else will you find in your bag? In the beginning, not much. But after playing for a week here's what's in mine. Some of it I acquired from pokestops, some of it I received when I reached a new level.
When you're in your bag, items that can't be used at that time are grayed out.
Razz Berry
This piece of fruit makes it easier to catch a pokemon. From the "throwing the ball" screen click on the little backpack, click on a razz berry, and fling it at the pokemon. Then throw your ball.
If the ring around the pokemon is green, I wouldn't bother using a razz berry. But if it's yellow or red, you might want to.
In my experience these don't work very well on pokemon with red rings. I've had pokemon escape from the ball multiple times, even though I used a razz berry for each catch. Still, worth a try if you have them. Saving them doesn't do you any good.
Potion, Super Potion, & Revive
These are for healing pokemon. You're not battling yet, so don't worry about these.
Lucky Egg
This is a magical thing that doubles the number of XP (experience points) you earn for 30 minutes. It's great to use this in conjunction with a lure or some incense. (Not to be confused with the eggs that you put in the incubators, which we'll talk about a little later.)
Lure
It's kind-of like incense in that it attracts pokemon, but it doesn't travel with you. You can only attach it to a pokestop, then hang around and wait for pokemon. You'll also attract other players, because they'll be able to see that a pokestop has a lure on it. It will look like it has pink confetti coming out of it.
When you put a lure out, other people can see your nickname. This is one of the few times (for now, anyway) where this will happen.
So, only use one of these when you can hang around in one spot for half an hour and play.
Businesses are using them to lure in customers, too. This was midtown Manhattan a few days ago. There were lures everywhere at lunch time. I was catching pokemon left and right!
If you really want to do a good deed, put a lure up at a hospital. Kids in hospitals are playing Pokemon Go, but often they can't even leave their beds to do it. So you can help the pokemon come to them.
A Full Bag
You're only supposed to have 350 items in your bag at one time. You can see at the top of the bag screen how full yours is. You can buy a bigger bag with coins, but you haven't earned any yet. (You can buy coins with real actual money, but I consider that cheating and will totally judge you for it.)
If your bag is full and you do something that earns  you extra items, don't worry, you'll still get them. When I took this screenshot I had 413. My bag was already full, and then I leveled up to level 10 and got a bunch more stuff.
But if your bag is full you won't be able to collect more items from a pokestop. When you spin the circle it will tell you that your bag is full.
You can delete items if you want to make room for more (click on the little trashcan next to an item), but you're probably not going to run into this problem. And you can just use stuff in your bag instead of deleting it. There may be a reason to delete items further into the game, but I haven't found it yet.
ETA: It's worth noting that you'll still get 50 experience points (XP) if you spin the circle when you're bag is full. 
Catching Pokemon
When you're on the map a pokemon appears, tap on it and try to catch it.
You might see some grass getting displaced on the map. It looks like rustling leaves. It's down there on the right, near a pokestop. That means there's a pokemon in that area.
You can catch different types of pokemon in different areas. Some like the water, some like grass, some like the woods. I live in Brooklyn and am finding a lot of pokemon that look like rats and pigeons. Go figure.
Different pokemon also come out at night.
Nearby Pokemon
[Update: As of the end of July, the footprints are gone. So while you can still see what is nearby, you can no longer track the pokemon by how close they are. Honestly, that part hasn't worked for me for a while anyway – it was just showing three footprints for everything. I'm hoping that they can fix and restore the tracking at some point.]
There's a little strip in the bottom right corner of the map with three pokemon on it (hopefully). It's showing you the three pokemon that are closest to you. Click on that.
Pokemon that you already have will be in color. Pokemon that you don't have will be in silhouette. The number of footprints under a pokemon tells you how close it is. Three footprints is the farthest. Zero footprints means it's right near you, very close to being in range.
If you X out of that screen it will continue to show you the three closest. However, if you click on a pokemon it will only show you that one, along with how close it is. This is very handy if there's a pokemon you don't have near by. (But it will also make you look at your phone more. Dammit.)
Your Pokemon & Eggs
Pokemon
From the map screen click on the ball, then click "Pokemon" on the bottom left. You'll see all of the pokemon that you've caught, including duplicates. You can sort the pokemon in different ways by clicking on the little clock in the bottom right corner.
If you click on a pokemon, you can see some info about it.
You can also rename it to anything you want. I have NO idea if anybody else can see those names at any point in the game, or if they're just for you. But have fun.
You can have a maximum of 250 captured pokemon at any one time, but don't worry, I'll tell you what to do with your duplicates in the next post.
Eggs
If you click on "Eggs" on the top right, you can see all of the eggs that you've earned or found. You won't have any at first.
Eventually though you'll gather some at pokestops.
These eggs hatch into pokemon, but you have to incubate them first. There are 2km eggs, 5km eggs, and 10km eggs. (Metrics: another sign that I didn't design this game.)
Tap on an egg and then put it into an available incubator (incubators that are in use will be grayed out).
Once you've walked the assigned distance, the egg will hatch. You might get a pokemon that you already have, or you might get a rare one. Or you might not get a pokemon at all, but something else like stardust or experience points. You don't know until it hatches.
It makes sense to always keep your incubators full. Hatching eggs gives you some great stuff.
But don't try to outsmart the incubator. It's not going to log your miles—sorry, kilometers—if you're in a moving vehicles (unless that vehicle is moving at walking speed). Not sure yet if a bike is too fast, I have to try it.
Pokedex
From the map screen click on the ball, then click "Pokedex." This will show you all of the unique pokemon you've caught. (Pokemon that you've seen but not captured show up in silhouette.)
According to this site, there are 151 pokemon total. But so far my screen is only showing a maximum of 129, so I'm not sure if it will bump up at some point. [It has since bumped up to 142, but according to the first American to catch them all, that's it. There are three more available in other countries, and there are rumors that these could possibly be hatched from eggs here in the US, but so far nobody has done it, as far as I know.]
Click on a pokemon and you can get valuable information about it (most of which you don't need yet, like clues as to who you should put it up against in battle). You can see how many you've seen and caught, and what other creatures it can evolve into. More on that in a few days.
Levels
Each time you catch a pokemon on collect items from a stop, you earn XP, or experience points. Collect enough and you'll get to the next level. When you level up you'll also earn some extra goodies for your bag.
Level 5 is when you can start visiting gyms to train and battle, so we won't worry about those things yet.
You can always see your level on the bottom left corner of the map screen.
Your Info/Journal
See your "picture" in the bottom left corner? There's an important piece of information there: how close you are to the next level. Go ahead and click on it and you can get more info, like how many coins you've earned (none yet!), what team you're on (I said be patient!!), and when you started. And more detailed XP info, telling you how many more points you need to get to the next level.
Click on "Journal" and you can see the last 50 action you took. What you got at pokestops, which pokemon you caught, etc.
Server Issues
The first few times I played I didn't have any trouble logging on. But then on a weekend night, when I guess everybody was out hunting for pokemon, I had to try about thirty times in a row to sign in. If this happens to you, just keep trying. But this afternoon I've been trying to get on for a couple of hours to take a few more screenshots for this post, and it's not happening. You just never know. Don't build a trip around it or anything like that, because you could be disappointed by the humbled servers.
Sometimes the game freezes for me at really inopportune times, like right after I've caught a pokemon but before he's been put in my pokedex. When that happens there's really nothing you can do except close the game, reopen it, and hope that pokemon shows up again. I have not found that waiting unfreezes the game.
Tips
Catch Them All
So, if the goal is to collect all of the unique pokemon, why would you want to catch every pokemon that comes your way? For one thing, each time you catch one you earn Stardust and Candy. You don't need to use them yet, but you will later.
You'll also be able to trade those duplicates later for more Candy. So for now, just catch every pokemon that comes your way.
Look Up
If you're in a more suburban/rural area, you might have to go quite some distance in between pokestops and pokemon. That's tough, because you really might have to look for rustling grass and keep track of how far away a pokemon is. I can't really help you with that. I won't judge you. Just please try not to get hit by a car, walk off of a cliff, fall in the water, or bump into another person.
But if you're in a city, there is NO excuse for walking around staring at your phone. Look on your map, see where the next pokestop is, and put your phone down at your side. You don't need to look at your phone while walking toward that next pokestop, because your phone will vibrate if you're near a pokemon. 
Get a Portable Charger
I just bought two of these. I had them on my list anyway for work reasons, but yeah, they'll come in handy for playing Pokemon Go. It really does eat up your battery. [Update: After using these chargers for a week, paired with these cords, I've discovered that they're the only chargers I own that can actually increase my charge while I'm playing Pokemon (or using Waze). I have one other charger than can keep up, but not increase my battery. And the rest just make my battery drain slower.]
Get The Wristband
There's a wearable shipping soon that will allow you to play without looking at your phone at all. It's a wristband that will vibrate when you pass a pokestop or a pokemon. You'll be able to collect items or catch pokemon by pressing on the wristband, and it will turn green if you're successful. Your phone will still have to be running the game, but it can be in your pocket the whole time.
Unfortunately, the Pokemon Go Plus wristband is sold on Amazon and everywhere else I've checked. You should definitely go to Amazon and sign up to get an email alert when it's available.
And that's it! Check back in a few days for some more advanced stuff, like how to power up or evolve your pokemon, what to do with your duplicates, and what to do at a gym.
Click tweet to share on Twitter:
Everything you need to know to get started on #PokemonGo, in plain English. via @AmyOztan Click To Tweet
Click image to share on Pinterest:
Click image to share on Facebook:
Tabel of Contents
Intro
Downloading
Signing Up
          Google
          Pokemon Trainer Club
                    Child Account
Signing In
Your First Catch
          Pikachu
          Throwing The Ball
          Ring Colors
          Aiming
          Escaping
          Running
          Choosing Your Nickname
The Map
          Orientation
          Pinch & Zoom
Settings
          Sound
          Vibration
          Battery Saver
          Running In Background
Pokestops
Augmented Reality
          AR On
          AR Off
          My AR Advice
Your Bag
          Pokeballs & Incense
          Incubator
          Razz Berry
          Potion, Super Potion, & Revive
          Lucky Egg
          Lure
          A Full Bag
Catching Pokemon
Nearby Pokemon
Your Pokemon & Eggs
          Pokemon
          Eggs
Pokedex
Levels
Your Info/Journal
Server Issues
Tips
          Catch Them All
          Look Up
          Get A Portable Charger
          Get The Wristband

Index
Advice, AR
Aiming
AR Off
AR On
Augmented Reality
Bag
Battery Saver
Catch Them All
Catching Pokemon
Charger, Portable
Child Account
Downloading
Eggs
Eggs, Yours
Escaping
First Catch
Full Bag
Google
Incense
Incubator
Intro
Journal
Levels
Look Up
Lucky Egg
Lure
Map
Nickname, Choosing
Orientation
Pikachu
Pinch & Zoom
Pokeballs
Pokedex
Pokemon
Pokemon, Nearby
Pokemon Trainer Club
Pokemon, Your
Pokestops
Potion
Razz Berry
Revive
Ring Colors
Running
Running In Background
Server Issues
Settings
Signing In
Signing Up
Sound
Super Potion
Throwing The Ball
Tips
Vibration
Wristband Your Info