This post is sponsored by Bitdefender.
For my parents' generation "home security" meant a deadbolt. But with so many smart devices, phones, and computers in our homes these days, security has taken on a new meaning. I'm much more concerned about some hacker halfway across the world draining my bank account than I am about someone picking the lock on my front door.
Smart devices like light bulbs, thermostats, Xbox consoles, baby monitors, and refrigerators can be hacked, and there are a million different ways that a hacked device can be used to do damage. Think about all of the different ways your devices connect to the world each day. You're sending credit card numbers and other personal information, your phone is transmitting where you are, your email is sharing your travel plans, and your security cameras are sharing pictures and videos from your house to the cloud.
I'm guessing this is all stuff that you don't want a hacker to have, and that's just the info that you know you're transmitting! You definitely don't want a hacker getting access to your computer's camera and turning it on without you knowing it! (Yes, they can disable that little light that tells you the camera is on.)
So, what do you do? You get a Bitdefender BOX.
Protect Your Smart Devices
This one stylish box protects all of your smart light bulbs, cameras, thermostats, refrigerators, robot vacuums, and whatever crazy smart devices haven't been invented yet. It works with your existing modem, and can either work with your existing WiFi router, or BE your WiFi router. All of your devices connect like normal, but it's constantly scanning your WiFi network to make sure everything is OK. It can detect when someone is trying to break into your system. It even learns how your devices behave over time so that it can detect abnormal behavior. If it's connected to your WiFi, no matter what it is, the Bitdefender BOX is protecting it.
And when a new device connects to your WiFi network, you'll get a notification so that you can make sure it's authorized and safe.
But that's just the beginning!
Protect Your Computers, Tablets, and Phones
If you're using some kind of security software on your computers and phones, ditch it. Bitdefender BOX includes a one-year subscription to Bitdefender Total Security 2018, which covers all of your devices. All of them! There's no limit to how many you can use Total Security with. It works with Windows, Mac, iOS, and Android! So your phones, tablets, and computers will be protected whether they're on your WiFi or not!
Bitdefender Total Security 2018 will:
-Protect your devices from viruses, worms, and ransomware
-Keep you from going onto dangerous websites, like phishing sites
-Make sure that if you're transmitting sensitive information, like credit card numbers, it's encrypted; if it isn't it will block the transmission and tell you
-Protect your webcams
-Securely store your passwords and Credit Card info
-Monitor your kids' online activities and locations
-Let you know if an app is dangerous
And it does all of this—and more—with virtually no impact on your devices. Being secure is not going to slow you down!
And yet, we're still not done with what Bitdefender BOX can do!
Advanced Parental Controls
Bitdefender BOX includes sophisticated Parental Controls that can keep your kids away from malicious websites, schedule when they can access the internet, and pause their internet at the touch of a button, all from the Bitdefender Central app.
By installing Bitdefender's Parental Advisor on your kids' devices you can monitor and protect their phones, tablets, and computers whether they're on your WiFi, someone else's WiFi, or using data.
Set-Up
The Bitdefender BOX also comes with free phone and email support. I had to call during setup—I was having an issue with my own WiFi router—and the person who helped me was great! Everyone's home setup is different, and between the app and support you can find the help you need.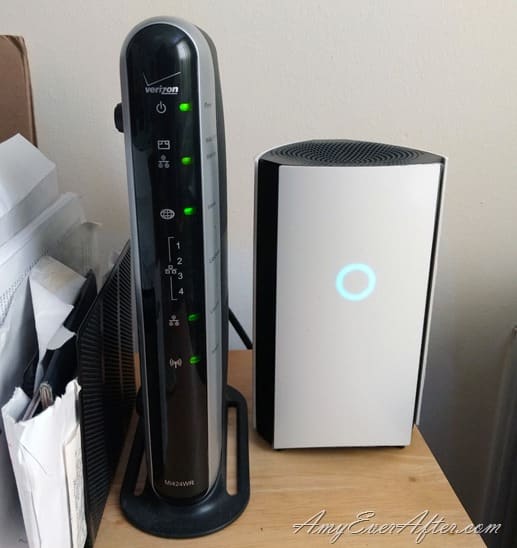 I installed the Bitdefender BOX at my mom's house no problem, using it as the WiFi router. In my house, since I have a WiFi mesh system, I wanted to use my own router, so my Bitdefender BOX now acts as a bridge between my modem and my routers, keeping everything secure. My login and password is the same as it was before I installed the Bitdefender BOX. My family didn't even notice the change.
The amount of information we send over WiFi these days is staggering, but Bitdefender has made protecting it easy!
Want to win your own Bitdefender BOX? Enter below!
a Rafflecopter giveaway