This post may contain affiliate links.
If you buy something from one of the linked sites you won't pay anything more, but I might make a commission.
I'm very happy to announce that I'm going to be doing some pro bono writing this year for a really great charity: The Ronald McDonald House of New York. If you're not familiar, this is a place where sick children getting treatment in New York hospitals can stay, with their families, for the ridiculously low fee of $35 per night (or less, depending on circumstances). And this isn't some kind of hostel-like situation. It's more like a nice hotel, with game rooms for kids and teens, a large kitchen with lockable storage for each family, a cafeteria with catered donated meals, and much more.
Ronald McDonald House is funded through a combination of corporate partnerships and private donations. A lot of the private donations come in via a calendar full of amazing events throughout NYC all year long (you can see some of their upcoming events on the site's home page). I attended my first one with my family last week, the popular Skate With The Greats event at Rockefeller Center. Between ticket sales, corporate sponsorships, silent auction, live auction, and raffle, the event raised $750,000!
We started out with a delicious buffet dinner (plus an open bar, if you're into that sort of thing), and then the kids went to get skates while I headed for the presentation, hosted by the evening's MC, Bill Evans. I watch Bill do the weather every morning on ABC while I'm getting the kids out the door to school, and I just love him. It was nice to see him indoors in a hockey jersey instead of freezing outside in a suit.
Then came what everybody was waiting for: the New York Ranger greats. I'm not even going to pretend that I knew who most of these guys were. Throw some retired Buffalo Sabres players on that stage and I know what I'm talking about a bit better. But this crowd went wild. And whatever team they were from, I love that they do this for charity.
Here's Pete Stemkowski and Ron Duguay introducing the other Rangers:
We also heard a little girl named Antoinette Fabian and her mom, Raquel Coleman, talk about what the Ronald McDonald House has meant to her as she's battled cancer. She told us that after being poked and prodded at the hospital, Ronald McDonald House was her haven. I had tears in my eyes.
The Rangers even presented here with her own jersey!
After that I got my skates on. Incidentally my kids always ask why I have my own skates and they don't, even though I'm the worst skater in the family. The answer? Because my feet aren't growing anymore, and you guys grow out of shoes in three months!!
I managed to get around the rink twice without falling. After that I just wanted to watch my kids skate. They're getting good! In fact, Jake seems to have mastered "ice jogging." Plus, it was super cold that night, and Mullen and Matteau were out there skating with fans and signing things without their gloves on.
There were Rangers inside, too, signing things and posing for pictures. They were all awesome.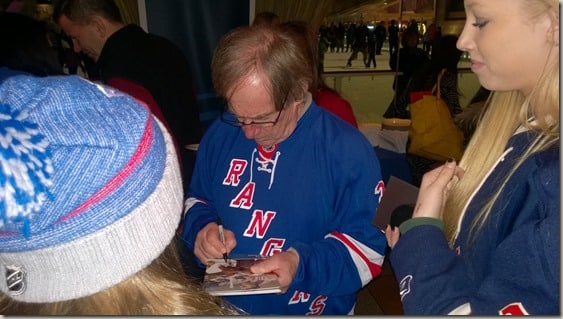 Even Miss New York Jillian Tapper was there to show her support!
It was a really great night – we all had a blast!
The next big event coming up for the Ronald McDonald House is the United Airlines NYC Half Marathon on March 15th. If you're a runner, you can sign up to run on the Ronald McDonald House team and raise a minimum of $1,250 for them. If you already have your registration for the half marathon, you can still raise money for RMH – every little bit helps! And if you want to support a runner's fundraising efforts, they sure would appreciate it.
I'll be checking back in all year with fundraising event updates. If you'd like more information about raising money for RMH of New York, please don't hesitate to leave a comment – if I can't answer your question I'll get you in touch with someone who can!