This post may contain affiliate links.
If you buy something from one of the linked sites you won't pay anything more, but I might make a commission.
[The following post was commissioned by MomTrends.]
In my first two installments chronicling my Disney Paint adventure (purchasing the supplies and stenciling), I talked about the different kinds of Disney specialty paints from Glidden. After working with two of them – Magnificent Metallic and All That Glitters – I was ready to show my daughter's room off to her friends.
We had a little princess-themed reveal party, where the girls took little bags of princess bling and played dress-up:
Then we decorated some cupcakes: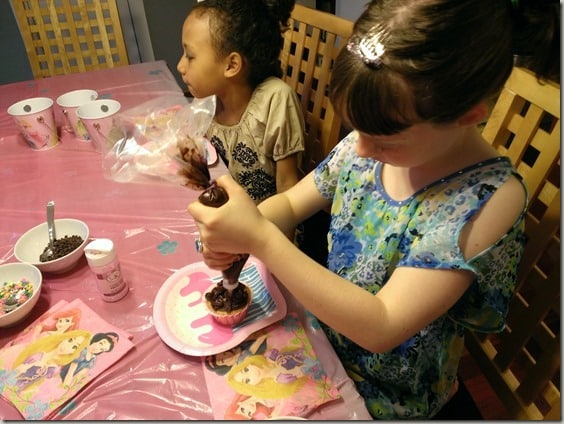 And we were ready to reveal the room make-over!
Before I worked on the wall and door, they looked like this:
For the door, I wanted it to look like a dressing room door. I used the Magnificent Metallic paint and a star stencil, then when that was dry I used some silver letter stickers I found online. It turned out great!
For the wall I started with the same stenciling process for the crown. When that was completely dry I did a coat of All That Glitters on top of the whole wall, crown and all. Paired with the Disney Princesses bedspread we were sent for this project, it looks absolutely regal!
It's hard to see the sparkles in the pictures, but they look very cool in person! They dance in the light and look different depending on the time of day or where you're standing:
My daughter loved showing off her new room to her friends:
My friend Ann said that it looked really impressive, and that she couldn't believe that I had done it all myself!
When I started painting, my daughter said she only wanted the glitter paint on the wall behind her bed. But now that she's seen it, she wants it on the other walls too! I haven't gotten to it yet, but I'm happy to do that eventually for my little princess. :-)
Thanks very much to Glidden and MomTrends for all of the help with this project, including the Wal-Mart gift card I got to give away to one of the "reveal party" attendees. Everybody had a lot of fun, and I think I might have inspired some room make-over projects!
Disclaimer: Compensation and products for review were provided by Glidden via MomTrends.  The opinions expressed herein are those of the author and are not indicative of the opinions of Glidden.
Originally posted on Selfish Mom. All opinions expressed on this website come straight from Amy unless otherwise noted. This post has Compensation Levels of 2 and 13. Please visit Amy's Full Disclosure page for more information.