This post may contain affiliate links.
If you buy something from one of the linked sites you won't pay anything more, but I might make a commission.
Uh-oh, where's the coconut?!?
Before I was invited on a press junket this summer to the Marriott Resort and Royal Beach Casino on the island of St. Kitts, I really had no idea where it was. I guessed that it was in the Caribbean, and was basically right – it's south-east of the Virgin Islands. But a geographical quirk means that the western side of the island faces the Caribbean Sea, and the eastern side faces the Atlantic. The very narrow southern part of the island (closest to its sister island, Nevis) makes for a great photo opp from Timothy Hill (below), where both sides can be seen easily.
But I knew nothing else. I wasn't even sure if I would need my passport to go there (I did – but buy property worth at least $400k, and you can become a citizen!). I was happy to find out that American dollars are accepted pretty much everywhere, and since the value of the Eastern Caribbean Dollar is based on the US dollar, you don't lose anything by using American money.
Having been to the Caribbean a bunch of times – both flying in and visiting various islands while on cruise ships – I wondered why St. Kitts wasn't really on my personal radar. It turns out that they're relatively new to the tourism game, since growing and processing sugar was the island's primary source of income until 2005, when the government effectively shut down the money-losing sugar industry.
This has created a very nice situation for tourists, in that much of the island is undeveloped and gorgeous. Tourist areas are not crowded, and there's a very relaxed feel. All of the beaches on St. Kitts are public, but even the one serving our resort never seemed busy during our stay (then again, I was there in July – can't speak for February).
St. Kitts Marriott Resort and Royal Beach Casino
Arriving at the St. Kitts Marriott in the capital city of Basseterre, we were offered delicious fruit drinks and cold beer. Always a nice way to start a vacation, even if it was technically a working one. :-)
Swimming
The hotel has one very large main pool, which can get a bit loud when there's a DJ poolside. If that's your thing, you'll love that area, with its swim-up bar, volleyball net, and activities. There are two smaller pools, however, that were blissfully quiet and almost empty when I stopped by.
One of the quieter, smaller pools
The beach where I spent the most time that weekend was the one right in front of the Marriott. With gorgeous, clean sand and cabanas and chairs set out by the hotel for free use, it was incredibly convenient and beautiful. There's a long skinny rock formation in front of the hotel, which keeps the water calm, perfect for kids to play in. Walk a little farther down the five-mile stretch and you can find less protected water.
The beach directly in front of the Marriott
The Hotel
My room was in the main building of the hotel, which often had entertainment going on until about 10pm. If you're traveling with little kids who go to bed early, you may want to request a room in one of the smaller buildings. But I loved the open, airy feeling of main building, and the noise didn't bother me at all. By the time I was ready to go to sleep each night everything was very quiet.
The main building at the Marriott resort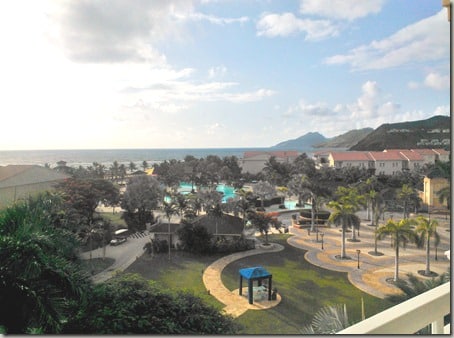 The view from my balcony
My room was very comfortable, especially the bed, and I'm always thrilled to have a fridge. Something else that I've seen in most Marriotts lately is this:
It's a small thing, but it makes it so much easier when you have multiple devices to charge, or want to plug your laptop into the TV to watch something on a bigger screen.
This just confused me though:
I pretended it wasn't there. I'm American, I wouldn't even know where to begin.
Casino and Spa
I hate to admit it, but my favorite thing about this resort – any resort, really – was the casino. Especially when my kids aren't with me, a casino in the hotel just makes my trip. There were plenty of tables, the dealers were friendly (but not too chatty), and I managed not to lose my shirt.
My other favorite part of any resort? The spa. I got one of the best massages I've ever had the last morning of my trip. I practically floated onto the plane. I wish I had taken some pictures, but you can check out the Emerald Mist Spa and its services on the website.
Food
My first night on St. Kitts our group met for dinner at the Royal Grille Steakhouse. Being vegetarian, I'm always happy at a steakhouse to get a good baked potato, maybe a decent salad. I definitely wasn't expecting one of the best vegetarian meals I've ever had, and it was not made especially for me – it was a dish off of the menu. Everything else was wonderful as well. I highly recommend the bananas foster (actually, every dessert I tasted during our entire stay was superb).
On our second night we dined at Blue Seafood, and again, as a vegetarian I wasn't expecting much. But I had another wonderful meal. And on our third night, our farewell dinner at the resort's Italian restaurant, La Cucina, was over the top fantastic.
I've never had three really great dinners at a resort before. Most Caribbean resorts are not known for their food. But I promise you, make a reservation at any one of those restaurants, and if it's anything like my experience, you won't be sorry.
Food at the more casual restaurants was more what you'd expect from a mid-priced resort, a little hit or miss. I had a so-so salad at Bohemia Grille, but some really great house-made potato chips. Every single thing I had for breakfast – both from room service and at the Calypso Restaurant breakfast buffet – was very good, with one big exception: the scrambled eggs. They were terrible. Get an omelet from the omelet station instead – mine was excellent.
I did appreciate the wide variety of food available, everything from burgers and fries to pizza to buffets to fine dining. There's something for everyone.
Up Next…
Stop by Friday, when I will be posting some absolutely gorgeous pictures from different parts of the island.
Originally posted on Selfish Mom. All opinions expressed on this website come straight from Amy unless otherwise noted. This post has a Compensation Level of 7. Please visit Amy's Full Disclosure page for more information.