This post may contain affiliate links.
If you buy something from one of the linked sites you won't pay anything more, but I might make a commission.
Last night was a blur of cooking and eating and cooking and eating and occasionally asking the people in my house who were actually watching the game why they were cheering (or not). I caught the half-time show, and was happy to see that Lady Gaga threw in some subtle messaging, first by singing a Woodie Guthrie protest song, then by including "Born This Way."
But later there was another piece of subtle messaging, a commercial that's dominating my Facebook feed today. And I don't think it's actually sending the message people think it is.
I saw the 84 Lumber ad last night, or at least as much of it as they were allowed to show on TV. The rest of the ad had been rejected by Fox as being too controversial, which seems silly since the ads I most associate with the Super Bowl involve barely contained boobs.
I didn't get a chance to watch the full ad until this morning, and I cried. It's a great ad. Being born in the United States is like winning the fucken lottery, and to see what other people go through to get here just tears me up inside.
I started googling about the company. I'd never heard of 84 Lumber before, which struck me as weird because the Super Bowl usually has ads from well-known companies. And the first thing I found was this.
Its founder is a Republican politician himself. Joe Hardy held office in Pennsylvania as the vice chairman of the Board of Commissioners of Fayette County from 2004 to 2008, according to the Pittsburgh Post-Gazette.

Maggie Hardy Magerko told the New York Times she voted for Trump.
And I was confused. When I'd watched the ad I'd seen it how I wanted to see it: a girl and her mother fight and suffer and persevere until they find a way into America.
But why would someone who is pro-Trump put out an ad like that? I watched it again.
Guys, it's a pro-wall ad.
That Super Bowl ad everyone's sharing about immigrants? It's pro border wall.
Click To Tweet
It's about going through the door in the wall that the government will provide for you, and that's the only way to get in. In this article the ad agency says that the purpose of the ad was to make a "patriotic" statement. And on Faceobook 84 Lumber has been consistently stating that it employs only people who are legally allowed to work here.
CEO Maggie Hardy Magerko had this to say (thanks for the link Julie!):
Even President Trump has said there should be a 'big beautiful door in the wall so that people can come into this country legally.' It's not about the wall. It's about the door in the wall. If people are willing to work hard and make this country better, that door should be open to them.
But I beg to differ. It is about the stupid wall (you don't need the door if the wall isn't there!), and funneling people through it and keeping everyone else out (I might be a bit more open-minded about this if Trump had shown any sort of respect towards immigrants – I'm really not convinced that he wants to let any in).
I'm not the only one who was confused. Scrolling through the company's Facebook page this morning, the ad is acting like a Rorschach test. There are tons of supportive comments from people who seem to think the ad is simply pro immigrant, although I think in that ad someone would have used wood from 84 Lumber to build a ladder and pass it over the wall to the mother and daughter.
There are also a lot of comments from people who seem to be mad at 84 Lumber for humanizing immigrants (what. the. fuck.). And many more who see the ad for what it really is, a statement in support of Donald Trump's fucken wall, and the door at the end of the ad is the big, beautiful door Trump has talked about. And as my friend Monica pointed out, when the door opens at the end the light shining through forms a big, glowing "T." Symbolism, or just the only shape that doors opening into sunlight would make? Almost definitely the latter, but I'm laughing at the the thought of Trump convincing himself that it's the former.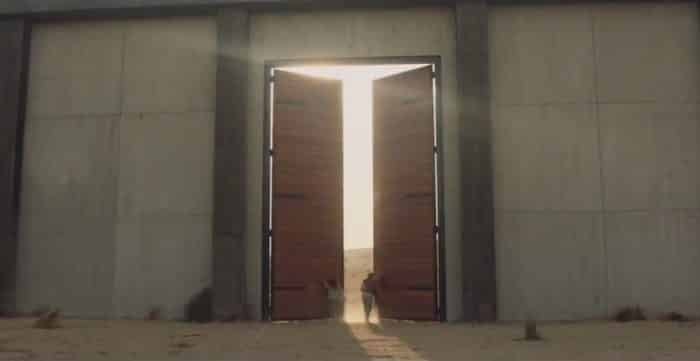 Look, it really is a great ad. It's shot beautifully, the mother and daughter are perfect, and it did exactly what a Super Bowl ad is supposed to do: it got people talking about the company. Bravo to the agency that made the ad, bravo to 84 Lumber for spending its ad money wisely.
I just wanted people to know that the ad supports Donald Trump's agenda.
Click tweet to share on Twitter:
The 84 Lumber ad is brilliant. But it's also pro border wall. via @AmyOztan Click To Tweet
Click image to share on Facebook: