This post may contain affiliate links.
If you buy something from one of the linked sites you won't pay anything more, but I might make a commission.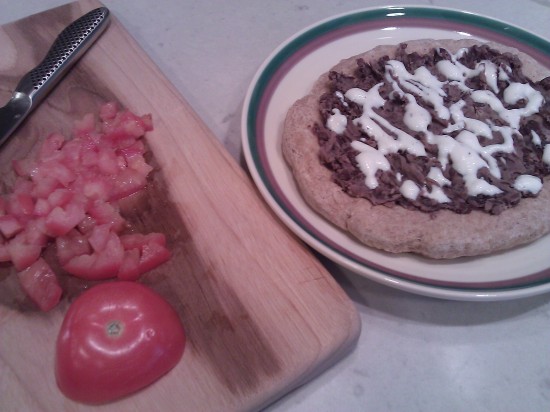 Today's lunch was so easy and tasty I had to write about it. It's what I call Taco Pizza, and it's so quick to throw together I hesitate to call it a recipe. And you can adapt it to whatever taco ingredients you have lying around.
Start with a pizza crust (I always keep some in the freezer), pita or flatbread. Take a few spoonfuls of canned black beans (drained) and mash them with a fork. Spread them on the crust.
Drizzle on some Hidden Valley Light Ranch dressing. Add chopped tomatoes and shredded cheese (I use a taco blend).
Bake for 10 minutes at 400 degrees (less for a thin crust or a pita).
Crush a few tortilla chips and sprinkle on top.
Enjoy!
Originally posted on SelfishMom.com, from Amy's cell phone (so please excuse any weird formatting). All opinions expressed on this website come straight from Amy unless otherwise noted. This post has a Compensation Level of 8. Please visit Amy's Full Disclosure page for more information. Amy also blogs at Filming In Brooklyn, Behind the Screen, and Momtourage, and podcasts with The Blogging Angels.