This post may contain affiliate links.
If you buy something from one of the linked sites you won't pay anything more, but I might make a commission.
Here's a fun little project for my fellow bloggers. It involves Trump, spam, and your website.
Sorry, I should have put "fun" in quotes.
I was looking at my website traffic a few days ago, like I do at least once every day, and I noticed that I was getting a lot of traffic from reddit. Since I normally get no traffic from reddit, I thought that was interesting. Usually when that happens the traffic is going to a specific page. But this time, it was all going to my homepage. Weird.
So I went to reddit and searched around trying to figure out who had listed my site where, but couldn't find anything. So I forgot about it…
Until the next day, when I was getting a lot of traffic from LifeHacker. Same scenario.
Nothing clicked until I was looking through my stats this morning, and found this:
A "language" that a lot of my readers seemed to be using that wasn't a language at all, but what looked like some kind of advertisement for a spammy looking site (notice the small-but-uppercase "G" in "google" – that's not normal). What the hell?
Bloggers, check your google analytics: you might have Trump spam.
Click To Tweet
Digging further into my stats I discovered that all of the traffic coming to my site from both reddit and LifeHacker were "speaking" this same language. So I started googling around for what was going on.
Turns out it's a new kind of spam. It's similar to "referrer spam," which mimics a bunch of users coming from a particular website in the hopes that you'll visit that website to see what's up, and then to your dismay the site is a phishing site, or a site with malware, or something else bad.
The language spam is similar, but instead of trying to get you to notice the referring site, it shows up in your list of languages to get your attention. None of it is real traffic. 
I did find a solution for filtering both kinds of spam out. It took me about an hour to implement in Google Analytics, but I think that's because I'm tired and sugar-buzzed from a holiday cookie exchange. The solution looked so overwhelming at first that I wasn't going to try it, but finally dug in and just followed the very clear directions step by step.
I would actually advise that you do not read the directions all the way through before starting, since that's what got my head spinning.
I take no responsibility for these instructions, I'm just following the lead of someone who seems to know what he's talking about. There are other guides out there, but this one seemed to cover the most ground in terms of what bad stuff it would filter out, so I ran with it. If you google the issue you will find other pages telling you what to do. 
The filters you're going to put in place only work going forward, so if you normally look at a 30-day view of your stats, you'll have to wait a month for all of the bad stuff to be gone from those stats. But if you get all the way to the bottom of the post, he tells you how to make an audience segment view in the meantime that will filter the same spam out of your historical data, as long as you're looking at that audience segment (or, you can just wait a month until your stats are "clean").
If even what I'm talking about here is confusing to you, you may want to hire someone to do this for you (it looks like the person who wrote the post offers that service). Since I don't know what I'm doing and it took me an hour, don't let anyone charge you for more than an hour's worth of work to implement this.
Good luck, and let this serve as a reminder to check your stats often. Sure, I just filtered out a nice bit of traffic from my analytics, but it's not real traffic. Who wants that?
Click tweet to share on Twitter:
If you're a blogger, you should check your site for this new type of 'language spam.' via @AmyOztan Click To Tweet
Click image to share on Pinterest: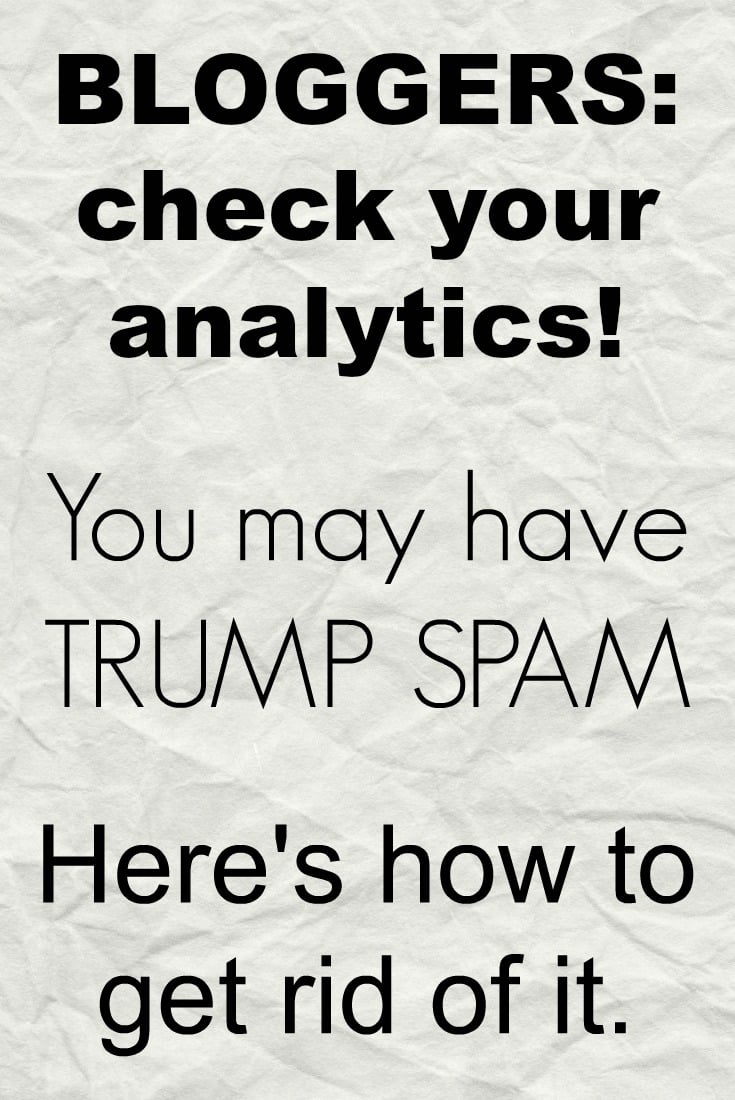 Click image to share on Facebook: