This post may contain affiliate links.
If you buy something from one of the linked sites you won't pay anything more, but I might make a commission.
Curious about Weight Watchers Online? I was too. So I joined!
Last week I was watching a lot of old stuff on my DVR. Hell's Kitchen was over and I'd already burned through all eight episodes of the new Queer Eye. My husband and I are sloooowwwwly watching The Crown together so that was out. Trevor Noah, Jordan Klepper, and Stephen Colbert had all dared to go on vacation at the same time. And my daughter wanted to watch the new season of Amazing Race with me, but we hadn't started yet. So, I was turning to shows that I'd recorded months ago (or longer), and I was seeing a lot of old commercials. Especially Oprah's "I LOVE BREAD!!" commercial for Weight Watchers. You know the one.
So maybe Oprah got to me. She loves bread, I love bread, we both want to lose weight. Of course, she owns a 10% stake in Weight Watchers, so she has a lot of motivation to make the program look good (she eats bread EVERY DAY!). Still, I went to WeightWatchers.com to see what was up.
I'd done Weight Watchers online once before, fourteen years ago, in the dark times before smartphones and apps. I'd gotten myself into one of those dumb situations where I'd bought a bridesmaid's dress one size smaller than I was at the time, and with two months to go before the wedding, I still hadn't lost a pound. It was time to do something drastic. So I'd signed up for Weight Watchers online, tracked every single thing I ate using their website, and lost fifteen pounds (and fit into the dress!). But I basically stopped using their points system as soon as my plane took off for the wedding, and I never went back to it.
Until Saturday. And I liked what I saw on the site. It's still points-based, but the new Freestyle Program is very different from the last time I did it. There's a list of over 200 foods that I would be able to eat without tracking them – they were all zero points! Eggs, basically all vegetables except for white potatoes, all fruits except for avocados, and some other things that don't affect me as a vegetarian (skinless chicken breast, fish, etc.) would be allowed without weighing and measuring. And this was really important to me, because I absolutely hate tracking what I eat. I would still have to track some, but definitely not all, and probably not even most.
So I signed up for the OnlinePlus program on Saturday night, and started on Sunday.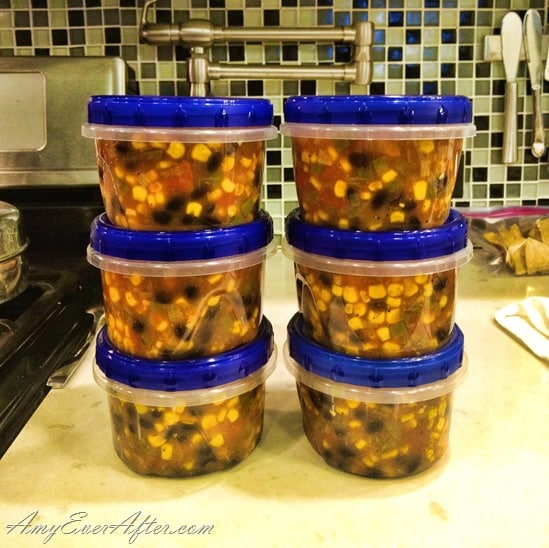 The first couple days of something like this always takes a good amount of attention, especially if you cook and bake a lot. The last time I did Weight Watchers I was drawn to packaged meals and snacks, because it was so easy to figure out the points. But this time, the program was pushing me towards fruits and vegetables. So, I spent a couple of hours on Sunday looking through all of my favorite recipes and identifying the ones that had the most vegetables (or could easily be made with more vegetables), and I entered those recipes into the app. Then I spent a few hours cooking some low-point foods that I could freeze or eat this week, things like roasted vegetables and soup. I also cut up a ton of raw veggies and fruits so that they'd be on hand for easy snacking (that's not something new for me, but I prepared way more than I usually would). And I made a bunch of hard-boiled eggs.
Curious about the Freestyle program on #WeightWatchers? Here's someone who's just starting it, and you can follow along!
Click To Tweet
I'm on day three and so far, the biggest difference between this and other things that I've done to lose weight is that I don't have to focus on the program a lot of the time. I can grab a banana or some carrots or a hard-boiled egg whenever I want and just eat it without weighing it or tracking it in any way. So I haven't been hungry, and honestly that's the part that has me skeptical. The list of zero-point foods contains a few that I could really go to town on, like corn and beans and butternut squash – I always go for the starch. So the same foods that drew me to the program might be the ones that keep me from losing weight, since I'm allowed to eat them whenever I want. And while right now I'm trying to focus more on lower-calorie vegetables and fruits, I have been eating three eggs a day, triple what I would normally have. On the other hand, while I did have bread twice yesterday, it was a much smaller amount than I would normally have eaten. So, we'll see how this goes.