This post may contain affiliate links.
If you buy something from one of the linked sites you won't pay anything more, but I might make a commission.

Looking for a breakfast or brunch dish that's adaptable for everyone in your family, vegetarian or meat-eater? Let me show you how to make baked eggs with cream, vegetables, and more! Also known as shirred eggs, the flavor possibilities are limited only by what you have in your refrigerator.
What are baked eggs?
Before last week I'd never heard of baked eggs, or "shirred eggs." I mean, I make plenty of frittatas and quiches, and while those are made out of eggs and are also baked in the oven, they're a very different thing from shirred eggs. But my husband likes to send me recipes in the hope that I'll make them, and his latest was an article about shirred eggs, which are basically eggs baked in a flat-bottomed, buttered pan. The article my husband sent me, though, took it a step further, baking the eggs on a bed of cream, vegetables, meat, and cheese. I was intrigued.
The recipe suggested baking the eggs in 24-ounce dishes (the one in the picture was oval), and amazingly I didn't have any. I did have round baking dishes that were probably half that size, so I used those. I didn't want to crowd the eggs, so I just put one egg in each dish, which worked just fine.
Weight Watchers friendly
I cannot even tell you how satisfying that dish was! It's substantial but not heavy, and bursting with flavor (of course, a lot of that will depend on how you seasoned your vegetables, and what cheese you use). And if you're on Weight Watchers Freestyle like I am, it's a fantastic breakfast choice since the vegetables and eggs won't be counted. You'll just have to track the butter, cream, cheese, and whatever oil or butter your vegetables are cooked in. That dish up there was 5 points, with another 2 for the half slice of toast with butter.
More vegetables please!
I did determine immediately that the recipe didn't call for anywhere near enough of the vegetable base, though, so I more than doubled it, using some roasted tomatoes that I had leftover, sautéing some spinach, and sprinkling some feta on top. Another time, when I was making them just for my husband, I did a base of sautéed mushrooms, olives, and spinach (I hate two of those). Really, you can use any leftover cooked vegetables you have around, or cook some up if you want to take the time. Roasted Brussels sprouts, home fries, I think even carrots and zucchini would work well (one of my favorite combos!). And since you're making them in individual dishes, picky family members can put in whatever they want – a huge advantage over making a big casserole. My husband is asking for some bacon or sausage mixed in next time.
[bctt tweet="What the heck are shirred eggs and how do you make them? #breakfast #brunch #eggs #recipe" username="AmyOztan"]
Choose the right dish
I wanted to be able to make two or three eggs in a dish with more filling, so I searched Amazon and found these. They're the perfect size for making baked eggs and many other things, and I'm going to get a lot of use out of them. They come in some very pretty colors, and I had a hard time deciding, but finally settled on the blue.
How to layer the ingredients
This recipe couldn't be easier. Preheat your oven to 475°. Butter the sides and bottoms of your baking dishes. Drizzle some cream in the bottom, around a tablespoon in each dish.
Line the bottom of the dish with cooked vegetables, cooked meat, some cheese, whatever you want. If they're coming out of the fridge, warm them up in a pan or the microwave first. Make sure they're well seasoned.
Crack between one and three eggs on top, keeping the yolks as close to the middle of the dish as possible (they'll cook more evenly). If you're nervous about getting shells in there and not noticing (I am!), go ahead and crack the eggs into a bowl first, then pour them carefully into the dish.
Season the eggs with salt and pepper, and top with a sprinkle of Parmesan cheese if you like (I like). Put the dishes in the oven and bake for 8 minutes for runnier yolks, 10 minutes for more solid-ish yolks. You might have to adjust the baking time depending on your oven. Once you find your perfect time, though, stick with it! Mine are perfect on 10 minutes, but I like my yolks pretty solid.
Et voilà, delicious baked eggs with cream and vegetables! Serve them immediately, with some toast or baguette for dipping into the yolks. If you want to be really fancy, garnish with chives, parsley, or the dark green parts of scallions.
This recipe is a great jumping-off point. Use a base that fits your tastes. Try different cheeses! Experiment with vegetables! Let your kids pick what they put into theirs! You really can't go wrong.
Yield: 2 people
Baked Eggs with Cream and Vegetables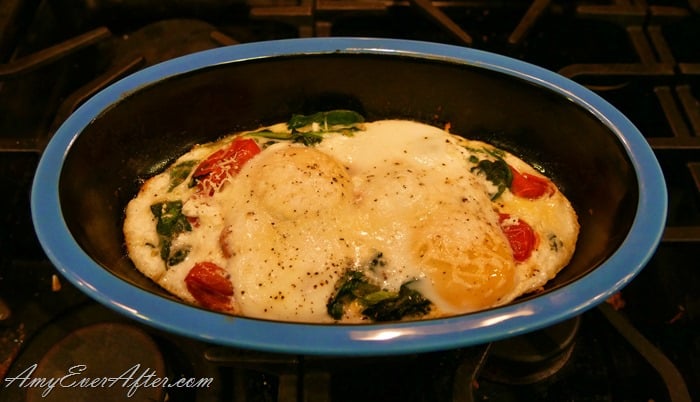 A delicious baked egg recipe with cream and vegetables that will please everyone!
Ingredients
butter, for baking dishes
1-2 tbsp heavy cream
1-1.5 cups cooked vegetables and/or meat, warmed
cheese, feta, gruyère, goat, any kind you like
2-6 eggs
salt & pepper, to taste
Parmesan, optional
chives, parsley, or dark green scallions, optional, for garnish
Instructions
Preheat your oven to 475° F and butter 2 small baking dishes
Drizzle half of the cream into each baking dish
Spread half of the cooked vegetables and/or meat on the bottom of each dish, sprinkling your cheese of choice on top
Crack between 1 and 3 eggs into each dish (depending on the size of the dish), keeping the yolks as close to the center of the dish as possible
Season the eggs with salt & pepper, and sprinkle with a little Parmesan cheese if desired
Place the dishes on the middle rack in oven and bake 8 minutes for runnier yolks, 10 minutes for more solid yolks (whites should be set)
Sprinkle garnish on top (if using) and serve immediately, with some toast or baguette
Notes
Since these eggs are baked in individual dishes, the recipe can accommodate the different tastes of the people eating it. If making it for more than a few people, you can set out a selection of toppings and let people put their own dish together!
Can be made with meat or kept vegetarian.
Without the toast this dish is about 5 Weight Watchers points, but it will depend on how much butter, cream, and cheese you use, and how you prepare the vegetables.