Your Italian grandmother will swear that risotto needs to be stirred constantly for almost half an hour in order to get creamy, but is that actually an old wives' (or old grandmothers') tale? What about taking things a step further, and making risotto in an Instant Pot? I did some tests!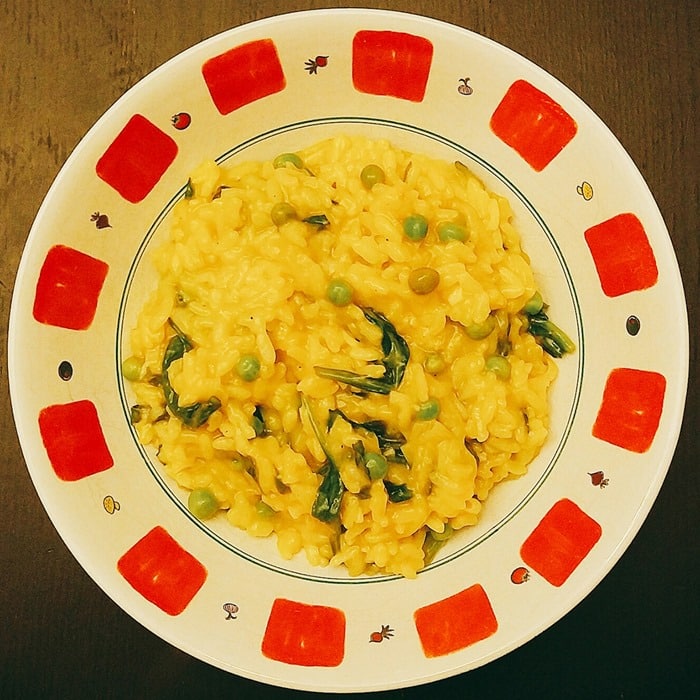 I love risotto. Like, I could eat it every day. A good risotto is a little al dente, with a creamy sauce and a slightly nutty flavor, even though it's made with neither cream nor nuts (usually). Risotto is a delicious, hearty, satisfying dish. Maybe even a little more, according to Seinfeld.
To Stir or not To Stir?
Some recipes for risotto that I use regularly call for the traditional method of standing at the stove and stirring almost constantly for about 25 minutes, adding warm liquid (usually a mixture of broth and water) in half-cup increments. Some people swear that this is the only way to get a creamy consistency from risotto.
But I never really believed this, because a recipe for risotto that I also frequently use calls for the "no stir" method, where you add the liquid all at once and lower the heat, letting the risotto simmer for about the same amount of time as it takes with the traditional method, with just an occasional stir. And while I'd never tested the traditional and no-stir methods side by side, I knew that whichever one I used, I ended up with a delicious, creamy dinner.
But I'd been hearing a lot of chatter online about using the Instant Pot to make quicker risotto, and I was intrigued. Could the Instant Pot make something that was not only quicker and easier than either of my methods, but also as good? My rule is that I don't make something in the Instant Pot unless it is as good as (or better than!) traditional methods. I needed to find out if this qualified. I have to admit, I was pretty sure the answer was going to be no. I took my favorite recipe for risotto, which adds some vegetables and cheese at the end, and set off to prove myself wrong.
The Tests

I did two tests using all three methods. I prepped the same amount of ingredients I would normally use to make a big dinner-sized batch of risotto, but divided it in three, using the same exact ingredients for each method, with one exception: each method needed a different amount of liquid.
When using the traditional method I use the most water, because I'm cooking it over medium heat or a little higher, and a lot evaporates. For the no-stir method I use less, since it cooks over a lower flame and loses less to evaporation. I tried using the no-stir amount of liquid in the Instant Pot the first time, and it was just too much.
The first Instant Pot batch was a total disappointing dud.
When making risotto, is all that stirring *really* necessary? Can you actually make good risotto in an Instant Pot?
Somehow I'd managed to end up with risotto (if you could even call it that) that was too dry/not at all creamy, and mushy at the same time. The rice had soaked up all of the liquid, leaving no sauce, and was completely overcooked. So for the second test I lowered my cooking time from what I was seeing most people use online, and used less liquid. (And I'm not saying that the other recipes out there are wrong – I was trying to adapt MY recipe to THEIR Instant Pot cooking times. Follow their recipes start to finish and you'll probably be fine.)
The results of the second test? Really, really good!
In fact, when I had my husband and daughter do a blind taste test after my second round of cooking, they both picked the Instant Pot risotto as their favorite!! I mean, I'd picked it as my favorite as well, but I don't really count my opinion because I knew which was which.
It's worth noting that all three of them were really good. So if you have a method that you like, use it. And the advantage of using the traditional method is that you can wing it a bit more. With both the no-stir and the Instant Pot methods you're adding all of the liquid at once, so you have to add the right amount. With the traditional method, you can just stop adding liquid when the rice is the perfect texture.
If you have an Instant Pot, you really can have quick risotto without all that stirring! Just don't tell your Italian grandmother.
But it's a bit quicker in the Instant Pot, with a good nine or ten minutes where you don't have to pay any attention to it at all, giving you a little time to clean up or put together another dish. And according to our taste test, it has a fuller flavor and better texture. Plus you're not working with an open flame, and since we're approaching hot weather time here in the northeast, that's an added benefit.
I mean, just look at that creaminess. Instant Pot magic.
For the Newbies
Like my previous three Instant Pot posts, this one is aimed at people who are new to using their IPs, so please excuse the super-specific instructions. Unless you're one of the IP Newbies, in which case, you're welcome! :-)
We're going to be using a function on the Instant Pot today that we haven't used in the three previous recipes: Sauté. The Sauté function is a great way to brown meat and sauté aromatics without having to use a separate pan on the stove. In this recipe we're also going to be using it to toast the rice.
You turn on the sauté function by pressing the "Sauté" button – easy enough! There are three sauté levels: Low, Medium, and High. You can cycle through them by pressing the "Adjust" button, but only immediately after pressing "Sauté." Once you've left it on a temperature level for a few seconds, you need to press "Cancel" and then "Sauté" and "Adjust" all over again to change to another temperature. At least on my Instant Pot. They all work a little differently.
Still getting your Instant Pot bearings? Please check out my first three IP posts, where we go through the parts of the IP and make fluffy and flavorful Mashed Potatoes, then the easiest peeling Hard Boiled Eggs ever, then the quickest most delicious Potato Salad.
Yield: 4 servings
Instant Pot Risotto with Spinach, Peas, and Parmesan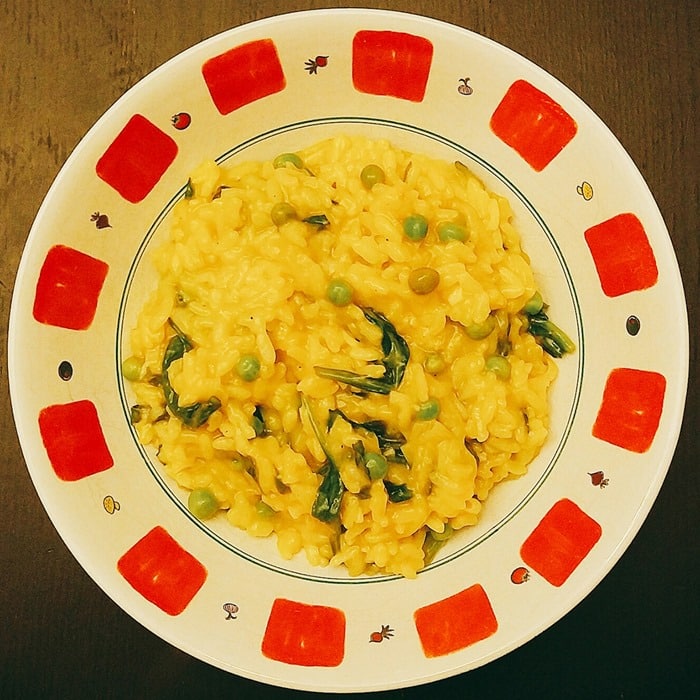 It's true, you CAN make good risotto in an Instant Pot! Just remember that the risotto will thicken as it sits, so turn off the heat before you think it's done.
Ingredients
3 tbsp olive oil
3 shallots, sliced thin
3 cloves garlic, minced
1 1/2 cup Arborio rice, uncooked
3/4 cup white wine
2 cups vegetable stock
2 cups water
2 tbsp butter, room temperature
2 tbsp lemon juice
1/2 cup Parmesan cheese, shredded or grated (about 2 ounces)
3 oz baby spinach
1 cup peas, thawed if necessary
Kosher salt, to taste
pepper, to taste
Instructions
Boil stock and water in a medium saucepan with a cover on (you don't want it to lose too much to evaporation), then remove from heat and leave covered; alternatively, heat in a microwave-safe bowl to 180-200 degrees, then remove from microwave and cover with tinfoil to keep warm
Place the metal pot into your Instant Pot and plug the Pot in; add the olive oil
On your Instant Pot control pad press the Sauté button, which should automatically put the sauté function on "Medium," and press the Adjust button until it is set to "Low"
Heat the oil until the Instant Pot display reads "Hot"
Add the shallots and sauté until softening, stirring frequently, about 4 minutes
Add the garlic and sauté for another minute, stirring constantly
Press "Cancel" and then press Sauté again - it should now be set to "Medium"
Add the rice and toast, stirring constantly, for about 5 minutes
Add the wine and stir until absorbed
Add all of the warm stock/water mixture and stir
Put the Instant Pot's lid on and turn it clockwise until it's locked
Make sure that the Pressure Valve is pushed all the way to "Sealing"
Press the "Manual" button, then press the - button (minus button) until you get down to "6" (most Instant Pots will default to "High Pressure" on the manual setting; if yours doesn't, set it to "High Pressure")
After a short time the Instant Pot will start automatically and the readout will say "On"
It should only take a few minutes for the Instant Pot to pressurize, since everything in the pot is warm, then 6 minutes to cook
When the cooking is done the Instant Pot will beep; press cancel to turn off the warming function
Do a "quick release" - very carefully, making sure that nothing (including your hand or your face) is above the Pressure Valve, turn the valve from "Sealing" to "Venting"; make sure you're pushing the valve from the side and getting your hand out of the way quickly
Once the steam has stopped escaping from the Pressure Valve, turn and remove the Instant Pot's lid; the risotto should still be rather wet
Press the Sauté button (it should be on "Medium") so that the risotto can thicken up a bit as you add the other ingredients; you should press "Cancel" before it gets to the desired consistency, since it will continue cooking and thicken up a bit on its own
Stir in the butter, lemon juice, and cheese
Taste and add salt and pepper as necessary
Stir in the spinach and peas
Serve immediately
Notes
I have the IP Duo 6 Quart, so these instructions are specific to that Instant Pot, but other versions may be similar.