This post may contain affiliate links.
If you buy something from one of the linked sites you won't pay anything more, but I might make a commission.
Can you prepare stuffing ahead of time in order to make life a little easier on Thanksgiving Day? You can do most of the work up to two months before with this easy make-ahead sausage stuffing recipe!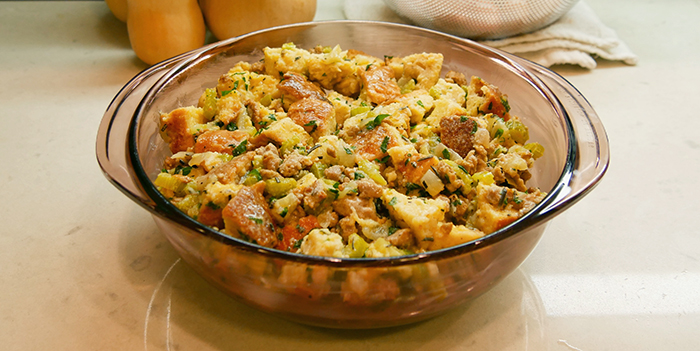 I absolutely love making giant holiday dinners. Love it! But since there's so much food that has to be ready at one time, I'm always looking for something that I can prepare ahead. A few years ago I started wondering, can you make stuffing ahead of time and refrigerate or freeze it? 
Stuffing is perfect to make ahead for a couple of reasons. One, a tasty stuffing involves a good deal of prep, especially with fresh herbs. And let's face it, fresh herbs are a pain in the butt. But they are essential to a tasty stuffing! All the more reason why you don't want to be spending precious time on Thanksgiving morning picking herbs off of stems.
The second reason is that stuffing is the kind of dish that actually benefits from sitting around, so that the flavors can blend together and the dry bread can soak up the butter and the stock. So while you can prepare this start-to-finish on the day you want to eat it, I always make it at least a day before, and up to two months before. In fact, half of this year's stuffing is already in the freezer.
Easy make-ahead sausage stuffing tips
This recipe is really easy, it just takes some time to prep all of the vegetables and herbs. Put on your favorite Thanksgiving episodes of Friends and the time will fly by!
For the vegetarians
This recipe stays meat-free until almost the very end, so if you want to go ahead and leave the sausage out of half, you'll have a delicious stuffing for the vegetarians at your table (like me!). Just make sure to use vegetable stock if you decide to divide the stuffing after adding the stock. (I've also written the recipe out without the meat.)
Which stock to use?
Speaking of stock, I don't specify in the recipe which kind you should use because it doesn't matter a whole lot—use your favorite. If I have chicken stock I usually use that. Since you'll probably be serving this around Thanksgiving, you might have turkey stock on hand.
Personally, I almost always make it with veggie stock so that I can eat it (without the sausage, of course), and my meat-loving husband has never noticed. 
And if you happen to make your own stock, this is the kind of recipe where those flavors will really shine through! I don't always have enough of the homemade stuff on hand, and when I use the packaged stuff, I can taste the difference. 
Why not old bread?
So why doesn't my recipe call for day-old bread, like most other recipes out there? Because we're drying out the bread in the oven until it is super dry. Day-old bread (or even stale bread) isn't going to give you the dryness necessary for my stuffing method. We're basically making unseasoned croutons in the first step. 
So if you have day-old bread that you want to use up, by all means, do! But don't worry if your bread is fresh, either. It will still work just fine.
Chopping the vegetables
A lot of this is just your own preference. I use big chunks of bread in this recipe, so I'm OK with bigger pieces of celery and onion (remember, the veggies will get smaller after cooking in the butter). I cut the onions about 1/2-inch, and I slice the celery about 1/4-inch (plus, when I get down to the wide bottom part of the celery, I cut those pieces in half).
If you decide you want smaller pieces of onion and celery, you'll probably only have to cook them for six or seven minutes (instead of ten) in order to get them nice and soft.
Oh, the butter
Yeah. Two sticks. It's a lot of butter. But it's also one of the reasons why this recipe tastes so good. And you're probably not making stuffing every week, right? I only make it two or three times a year, so I'm putting in two sticks of butter.
On the day of
Sometimes, if I don't want to use up another big bowl on the day I'm actually baking the stuffing, I whisk the eggs and stock together in a big measuring cup and add it right to the bag of stuffing, mixing everything together in the bag. Just make sure your bag doesn't have any holes!
If you don't want to make it ahead
Let's say you want to have stuffing tonight. You can totally make this all in one go, you just have to make sure that you're not adding cold eggs to hot vegetables and sausage, or the eggs will start to cook right away and you might have little bits of cooked egg in your stuffing. So, you just want to temper the eggs, which basically means adding a little hot liquid to them gradually so that they warm up without scrambling. You also won't have to cook the stuffing for as long, because it won't be cold from the fridge.
To make the stuffing all at once, take your eggs out of the refrigerator before the first step (if you forget to do this it's OK, but tempering room-temperature eggs is best). Follow the recipe directions until it's time to add the first cup of stock. Instead, warm up all of the stock (two cups) on the stove or in a microwave until it's hot, and add about one-and-a-half cups to the bowl with the bread, vegetables, and sausage.
Crack your eggs into a bowl with some extra room (a two-cup measuring cup would also work well here). Whisk them lightly with a fork (yes, I know, technically that's not whisking, but I find it easier with a fork). Slowly add the remaining half cup of stock to the eggs, stirring the eggs vigorously the whole time, until the stock is incorporated. Add the tempered eggs to the bowl, stir them in until the stuffing is mixed and moist, and then proceed to the "Bake the stuffing" section, skipping the steps you've already done. Bake for thirty-five minutes covered, then ten minutes uncovered. An instant-read thermometer inserted into the stuffing should read at least 160 degrees.
Tools I used with this recipe
This recipe is great because it really doesn't use any special equipment, but I love my knives and baking dishes, so here's what I used. These are all workhorses that you will have for decades.
Except for the last one. It's a little silly looking, but awesome.
Global Chef's Knife
I first heard about Global knives fifteen or so years ago, when Anthony Bourdain mentioned them in Kitchen Confidential. They've been my go-to knives ever since. 
Mercer Culinary Millennia Bread Knife
This 10-inch bread knife from Mercer is a new addition to my kitchen. I bought it in July after seeing it on an episode of America's Test Kitchen. They've never steered me wrong with a product recommendation, and when this cheap knife (I'm not even going to call in inexpensive—it's cheap!) topped their ratings, I ordered it immediately. It's amazingly sharp, and will make quick work of cubing the bread for this recipe without tearing it. 
Bamboo Bread Board
My Bamboo Bread Board is awesome, it catches most of the crumbs in a tray underneath. I just wish it came with a better knife.
Pyrex Measuring Cups
These glass Pyrex measuring cups get a ridiculous amount of use in my kitchen, from mixing and pouring to heating in the microwave.
Oxo Good Grips Mixing Bowls
My Oxo mixing bowls are simply the best. They come in different sizes, they have wide non-slip bases, they're super easy to grip, and they each have a handy pour spout (I use the smallest one in my set every Saturday for making pancakes).
Baggy Racks
OMG you guys, these things look stupid but they're amazing. If you've ever tried to put something like wet stuffing or tomato sauce into a plastic bag, you know it's not easy. But these Baggy Racks hold the plastic bags upright and open while you spoon or pour the food in! Plus, they fold flat for storage. I use mine two or three times a week. My husband loves them too, he just doesn't know it: they're the reason I no longer call him over to hold baggies open for me!
So there you have it, you can make stuffing ahead of time and refrigerate or freeze it.
Easy Make-Ahead Sausage Stuffing
This stuffing is absolutely delicious, and most of the work can be done up to two months before you want to eat it, giving you some extra time on Thanksgiving!
Ingredients
1

lb

loaf of good-quality bread

torn or cut into 1-inch pieces

3

cups

yellow onions

medium chopped, about 1 pound before peeling and chopping

2.5

cups

sliced celery

about 4 large stalks

1/2

cup

chopped fresh parsley leaves

about 2 ounces before removing stems

2

tbsp

chopped fresh sage

2

tbsp

chopped fresh rosemary

1

tbsp

chopped fresh thyme

16

tbsp

salted butter

plus more for the baking dish

2-3

large

garlic cloves

roughly chopped

1

tsp

kosher salt

1/2

tsp

pepper

2

cups

stock

divided

1

lb

sweet sausage

casings removed

2

large

eggs
Instructions
Do first, before vegetable/herb prep
Put the bread chunks on a large baking sheet (use 2 if necessary)

Bake the bread, stirring occasionally, until completely dried out, about 1 hour

Let the bread cool on the pan until it's needed, then put it into a large bowl

While the bread bakes, prep the vegetables and herbs
Cook the vegetables
Put a large pan on medium heat and melt butter until foamy

Add the celery and onions and cook ten minutes, stirring frequently; a little browning is OK, but really we're just trying to soften them up

Add the chopped garlic and cook an addition 5 minutes, stirring frequently

Add the cooked vegetables to the bowl of bread and toss until its all mixed together
Cook the sausage
Heat the same pan from the vegetables over medium heat and add the sausage

Cook for about 10 minutes, breaking up into small pieces, until fully browned

Add the sausage to the bowl of bread and vegetables, along with the kosher salt, pepper, herbs, and 1 cup of the stock

Stir it all together to distribute the liquid and the herbs

Put in a freezer-safe container and freeze for up to two months (put right into the fridge if using the next day)
On the day before you want to eat the stuffing
Put the frozen stuffing into the refrigerator so that it can thaw overnight
Bake the stuffing
Butter a 13x9x2-inch baking dish (or a similar-sized casserole dish) and set aside

Remove the stuffing from the refrigerator

In a large bowl whisk together the 2 eggs and the remaining cup of stock

Add the stuffing to the bowl of eggs and stock, gently folding it in until the liquid is distributed

Transfer to the prepared dish, cover tightly with foil, and bake for 1 hour

Remove the foil and bake an additional 10 minutes

An instant-read thermometer inserted into the stuffing should read at least 160°F