This post may contain affiliate links.
If you buy something from one of the linked sites you won't pay anything more, but I might make a commission.
No matter how much I spend on a suitcase, the zipper pulls always break within a year or two. Such a pain in the butt. After losing both main zipper pulls on my favorite suitcase, I decided to try to fix them myself.
I found Zippermend on Amazon, and it was so inexpensive I figured it wouldn't work. But that also meant that I didn't have much to lose, so I bought two. Here's what happened:
Keep in mind, you still need someplace not broken to attach the new zipper pull to. When zipper pulls break they sometimes rip off, taking half of the piece that was holding them. But even if the part that the zipper pull was attached to is broken, you should still have the rings that you're supposed to put your lock into to keep the suitcase closed (you know, the ones we used to use before the TSA said they had to get into our suitcases and go through our underwear).
When the zipper pull broke it pulled the piece holding it half off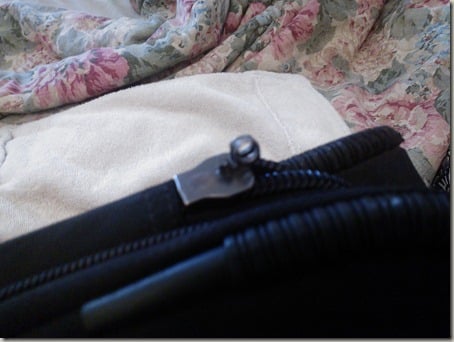 This one was pulled right off
We've used the fixed suitcase on two trips, and so far so good. The new pulls don't pull as smoothly in one direction as they originally did, since they're now attached only on one end (instead of being able to slide from one end to the other), but it's a million times better than trying to use a paper clip. Happy zipping!