This post may contain affiliate links and/or codes. You won't pay anything extra, but I might make a commission.
Starchy pasta water is the secret to thick, creamy sauces that stick to pasta. But what if you forget to save your pasta water? I'm going to show you a super easy trick so that you always have pasta water when you need it!
Why save pasta water?
Have you ever come across a recipe that tells you to save your pasta water and add some back into your sauce? This step is essential for many Italian dishes, and it helps make a thick, creamy sauce that clings to pasta.
But sometimes, I forget to save the water! I almost always put a mug or measuring cup in the colander that I'm going to use to drain the pasta, but I think sometimes when I'm in a hurry, I just move the mug out of the way without even realizing what I'm doing.
Other times, I'm making a quick lunch with leftover pasta, and that pasta water is long gone!
But rather than settle for a thin sauce that slides ride off of the pasta, I just reach right into my freezer and grab some cubes of frozen pasta water. This has saved my sauce so many times!
How to freeze pasta water
When my frozen pasta water needs to be replenished, I make some pasta with as little water as possible, so that the water is thick with starch (this is a good tip in general, and I cook long pastas in this pot so that I can use less water).
I let it cool, and I put it in covered ice cube trays.
Once it's frozen, I pop the cubes into a bag and put it in the freezer. That's it! It's always ready when I need it.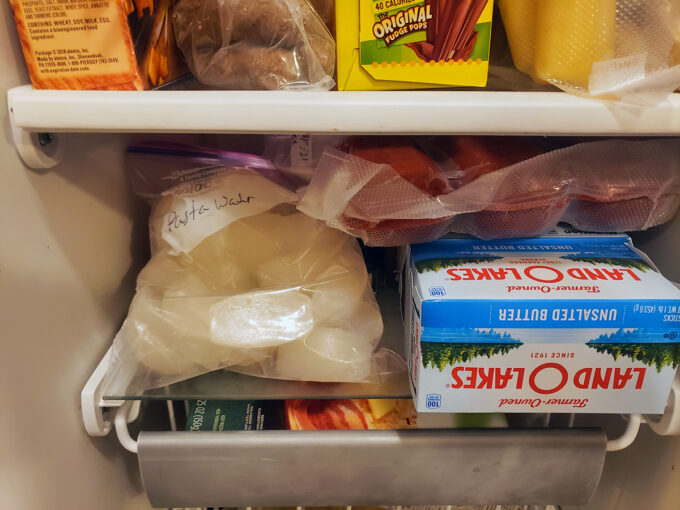 Yield: 12-36
Frozen Pasta Water Recipe
Additional Time
5 minutes
Instructions
After making pasta, scoop the pasta out of the water, or drain the water into a bowl, and let it cool
Stir the water to redistribute the starch, and pour or ladle it into ice cube trays
Freeze overnight
Put into a plastic baggie or silicone freezer bag and store for up to two months
Notes
The less water you use when cooking your pasta, the starchier your water will be! I use an oval pot for long pastas, so that I can use less water.
Recommended Products
As an Amazon Associate and member of other affiliate programs, I earn from qualifying purchases (but you won't pay anything extra!)