Do you need a costume in a hurry? How about Darla from Finding Nemo? I'm going to tell you everything you need in order to dress up in a cute Finding Nemo costume for Halloween!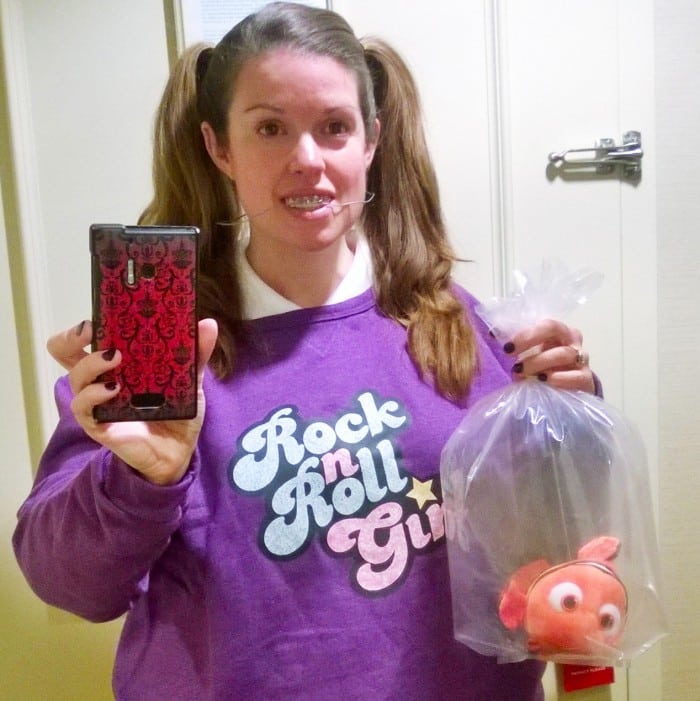 Last week I went to a blogging conference in Atlanta, and one of the parties was sponsored by Disney. And it was a costume party, which got me kind of stressed out. You didn't have to wear a costume. The organizers made it clear that nobody should feel pressured. And I wasn't planning on wearing one. I just had too much to do before the trip to bother about a last-minute costume.
But then, two days before the conference, inspiration struck. For some reason Darla Sherman, from Finding Nemo, flashed into my brain. Remember Darla? She's the little girl with braces and pigtails who has a reputation for killing fish? Purple sweater, headgear, and a fish in a bag? I knew I could throw this funny costume together in two days! And so can you. (And hey, if you've got more than two days, you can probably find a lot of this stuff in thrift stores or borrow it from friends!)
It turned out rather amazing, if I do say so myself. Among all of the Halloween costumes I've ever worn, it is definitely my favorite!
Here's what you'll need
2 ponytail holders
Purple sweatshirt (cotton or poly-cotton blend)
Or, Rock N Roll Girl shirt with long sleeves (if the short-sleeve version shows up, scroll down the TeePublic page to see the long-sleeve version of the shirt)
Scissors
Iron
Pillowcase
Large clear plastic bag
Twist tie

The Headgear

I used fake teeth with braces on them that are no longer available, but that might be a good thing: they were really uncomfortable! They seem to have been replaced by these, which look easier to use. These teeth would probably be too big for most kids, and they're really the only fake braces that I'm seeing on Amazon. You'd have to check a Halloween costume store for something smaller if this Darla costume is for a child. You could also try trimming the teeth with very sharp scissors or a sharp knife, but I'm not sure it would work and I'm not responsible if you hurt yourself or your child. If *I* were going to try trimming them, I would file the cut parts with an emery board.

As for the headgear part, I used picture-hanging wire. A thicker wire would probably look better, but I wouldn't have been able to weave it into the braces. I slipped it between the braces and twisted it behind my neck, so that there were no sharp ends.

Another option is to forget about the fake teeth/braces altogether and make some headgear with tinfoil. This method might be best for kids. You can have them hold the tinfoil in place by biting down on it with their teeth. And it might keep them quiet. :-D

The Clothes

Darla's sweatshirt is awesome. I'm planning on wearing mine frequently and non-ironically. It's also very simple to make.

You need a purple sweatshirt or long-sleeved crew-neck shirt (not a hoodie – no zippers!), and it can't be fleece, because fleece might melt under the iron. You need cotton or a cotton-poly blend. I used this purple sweatshirt, and it was perfect. If this costume is for a child, this one would work. The white polo shirt goes under the sweatshirt.

Next, you need the Rock n Roll Girl logo for your iron-on transfers. You could buy a long-sleeved purple shirt with a similar design already on it instead if you don't want to make the shirt yourself, but honestly making the iron-on transfer is really easy, and the digital download of the logo is simple to work with.

If you're printing the digital download, it should go right to the edge of the iron-on transfer (unless you're putting it on a very small kids' sweatshirt, then you might want to print it a bit smaller). I cut the design out carefully, and then I did the ironing on a wooden floor, with a pillowcase underneath the sweatshirt. The first time I did it I forgot to take the backing off of the transfer, which meant that I had to start over with a second print. So don't skip that step. :-) (Hey, it was 2am and I was delirious.)

The skirt is pretty easy. There are lots of plaid skirts out there. The "real" Darla's skirt has a lot of yellow in it, but nobody is going to notice if yours doesn't. The knee-high socks are simple too. You probably have some long white socks in your house somewhere. And the shoes, well, if you want to get them right you want something black with a strap on top. But much like the skirt, it's not one of the more important details of the costume.

The Hair

Pigtails with a deep side part. Easy-peasy. My hair is super long, so next time (I'm doing this again for Halloween) I might try to tuck my pigtails under so that they look shorter. But it all totally worked as it was.

If you have red hair, even better! But it's not crucial. The pigtails are what sells the look.

The Fish

The fish is easy. Just get a Nemo plushie, put it in a plastic bag, fill the bag with air, and tie it with a twist tie. Shake violently while yelling "Fithy, why are you thleeping???"

If you want a smaller fish, you could even use this Nemo bathtub squirt toy.

If you only have ziploc bags, cut the top off. I used a bread bag, which was the exact right size. A local bakery might have one. Plus, then you'll have fresh bread. Bonus!

Or, if you want to dress as Darla with your child as Nemo, that would be super awesome!! Just don't shake the kid.

If you do this, I would LOVE to see pictures. Tweet them to me or tag me on Facebook. And if you have any questions, please don't hesitate to reach out!!