This post may contain affiliate links.
If you buy something from one of the linked sites you won't pay anything more, but I might make a commission.

JELL-O Pudding Pops haven't been sold in stores for quite a while now, but you can make them yourself with this easy recipe!
When did JELL-O Pudding Pops disappear?
I don't remember exactly when JELL-O Pudding Pops stopped existing, but I'm guessing it was about 18 years ago. If the internet had been around in any real way back then, the internet would have been all over it: petitions would have been electronically signed, blog posts and status updates would have flown around like crazy, the evening news would have picked up the story, and there's a good chance that Pudding Pops would have been saved. But without the internet, they just disappeared.
Life went on, but just a little less great than it could have been.
And then a couple weeks ago, I happened upon a discussion on Facebook about Pudding Pops recipes.
It had never occurred to me to look for a recipe. I had just accepted my Pudding Pops-less existence without a fight. Surely there was magic involved in making Pudding Pops, or at least elves. Maybe Bill Cosby had to spit in them. There had to be some secret that kept them from being made in kitchens everywhere. But there they were, people discussing how to recreate pudding pops with various recipes.
Finding a pudding pops recipe
I gathered the ingredients discussed: JELL-O Instant Chocolate Pudding, cold milk (I used 2% because I had some on hand, but next time I'll probably try whole), Cool Whip. Opinions varied on how much milk and Cool Whip to use (the recipe on the JELL-O site doesn't even use Cool Whip!).
I played around for a while to get the right consistency. They were ridiculously quick and easy to make. Once I settled on the right quantities, they took about five minutes to prepare, plus freezer time.
Pour the instant pudding mix into a bowl. Whisk in the cold milk and continue whisking for a full two minutes. Stir in the Cool Whip. Divide into small paper cups. Stick a popsicle stick into the cup (I didn't have any popsicle sticks, but plastic spoons worked great).
I put them in the freezer. Then I licked the bowl. The mixture tasted…right.
I waited.
Taste Test
As soon as dinner was over (after about five hours of freezer time), Fiona grabbed four of the pops from the freezer and we peeled the paper cups off. They didn't stick at all.
The kids tasted theirs and smiled, but Omer and I were the testers who mattered: we knew what the real thing tasted like.
I took a small bite of my pop. The texture was right. Smooth. Much smoother than a fudgesicle. And the taste was good. Omer agreed.
But after eating about half of it, I had to admit that it wasn't quite chocolatey enough. Adding the Cool Whip is absolutely necessary in order to nail the texture, but it dilutes the flavor a bit too much.

I looked for other flavor options, and I found two: Instant Chocolate Fudge flavor, and Instant Devil's Food flavor. I'm going to try this again at some point with both of those. I'm hoping that the stronger starting flavors will survive the Cool Whip with more chocolate taste intact. I will definitely report back.
In the meantime, I proclaim these more than good enough!
Pudding and Popsicle Molds
If you want to get fancy, or if you want something reusable, you could get JELL-O Pudding Pop molds, but personally, I liked how easily the paper cups came off. Silicon popsicle molds might be a good compromise.
There are still five pudding pops in my freezer. Not for long…
Yield: 8 pops
JELL-O Pudding Pops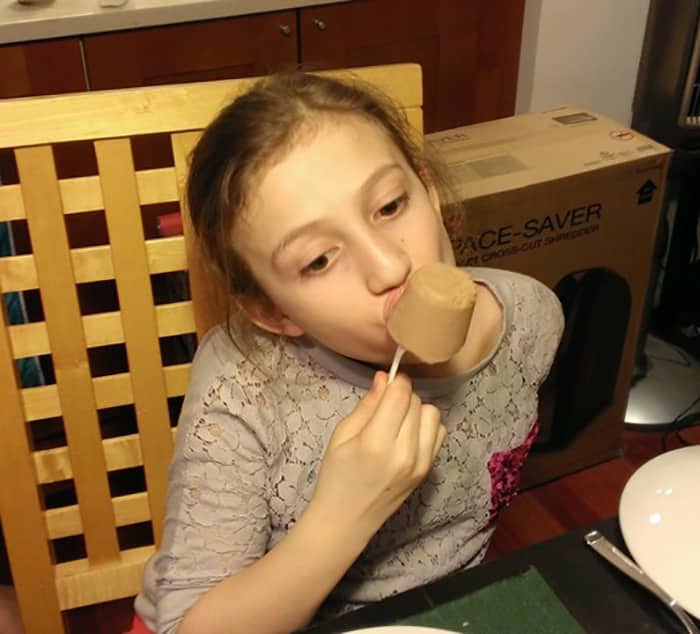 Remember Jello-O Pudding Pops? I miss them so much! But these are almost as good as what I remember.
Total Time
5 hours
5 minutes
Ingredients
1 package JELL-O Instant Pudding, any flavor
2 cups whole milk, cold; can also use 2%
1 cup Cool Whip, thawed
Instructions
Pour the instant pudding mix into a bowl
Whisk in the cold milk and continue whisking for a full [timer minutes=0]2 minutes[/timer]
Gently stir in the Cool Whip until combined
Divide into paper cups (small Dixie cups work best) or popsicle molds
Place a popsicle stick or plastic spoon into the middle of each cup, so that it stands up straight
Put the cups or molds in the freezer for about [timer minutes=0]5 hours[/timer], until frozen solid
Remove from the freezer and carefully peel paper off of pudding pops, or remove from molds
Enjoy!