This post may contain affiliate links.
If you buy something from one of the linked sites you won't pay anything more, but I might make a commission.
If you're like me, you do things last minute whenever you can get away with it. Amazon Prime has completely spoiled me with their one- and two-day delivery, and every year my UPS guy is amazed at how many packages arrive just under the wire on the 24th.
But now we're right up against the deadline for ordering things through the mail. It's time to turn to the gifts that we can email or print out.
None of these gifts will seem like they were bought in a last-minute panic if you present them right. If it's something printable, decorate an envelope to put it in. If you can manage to get to a drug store and get a nice Christmas card to put it in, even better.
Too late to get gifts delivered? These last-minute holiday gift ideas can be printed or emailed.
Click To Tweet
Amazon
Print at Home Gift Card – with envelope!
This is a great last-minute gift that lets the recipient buy whatever they want. There are lots of designs to choose from, including uploading a picture and making it part of the card. You'll be able to print out a nice-looking gift card that only requires folding, no cutting.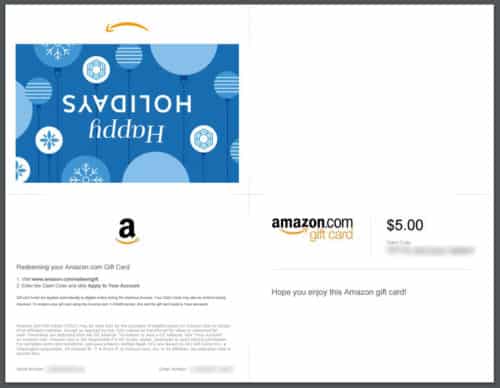 Just be aware, it won't fit into standard-sized envelopes. But I've got you covered! Click on the image below and it will take you to a pdf file that you can print. Print it out full size, cut it out, and fold it around the card, securing with one small piece of tape.
Don't want to waste all of that printer ink? Here's a version with just the outline. Print it, cut it out, and have your child decorate it!
Email or Text Gift Card
You can buy an egift card on Amazon and have it sent immediately, or at a time of your choosing. So your recipient could wake up on Christmas morning with their gift!
Amazon Prime
You can give someone the gift of Amazon Prime for three months or a full year. And if they already have Prime, they can extend their membership with your gift!
Movie Tickets, Grocery Stores, & More
But Amazon doesn't just sell gift cards for it's own online store. You can buy email and/or print-at-home gift cards for Netflix, Whole Foods, several different theater chains, clothing stores, restaurants, Sephora, Uber, Airbnb, and many more!
Audible
With its huge inventory of audiobooks, Audible makes a great gift. You can gift a specific title, or a membership of three, six, or twelve months. Gifts can be printed or delivered by email.
Telecharge
Telecharge sells emailable gift cards that can be used for any show or event on their site.
Open Table
You can buy an Open Table gift card to a specific restaurant, or let your recipient choose from more than 40,000 restaurants. The gift card can be printed or emailed. Reservations need to be made through Open Table in order to use the gift card.
Food
I try not to leave my house in the winter months. I can't technically hibernate because I need to eat, so I'd love any of these gifts.
Panna Cooking
This wonderful cooking website and iOS app has hundreds of videos from James Beard award-winning chefs, so not only do you get proven recipes, you get to see the chefs make them and learn their techniques. There's also a huge collection of expert tip videos, on everything from peeling ginger to checking oil temperature without a thermometer. Watch pros like Dorie Greenspan, Rick Bayless, Jonathan Waxman, and Anito Lo share their secrets.
With new videos coming every week, this is a gift that keeps on giving for any cook. You can gift a one-year subscription for only $19.99, but get this: give more than one gift, and the rest are only $9.99!
Restaurant Delivery
Both Seamless and GrubHub have gift cards. They can be printed or emailed, and they never expire.
Ingredient Boxes
I'm a huge fan of Plated, I've been a regular customer for about a year and a half. There are many similar companies: they give you recipes and pre-portioned supplies, and you do the cooking. Plated, Blue Apron, and Hello Fresh all make it easy to give the gift of fresh food.
Music
Streaming Radio
Both Pandora and Spotify offer online gift certificates for membership. Both can be emailed, and Pandora's can also be printed out.
Sheet Music
If you have a musician in your life, they will get good use out of a gift certificate to Music Notes, where they can download and print sheet music. Gift certificates can be emailed automatically on a certain date, or instantly.
Task Rabbit
Give someone the gift of time by giving them a gift certificate to Task Rabbit! With your gift they can hire someone to run errands, fix things around the house, and much more. The certificate is delivered as a pdf file and can be printed or emailed.
Subscription Boxes
There are too many of these for me to list, so I'll just link you to an excellent website for monthly subscription boxes that breaks them down by interest, has a lot of reviews, and can save you money with subscription box coupons.
Consumer Reports
I've been working with Consumer Reports for the past few months, and it's really cemented my feelings about the company. They're a non-profit, they buy every single item they review, and they accept absolutely no advertising. All of that combines to make them the very best source of unbiased reviews. Plus, they work tirelessly to advocate for consumers, and they produce a ton of helpful articles. A one-year digital subscription to Consumer Reports is a great gift for any consumer.
Click tweet to share on Twitter:
Need a last-minute gift? All of these can be printed out or emailed. via @AmyOztan Click To Tweet
Click image to share on Pinterest:
Click image to share on Facebook: