This post may contain affiliate links.
If you buy something from one of the linked sites you won't pay anything more, but I might make a commission.
I'm not a fan of comic books. Let me 'fess up to that right at the beginning. I don't think I've ever read one. Given that fact, I'd pretty much ignored the existence of Comic Con until a couple of weeks ago, when a story started circulating Facebook about Golden Girls action figures being sold at the Funko booth at New York Comic Con.
And suddenly I was interested! Was Comic Con more than just comics? I started poking around online and discovered that yes, it was! I mean, it's still mostly comics, but also books and TV shows and movies and lots of stuff that I am interested in.
I discovered pretty quickly that I wouldn't be getting into the booth that was selling the Golden Girls stuff (the online raffle for booth entry tickets had already happened), but since there were still Comic Con tickets left for the first day I decided to go and check it out.
I spent about six hours there today, and I learned some things that might help you out if you've never been.
General Info
Online
If this is your first time at Comic Con, their First Time Fan page is a great place to start, and then you should head over to the FAQ page. It wouldn't hurt to check the rules page either.
Between those three spots you can find out about hours, shuttles, which costume props are allowed, the official app, coat check ($3 per item), whether or not selfie sticks are allowed (that's a no), whether or not you can get married at Comic Con (also a no, sorry!), drones (nope!), pets (leave them at home with your drone and selfie stick!) and much more.
My Show
If you sign up for a My Show account you can favorite things you're interested in, sync your planned schedule to the official New York Comic Con app, and more. Unfortunately I can't tell you more than that, because the My Show activation email that I was supposed to receive after I bought my ticket never showed up. The website offered no help for people who didn't get the email, so if you haven't gotten yours I suggest you try to contact someone before you get to Comic Con.
At Comic Con
The App
Once you're actually at the Javits Center, where Comic Con is held, the official app is your friend. It has maps, scheduling info, info about speakers and celebs, and more. You can also set it up to give you notifications on a wide range of topics, so that you'll always be up to date about what's going on.
Information booths
There are information booths throughout Comic Con. You can see them on the maps, either on the app or the show program.
Show Program
The show program is an actual printed program, on paper and everything, that has the schedule, maps, and other info that you can also find on the app. By the time I got inside Javits the big bins that were supposed to hold the show programs were empty. However, even at the end of the day, the information booth in Artists Alley still had a bunch. So if you want one and they appear to be gone, try there.
Tickets
You must have a ticket to get in. Comic Con is completely sold out, they are not selling tickets at the venue.
Kids Tickets
Sunday is Kids Day at Comic Con, where kids 6-12 can get super cheap tickets (with an adult ticket purchase). These sold old long ago, however, so get them early for next year. Otherwise, kids can get entry with their own regular adult ticket.
For all four days of Comic Con, kids five and under do not need a ticket.
Kids under 13 need to be with an adult at all times at Comic Con.
There were not many kids there on Thursday, and I would guess that Friday would be similar, because they'll be in school. There will probably be a lot more kids on the weekend, especially Sunday. Take note if you don't like being around lots of kids.
Entry
Since I bought my ticket well after the date when the badges were mailed out, I had to bring my email confirmation to the Will Call area outside of the Javits Center. I took some advice I saw on the Comic Con website, which said that if you aren't interested in lining up for anything first thing when the venue opens, hang back and arrive an our or two later. I did, and got through bag check and getting my badge very quickly, within about three minutes.
I also had to activate my badge online, using a number on the back of your badge. This took less than a minute. Doing this is very important because if you lose your badge, and it's not activated, you're out of luck. As I understand it, if you do lose an activated badge you still have to pay to have it replaced, but at least you will have that option, instead of being shut out of Comic Con altogether.
If you need a lanyard for your badge, there are big bins of them outside, in front of Javits.
Tap In/Tap Out
Every time you go into Comic Con and every time you leave, you have to have someone who works there tap your badge. Basically, they have to check you in and out electronically. If you don't do this you're going to run into trouble getting back in.
Costumes
I was a little nervous heading to Comic Con without a costume. Whenever I'd seen pictures of it, it seemed like everyone was in costume. But those are just the pictures that are most likely to be shared.
There are plenty of costumes, to be sure. Some are small, like Spock ears or a cape. Others, well, they make you feel like you should never ever put on a costume again, because no matter what you do you will never be as spectacular as this guy. I'm pretty sure he wasn't able to move more than three feet at a time without being stopped for a picture. And yes, that's a seahorse on wheels accompanying him. (It's also holding his Coke, in case you were wondering what Aquaman drinks.)
But most of the costumes are more along the commitment level of what you'd see at Halloween, and I'd say about 2/3 of the people had no costume at all. A lot of people were wearing super-hero t-shirts or shirts with a saying (my favorite: "Strong Female Character").
Basically, you'll be comfortable however you show up, because there's such a wide range of outfits.
But you'll never be as comfortable as this guy. Don't even try.
Just make sure you check the FAQ page for rules about props.
The Show Floor
This is the main area of Comic Con. It's gigantic. The booths are in numbered locations, so you can search for companies on the app or look for them in the program and find the number where their booth is.
The booths sell all sorts of products, or offer experiences connected to movies or TV shows. I even saw a booth where you could get insurance for your collectibles.
And of course, you can buy lots of comics.
Some booths you can just walk up to. Others have long lines. Many require tickets, which are free, but some run out of tickets very early in the day and some were given out online weeks ago. If you know there's something you really want to do on the Show Floor, head there as soon as you get into Javits.
Panels
Many people go to Comic Con mainly for the panels, a chance to see people speak on a wide range of topics, everything from body image in comics, to how to integrate comic books into the classroom, to talks with TV and movie stars.
If you don't get into a panel you really want to see, you may be able to see it streaming online.
Mainstage
The mainstage panels have a very strict procedure for securing your spot. If there's a mainstage panel you want to attend, head downstairs to the Queue Hall (yes, it's a giant room of lines) and find the line for the panel you want to attend. Everyone in the line will have their badge tapped, securing their place at that panel. Once the panel is full, the line closes to new people.
Some people just stay in line after that, to ensure that they get a good seat inside the mainstage room. If you don't want to wait, make sure you get back in line at least 35 minutes before the panel starts. You have to tap your badge again to get in.
The mainstage room is cleared after each panel, meaning that even if you managed to get tapped for more than one mainstage panel, you can't just stay in your seat. You have to line up again.
Non-Mainstage
There is no tapping-in procedure for the other panels, you just line up and hope you get in. These rooms are not cleared after each panel, meaning some people might stay in their seats all day.
Artist Alley
This actually ended up being my favorite area of the show. I'm not sure if it's the acoustics of the hall where Artist Alley is located, of just the lack of any kind of amplified sound in this area (at least on the day I went), but Artist Alley is a sea of calm and tranquility within the chaos and noise of the Javits Center.
Artist Alley is filled with, you guessed it, artist. Some are there to sign autographs (there's often a charge). Most are selling things they've drawn. Many will draw something for you right there, as a special commission.
I walked around until I found an artist whose style I liked, and I commissioned her to draw a cartoon illustration of me. I texted her a picture of myself, paid, and went back a couple hours later to pick it up. So easy, and such a great keepsake!
Other Areas
There were lots of other areas of Comic Con that I didn't even get a chance to wander into. The Block, the Autograph and Photo Opp room (bring cash for those, I don't believe they take credit cards), and the Experiential Zone are all things you can check out. There are even a couple of venues outside of Javits: the Theater at Madison Square Garden, and the Hammerstein Ballroom.
There are booths set up outside of Javits with experiences and photo opps.
Plus there are tons of smaller things happening all over. Twentieth Century Fox has set up a cool exhibit of art and stills from their movies, and was giving drawing lessons on Surface tablets. There are also kiosks all over where you can tap your badge and see if you won a prize. There's lots to do, so pace yourself and keep your eyes open.
Food
While I generally found Comic Con to be well run, the food situation was out of their hands. That's all Javits, and it was a disaster.
There are carts around the show floor, but most of the food is in a food court area upstairs that seemed to be completely devoid of rules or logic. It was a mad free-for-all where I never quite figured out what line I was supposed to be to get some French fries. Then there was a huge line to pay.
And there was no place to sit. I could see some tables on the level below, but they all seemed to be full with people who weren't eating. I found the closest wall I could and slid down it, French fries in one hand and pop in the other.
A better option is to leave Javits. Seriously. It will take you just a minute or two. Make sure you tap your badge out, and walk across 11th Avenue where there are plenty of food carts. Grab a giant pretzel, a hot dog, or a kebab, and enjoy the fresh air. Javits can be oppressive.
Or, take a ten minute walk east to 9th Avenue, it's all restaurants. Have a real lunch, with tables and everything. You won't regret it. You'll be rested and relaxed for more Comic Con.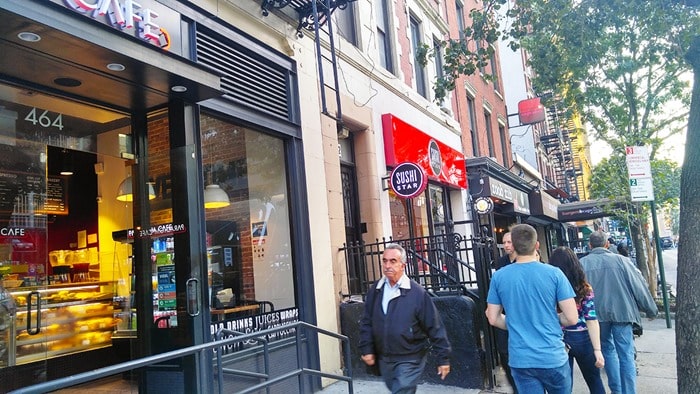 Bathrooms
Every time I passed by the women's bathrooms on the show floor, the line was out the door. So here's an amazing tip for you: both times I went to the women's bathrooms in Artist Alley, they were practically empty. You're welcome.
General Conference Advice
Other than that, the standard advice for any giant conference applies.
Wear comfortable shoes, there's a ton of walking.
If you don't want to spend a fortune on bottled water, bring your own water bottle and fill up at the water fountains.
Bring snacks. You could probably buy an entire box of granola bars for what you'd pay for one at Javits. Plus if you bring your own, you don't have to wait in another line!
Don't wear your badge after you leave the conference, New Yorkers will think you look like a dork.
Bring a portable charger for your phone. This one is my absolute favorite.
Be a superhero and take public transportation whenever you can. If you don't know where you're going, download the Citymapper app. It's easy to use, and will even tell you which end of the train you should be on. 
Plan ahead, pack well, be safe, be considerate, and you'll get the most out of Comic Con that you can.
Click tweet to share on Twitter:
First time at Comic Con? I can help! #NYCC via @AmyOztan Click To Tweet
Click image to share on Pinterest:
Click image to share on Facebook: