This post may contain affiliate links.
If you buy something from one of the linked sites you won't pay anything more, but I might make a commission.
Since the moment I announced that I was going low carb for six weeks, people have been making suggestions about what I should eat. The most common suggestions can be lumped under "cauliflower made to look like other foods" – pizza crust, rice, grilled cheese, etc. The second-most common suggestion was shirataki noodles.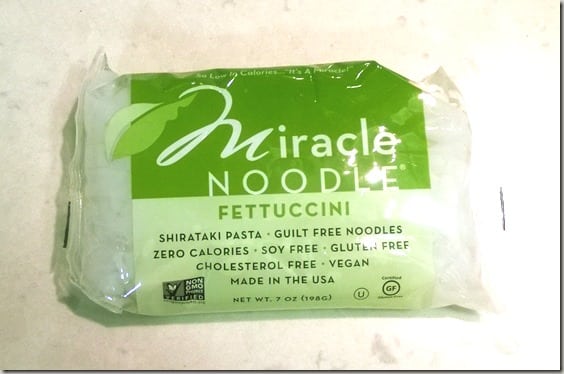 Shirataki noodles come in two forms. One is made from tofu. I've hated tofu in every form I've ever tasted it in, so I nixed that kind right away. The original form of shirataki noodles are made from yam husks. It's basically an indigestible fiber made to look like pasta.
I'd resisted trying this stuff because honestly, it sounded like something I wouldn't like. I know my own tastes pretty well. But my friend Monica hit my weak spot: She sent me a link to a post by one of my favorite food writers, Kenji Lopez-Alt. Kenji is the person who taught me how to make French fries at home that taste like McDonald's. He also showed me how to make delicious, flaky pie crust without all that pesky cutting-in-of-the-butter nonsense. And he's also responsible for the most delicious potato salad I've ever made. He is definitely not a health-food writer. If he liked shirataki noodles, I had to try them.
I ordered six packs of this stuff (two linguine, two angel hair, two rice) from Amazon. I could have gotten just one pack, but the shipping was ridiculous and I just couldn't do it. Besides, I had hope that I would actually like this substitute. Maybe I'd want six bags.
As I googled recipes a couple of things became clear. Number one, many many sites used the word "slimy" to describe these noodles. I don't like slimy foods. But many sites suggested that after I rinse them for several minutes and boil them for a few more, I fry them in a dry pan until they squeak in order to get rid of the slimy texture. OK, sure.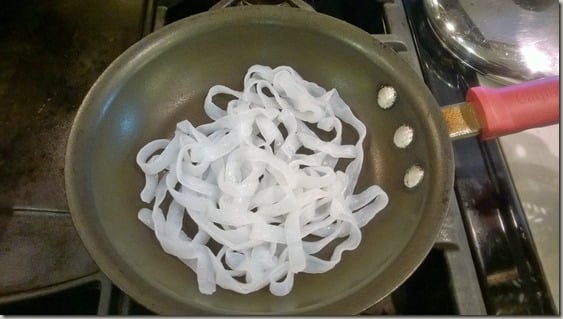 It also became apparent that the best way to eat these would be in some kind of spicy, really flavorful sauce. Even though there were a lot of recipes out there for things like Shirataki Noodles with Butter and Parmesan and Shirataki Fettuccini Alfredo, I decided to try these noodles with a stronger sauce, so I made a simple homemade tomato sauce with lots of garlic and red pepper flakes. The sauce was delicious.
I rinsed the noodles for three minutes in a colander, then dumped them into boiling water for three minutes and drained them. I heated a frying pan and fried them until they did indeed squeak.
I added some sauce and Parmesan cheese and gave the noodles a chance to soak in the flavors. It certainly looked like pasta at this point, and as I stirred it around the pan it even behaved like pasta. I was hopeful.
It was time.
I took a bite.
It was bad.
It didn't exactly taste like anything, all I could taste was the tomato sauce. It was the consistency that was the problem. The noodles had the feel of rubber in my mouth, and were really weird to chew. I managed to choke down about one-quarter of one noodle. I was done.
Omer wouldn't even try them, which is funny, because he'll eat just about anything. Seriously. He once ate sea urchin, which he said tasted like phlegm coated in sawdust. But he wouldn't try these. Yam husk just doesn't sound at all appetizing.
Fiona gladly tried them, however, and liked them (she didn't love them, she said they were good). I'm not surprised, she's never been a picky eater at all. But I won't be making them again, so she'll just have to live with pasta.
There are people who love these noodles. There are also people who love mushrooms. I hate both. That's just my personal taste. But at this point it should be clear that I'm not going to be happy with substitutes for foods that I love. Even when I was counting calories I never went for low-cal butter substitutes or "diet" desserts. I would rather have a little of the real thing than a poor imitation.
And in this case, I would rather have nothing.
Two more weeks, and I can have the real thing.