Yield: 4 servings
Vegan Tikka Masala Bowls with Sugared Almonds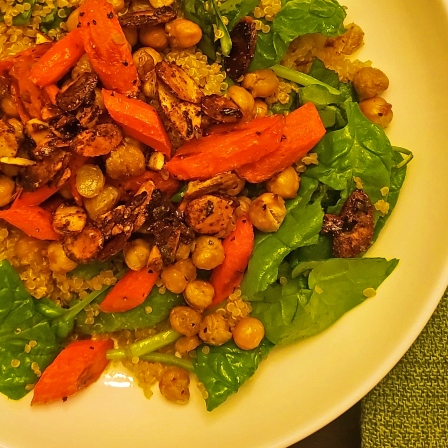 These healthy and delicious vegan bowls are bursting with flavor, and the sugared almonds add a delicious crunch. I usually make this for dinner, and then have the leftovers for lunch the next day!
Ingredients
For the quinoa:
1 cup white quinoa
1½ tablespoons tikka masala curry paste
2 cups water
For the roasted vegetables:
1 can chickpeas, rinsed and patted dry
1 pound carrots, peeled, sliced in half lengthwise, and cut diagonally into 1-inch pieces
1 tablespoon olive oil
For the sugared almonds:
1 ounce (about ¼ cup) slivered almonds
2 teaspoons sugar
1 teaspoon garam masala
For the salad:
3 tablespoons olive oil
1 teaspoon ground coriander
1 lime, zested and cut in half
6 ounces baby spinach
Misc.
Kosher salt
Ground black pepper
Instructions
Preheat the oven:
Preheat the oven to 450°F with a rack in middle position
Line a large baking sheet with foil
Make the quinoa:
In a medium saucepan, combine the quinoa, tikka masala curry paste, 2 cups water, and 1/2 teaspoon kosher salt
Bring to a boil over high heat, then reduce to medium low, cover the saucepan, and simmer until water is absorbed and quinoa is tender, about 10-15 minutes (stir occasionally so that it doesn't stick)
Remove from the heat and leave covered to keep warm
While quinoa is cooking, roast the vegetables:
Put the chickpeas and carrots on the foil-lined pan and toss with 1 tablespoon olive oil, 1/2 teaspoon kosher salt, and a large pinch of ground black pepper
Spread the vegetables out into a single layer and roast until the carrots are tender and the chickpeas are crispy, about 20 minutes

Meanwhile, candy the almonds:
Cover a small plate with parchment paper
Heat a small nonstick pan over medium heat
Add the slivered almonds and toast, stirring constantly, until golden, 2-3 minutes (watch carefully)
Add the sugar and cook, stirring, until the sugar begins to melt and clings to the almonds, about 1 minute
Add the garam masala, a pinch of kosher salt, and a pinch of ground black pepper, and cook, stirring vigorously, until fragrant and mixed, about 1 minute more
Immediately transfer to the prepared plate and spread out
Once the sugared almonds are done, make the salad:
In a large bowl (large enough to toss all of the spinach and quinoa), whisk together 3 tablespoons of olive oil, coriander, lime zest, juice of 1/2 of the lime (not the wedges), a large pinch of kosher salt, and a pinch pepper until emulsified (so that the oil doesn't separate from the other ingredients)
Spoon out half of the dressing into a small bowl and set aside
Add the baby spinach to the large bowl and toss to coat
Add the quinoa, and toss so that the warmth wilts the spinach a bit
Plate and serve
Divide the quinoa and spinach between four plates, and top each with a quarter of the roasted vegetables
Drizzle each plate with the additional dressing, and top with the sugared almonds, breaking them up into bite-sized pieces if they've hardened into larger pieces
Put a lime wedge on each plate, and serve immediately
Nutrition Information
Yield
4
Serving Size
1
Amount Per Serving
Calories

340
Total Fat

17g
Saturated Fat

3g
Trans Fat

0g
Unsaturated Fat

14g
Cholesterol

4mg
Sodium

480mg
Carbohydrates

39g
Fiber

10g
Sugar

9g
Protein

10g
Nutritional information is an estimate only.