This post may contain affiliate links.
If you buy something from one of the linked sites you won't pay anything more, but I might make a commission.
This post is sponsored by Northwell Health-GoHealth Urgent Care.
The other night I visited a Northwell Health-GoHealth Urgent Care Center in Gramercy for an information session on the Zika virus. Can I tell you how incredibly relieved I am that I'm not trying to have any more babies? I mean, I hate mosquitoes enough already. But if I were thinking about getting pregnant right now, I'd be really worried.
The session had some great information, and I want to share it with you. But first, I have to say something about this particular clinic location. I'm told that the other Northwell Health-GoHealth Urgent Care Centers are not decorated like this one, so I have to share pictures, because it was awesome.
Many of the hallways and all of the exam rooms were decorated in a certain overall theme. Let's see if you can spot it.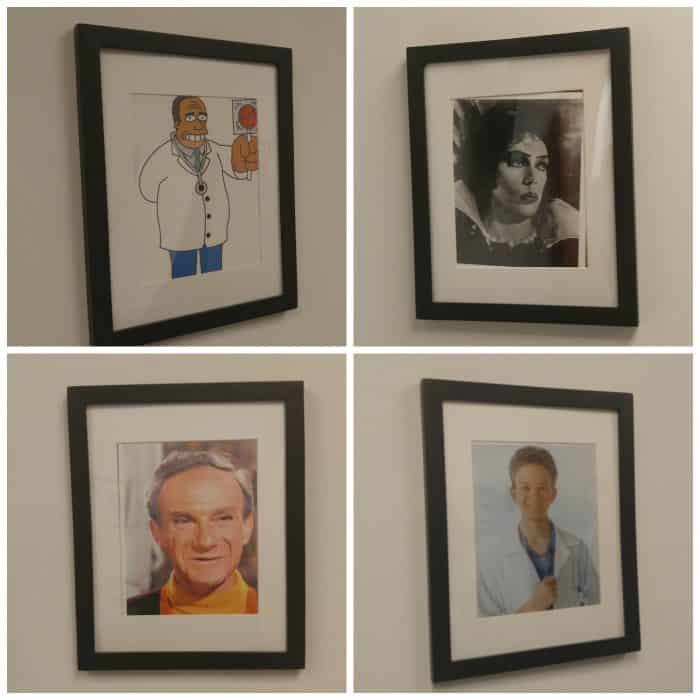 I seriously love this company.
But on to more serious things.
The Zika Virus
Dr. Neal Shipley, Regional Medical Director at Northwell Health-GoHealth, had some really good, practical, non-fear-based information about Zika, and some of it was not what I was expecting. All of the following information is from Dr. Shipley.
What is Zika?
Zika is a mild, flu-like disease that is transmitted mostly by infected mosquitoes, but can also be passed through sexual contact. When a person is infected, the virus can be found in all of their bodily fluids.
Symptoms of Zika can include fever, joint pain, red eyes, and rash. Symptoms are usually not bad enough for an infected person to go to a doctor, and it usually clears up on its own in under a week.
The trouble with keeping Zika from spreading is that 80% of the people who get it never show any symptoms. However, they can still transmit it to other people. That makes tracking it really difficult.
Unfortunately, at this point there is no vaccine or treatment for Zika.
80% of people who get Zika show no symptoms. This makes it difficult to track. #GoHealthMoms
Click To Tweet
What if you are pregnant?
Zika is only a major concern if the infected person is pregnant. Many children born to infected mothers have developed microcephaly (an abnormally small head with an underdeveloped brain) and other brain abnormalities.
Evidence is emerging that the most dangerous time for the mother to get infected is during the first trimester, but nobody is 100% sure yet.
So if you develop a fever, joint pain, rash, or red eyes within two weeks of traveling to a place that's having an outbreak, and you are pregnant, see your doctor immediately.
What should you do?
Here are some things you can do to help prevent Zika. #GoHealthMoms
Click To Tweet
The best way to prevent a Zika infection is to prevent mosquito bites. Cover your arms and legs, and use a bug repellant (but not on babies younger than three months). This will also protect you against ticks, which are probably a bigger concern for most of us than the Zika virus.
The latest data says that the virus clears from your blood in two months. So if you go to a country that has a Zika outbreak, you or your partner should wear a condom for two months afterwards, just in case. Because remember, if you have it, you're unlikely to have any symptoms.
There is a very small silver lining to getting Zika: at this point, the evidence suggests that once you get it, you're immune to getting it for the rest of your life. Since it's such a mild disease, you may even want to try to get it now if you plan on getting pregnant later. Once it has cleared from your blood, doctors think that you will be safe from getting it again. And there's no evidence that a prior Zika infection has any effect on a future pregnancy.
But if you're planning on getting pregnant soon, or are pregnant, you should stay away from places where outbreaks are happening, such as the Dominican Republic, Puerto Rico, Brazil, and Guyana.
If you would like more information you can connect with Northwell Health-GoHealth Urgent Care on Facebook and Twitter, read my other posts about Northwell Health-GoHealth: A Smarter Way To Handle Emergency Visits, and Should You Go To An ER Or An Urgent Care Center?, and download the ER vs. Urgent Care flier for easy reference!
Click tweet to share on Twitter:
What you need to know about Zika. #GoHealthMoms via @AmyOztan Click To Tweet
Click image to share on Pinterest:
Click image to share on Facebook: