Are you looking for an easy breakfast that doesn't have to be eaten right away? This parmesan potato frittata recipe is super simple, and tastes great hot, cold, or room temperature! Plus, depending on which food categories you get for free on Weight Watchers, it could be low in points.
Family breakfast ideas
I've been home with my family now for almost four weeks. Four weeks of everyone eating every meal at home. Every. Meal.
Normally, I'm the only person who eats breakfast at home during the week. My kids usually skip it (although my daughter walks out the door with a big iced caramel macchiato), and my husband gets some kind of breakfast sandwich from a food truck near work.
So, with everyone home there's been a lot of extra cooking. And since none of us come downstairs for breakfast at the same time, I've been trying to make easy breakfast recipes in the morning that are not too much trouble and don't have to be eaten right away.
Of course, some mornings everybody just makes their own toast or eggs or yogurt or whatever, and I still do pancakes and special breakfasts on the weekends. But during the week there have been a lot of muffins, and egg bites, and breakfast casseroles, and other things that might convince each family member not to make their own cooking mess.
Easy breakfast frittata
For example, I've been making a big frittata a couple of times a week and just leaving it out for anybody to grab. It tastes great hot, it tastes great room temperature, and it even tastes great the next day (I love it cold from the fridge, but you can reheat it, too).
The really awesome thing is that you don't need a special oven-safe pan to make this, and you don't have to heat up your oven! Most frittata recipes start out on the stovetop and then finish in the oven, but I find it much easier to do the whole thing on the stove (so technically I guess this isn't a frittata). Plus, once the eggs start cooking, you just leave it until it's done, totally hands-off.
Cooking questions
This is a really easy recipe, but here are a few questions you might have.
Can you use canned potatoes?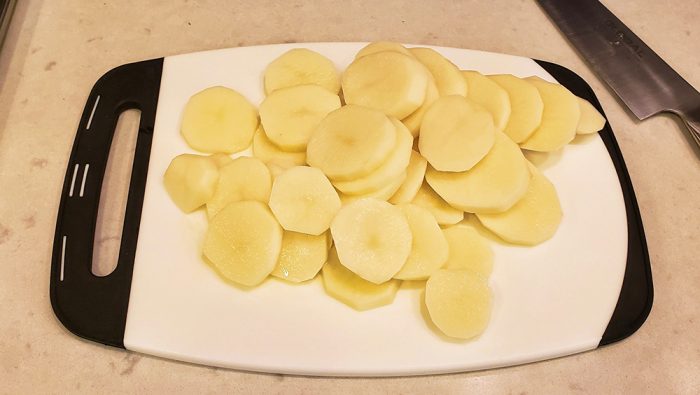 I'm going to be honest, until recently I didn't know that pre-cooked canned potatoes were a thing that you could buy. I was telling one of my podcast co-hosts about this recipe, and she said "Oh, can I used canned sliced potatoes?" And I was like, what now? I thought I knew everything about potatoes!
But she went to her cabinet and got them out and told me that her husband used them to make home fries (I bet they'd work for my Diner Home Fries recipe, although I do keep the skins on the potatoes for those). I checked Fresh Direct, which is where I get most of my groceries from, and they didn't have the sliced version, but they did have canned whole potatoes.
I've since found the sliced potatoes on Amazon, as well as the whole potatoes.
I tried them, and they worked great! They cut out an entire section of this already-easy recipe. I used an entire can of whole potatoes. I drained them well and sliced them, and then the rest of the recipe was normal. If you can find the kind that are already sliced, then just drain them well. There are some recipes where using fresh ingredients makes a huge difference, but this isn't one of them, so save yourself some time!
What kind of pan should you use?
The pan should be nonstick. Otherwise, you're going to have a really hard time getting the frittata out of the pan. If you just don't have a nonstick pan, you could try putting some extra oil in a regular pan, but I haven't tried this and don't know how it would work. My fear is that the frittata would be really greasy and gross.
If you want to buy a nonstick pan, I love mine! I bought this set a couple years ago, and they're still going strong. They weren't the absolute cheapest pans I found, but they're not high-end either. I've had terrible luck with expensive nonstick pans, so I decided I would buy cheaper ones and just replace them when they stopped working. I have no idea when that will be, but they've gotten heavy use so far.
Update: When I did finally have to replace them, my old pans weren't available anymore, so I got this similar set of pans, and they're great!
As for the size, if you don't have a 10-inch pan, you either have to adjust the size of the recipe, or figure out a new cooking time. But a 10-inch pan is a common size. You probably have one!
You also need a tight-fitting lid. I have one from another pan, but it was dirty when I took these pictures and I was too lazy to wash it. Plus, it's solid metal so I can't see the eggs cooking!
Instead, I used a lid that's really close to fitting tightly, and I put some tinfoil over the gap. Worked great!
What if my pan doesn't have a lid?
You could put tinfoil over the whole pan, but it would be difficult to check on the eggs. A better plan would be to put a sheet pan over the pan, with something a little heavy on top (another pan?) to hold it down.
How low does the flame have to be?
When you're cooking the eggs, the heat has to be really low. I tried this the first time on my front burner with the heat turned all the way down, and by the time the frittata was cooked through, the bottom had burned. I did it the next time on a back burner, and it was perfect. Just remember that this cooks for a long time—as long as 30 minutes—so if you're unsure, lower is better.
Can you use pre-grated or shredded parmesan?
You can. There are some recipes where the packaged stuff just doesn't work because of what they add to keep it from clumping up (cellulose, usually), but this isn't one of those recipes. I use pre-shredded cheese in egg dishes all the time. Just get the parmesan that's either finely shredded, or grated. And if you're shredding it yourself, do it on the smaller holes in your grater.
Personally, I use this to grate parmesan cheese. I love it, because you don't have to empty it and wash it every time. You just put the cap on the end! But don't lose that cap.
I also have this one, and while I don't like it as much, the cap is built-in, so you don't have to worry about it going missing.
Can you use dried rosemary instead of fresh?
Yes, absolutely. Just add it with the onions, instead of later. Cooking it in the oil wakes it up a bit. This is good advice for all dried herbs: if the recipe has a step where you're sautéing something in oil, add the dried herbs then as opposed to later in the recipe.
How can you tell when the frittata is done?
The easiest way to tell when the frittata is done is to tip the pan a bit:
If the potatoes are still moving on top, it's not done yet. The frittata should look solid, but still shiny. If it looks dry, it was overcooked.
This is how it looks cooked:
If a little bit of egg or oil can slide when you tip the pan, that's fine, as long as the potatoes stay still. Take a look at this one, still glistening and moist on top, but the potatoes are staying put when I tip the pan:
The only time this frittata ever stuck badly for me was when I was distracted and cooked it past that point! (But while it looked ugly, it still tasted delicious.)
Is this frittata Weight Watchers-friendly?
Yes, it is, especially if you're on the Purple Plan! That's the plan I'm on, and since eggs and potatoes are zero points, and parmesan cheese is very low in points, I've made full use of them here. I've put the Weight Watchers points info in the Notes section of the recipe.
Easy Parmesan and Potato Frittata Recipe
Yield: 4 servings
Easy Parmesan and Potato Frittata Recipe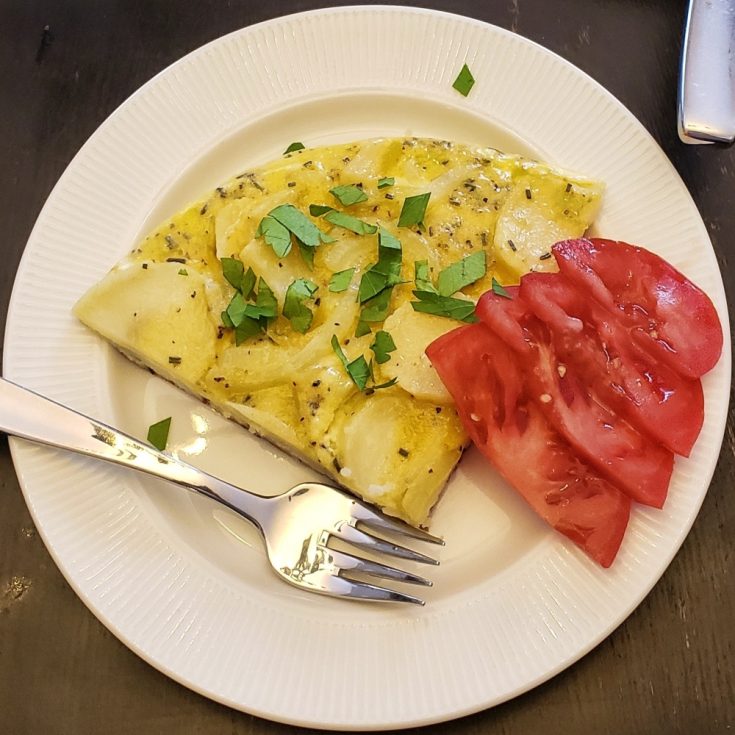 This easy egg dish is made on the stovetop--no need to heat your oven!
Ingredients
2 medium potatoes, about 12 ounces before peeling (or, 1 can of sliced or whole potatoes, drained well, about 10 ounces)
1 tbsp olive oil
1 medium yellow onion
1 large sprig of fresh rosemary (or 1/2 tsp dried rosemary)
2 oz parmesan cheese, finely shredded or grated
5 eggs
2 tbsp whole milk
1/2 tsp ground pepper
Chopped parsley for garnish (optional)
Instructions
Cook the potatoes
If you're using canned potatoes, you can skip this section, as canned potatoes are pre-cooked. Just drain them well, and if they're whole, cut them into 1/4-inch slices.
Fill a medium saucepan 1/3 full with water, add a large pinch of kosher salt, and bring to a boil over high heat
Meanwhile, peel the potatoes and slice into 1/4-inch rounds
When the water is boiling, add the potatoes and cook for 5 minutes, until the tip of a knife can go through easily, but the slices are still solid and not falling apart
Drain the potatoes and set aside to cool
Cook the onion
While the potatoes cook, peel and halve the onion and cut into 1/4-inch slices
Heat a 10-inch nonstick pan over low heat, and add the olive oil
Add the onions (and dried rosemary, if using instead of fresh), cover, and cook for about 10 minutes, stirring occasionally to break the onions up, until soft but not browned
Remove from the heat, uncover, and set aside to cool a bit
Prep the rest and cook!
Meanwhile, mince the rosemary leaves and shred or grate the parmesan
In a medium bowl, lightly beat the eggs with the milk, parmesan cheese, rosemary, kosher salt, and pepper
Add the egg mixture and the cooked potatoes to the pan with the onions, gently stirring to coat the potatoes
Return the pan to extra-low heat (probably on your stove's smallest burner), cover with a tight-fitting lid, and cook for 25-30 minutes without stirring, until the top of the frittata is solid but not dry
Remove the pan from the heat and, using a rubber spatula, gently loosen the edges from the pan and slide the frittata out onto a plate
Cut into wedges and serve hot or room temperature, garnished with parsley if you're fancy
Recommended Products
As an Amazon Associate and member of other affiliate programs, I earn from qualifying purchases (but you won't pay anything extra!)
Nutrition Information
Yield
4
Serving Size
1 slice
Amount Per Serving
Calories

275
Total Fat

14g
Saturated Fat

5g
Trans Fat

0g
Unsaturated Fat

8g
Cholesterol

245mg
Sodium

939mg
Carbohydrates

24g
Fiber

2g
Sugar

3g
Protein

15g
Nutritional information is an estimate only.