This post may contain affiliate links.
If you buy something from one of the linked sites you won't pay anything more, but I might make a commission.
Last night I went to a very interesting event held by Citizen Watch to celebrate the release of four new technologically-advanced GPS watches. (I was compensated to attend the event.) The theme of the gathering was "Time, Space, and Innovation" and it was held at the Citizen Watch flagship store in Times Square.
Keeping Time
In addition to checking out the new watches, I learned about how satellite watches work, including Citizen's new Satellite Wave World Time GPS and Limited Edition Satellite Wave F900. It was all incredibly interesting, and I'm amazed that all of the technology necessary can fit on a wrist. And beautifully, too.
I've had clocks and watches over the years that set the time automatically, but I never really wondered how they did it. Turns out they were using radio signals originating from a network of atomic clocks. Atomic clocks are ridiculously accurate, so why would anyone need a watch that can get signals from satellites?
Well, if you're in North America, Europe, or parts of Asia, you're probably near enough to an atomic clock to get a signal. But if you travel somewhere that doesn't have an atomic clock signal, your watch won't be able to set itself.
That's where satellite watches come in.
We heard from three guest speakers, who together gave us the story on satellite watch technology. First up was Brian Greene, a professor of math and physics at Columbia University here in NYC, and co-founder of the World Science Festival. He spoke to us about the very nature of time.
Next was Oded Aharonson, a professor of planetary science at the Weizmann Institute of Science in Israel, who told us about his work with NASA.
And third, we heard from Jay Spring, a vice president with Citizen, who talked about the history of Citizen watches and how Citizen has been innovating since the 1920s.
How Satellite Watches Work
There are 24 navigational satellites in orbit above earth right now. When your GPS (Global Positioning System) device connects with four of them, it can get your location through trilateration. (Jump to here if you want a more in-depth explanation of trilateration, because it's pretty fascinating.)
Because trilateration needs a very accurate time record in order to figure out your location, the satellites are constantly broadcasting what time it is with amazing accuracy. So, in order to get the correct time, a satellite watch just needs to connect with one satellite. Citizen Satellite Wave watches can do this in an incredible three seconds. You tell the watch which city you're in, and the satellite will update your time with incredible accuracy.
The new Satellite GPS watches take things one step further. They can connect with at least four satellites in just 30 seconds, resetting your time no matter where you are in the world, no matter what time zone you're in.

But while it's simple for the user, there are incredibly complicated calculations happening in order to give your watch the correct time. As Brian Greene pointed out, time is not a fixed entity that always happens at the same speed. We've invented ways to keep track of time in a consistent way, such as the atomic clock. But Albert Einstein figured out that time moves slower when objects are moving faster. So the atomic clocks inside of the satellites, which are travelling at about 14,000 kilometers per hour, are actually keeping time a little slower than they would be if they were standing still.
However, Einstein also told us that the more gravity is being exerted on an object, the slower time is passing for that object. So technically (if imperceptibly), your feet are aging slower than your head, since your feet are closer to the gravitational pull. The satellites are so far from earth that they have very little gravity acting on them, so time is moving faster for them than it would be on earth.
Got that? The satellites are losing time from one force, and gaining time from another force – but the differences are not equal and do not cancel each other out. That would be too easy. (Speed accounts for a bigger difference than gravity.) Both of those things have to be accounted for, or the satellites would be way off from earth time, and your Citizen Satellite Wave watch would be wrong!!!
Luckily, those variables are accounted for. Citizen's Satellite Wave watches work all over the world, setting your watch to the most accurate time in all 40 time zones. What? You thought there were only 24 time zones, one covering every 15 degrees of longitude? So did I. However, it turns out that some places have offset their time by 30 or 15 minutes, just to keep things interesting. So, there are 40 time zones total. And you don't have to know which one you're in for your Citizen Satellite Wave GPS watch to get the correct time from a satellite.
Other Citizen Innovations
Jay Spring from Citizen explained how the new limited edition Citizen Satellite Wave F900 watch is the world's thinnest satellite watch. Made out of Super Titanium (a Citizen innovation), it's five times as strong as stainless steel.
Later there was a demonstration of the scratch-resistance of Super Titanium vs. stainless steel, and it was pretty incredible. I was able to scratch up the stainless steel no problem, but I couldn't make a mark on the Super Titanium.
Jay also talked about Eco-Drive, which transforms light into the energy needed to power your Citizen Eco-Drive watch. It doesn't matter whether it's light from the sun or light from a lamp, Eco-Drive watches run on light. And they don't need much of it either: You could put a Citizen Eco-Drive watch in a dark drawer for six months, and it would still be running!
After the speakers were finished I took the time to browse the rest of the Citizen collection, because I wear a Citizen watch almost every day and am always looking for my next one.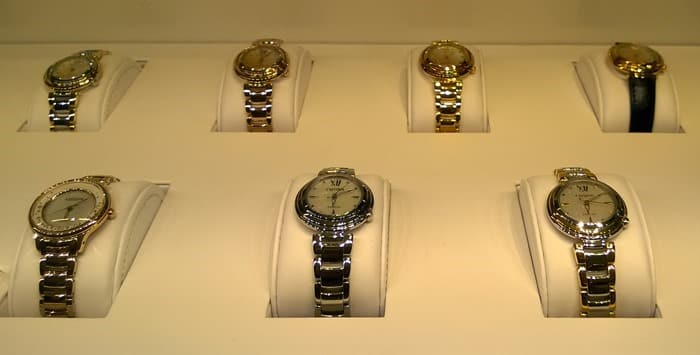 And that's it! Cool, right? It's amazing how much technology I interact with on a daily basis, and yet I don't even question how most of it works. So I'm really glad that Citizen took the time to explain this one to me!
If you got something out of this post, I would really appreciate a share on Twitter or Facebook, or a pin on Pinterest.
*But what is trilateration? It's a way to figure out a location using time. This video explains how trilateration works very well. Just keep in mind, this guy is explaining it using three satellites instead of four. He's basically dumbing it down so that it's more easily illustrated. If you can imagine what's happening in the video with four satellites instead of three, and three-dimensional spheres instead of flat circles, that's how GPS works.