This post contains affiliate links, and I was given products to review.
If you buy something from one of the linked sites you won't pay anything more, but I might make a commission.
The new Fitbit Inspire HR is finally on sale to the general public, and I got my hands on one yesterday. Look how pretty they are!
Are you missing your steps when you forget to wear your Fitbit? Track your steps automatically with Mobile Track on your phone, when you're not wearing your Fitbit! Read all about this free tool for your Fitbit app.
The new Fitbit Inspire
There have been rumors and sightings of a new Fitbit smartwatch for over a month now, with questions popping up on Reddit and Fitbit discussion boards. The new Fitbit Inspire and Inspire HR had been available only to people whose workplace or healthcare system had a deal with Fitbit, but as of right now they're on sale for everybody! I was able to meet with Fitbit before the launch and get all of the details for this exciting new smartwatch. And they gave me an Inspire HR and a pretty stainless steel band to keep, so I'll be reviewing those soon.
Fitbit only entered the smartwatch category 18 months ago, and already they're the number two player. I'm not surprised. I've been wearing my Fitbit Versa every day since it came out, and I love it! But it does look like a smartwatch (a gorgeous one, but a smartwatch nevertheless). The Inspire and Inspire HR look more like bracelets, and have accessories that can really dress them up. My favorite so far is this gorgeous double leather wrap band (also available in black):
You can even take the band off and put the Inspire into a clip and wear it discretely on your clothes! I just ordered one in black.
You can see all of the available accessories and bands here.
How much does the new Fitbit Inspire cost?
But the best part? They're both under $100. The Fitbit Inspire is $69.95, and the Inspire HR (which adds heart rate monitoring and more) is $99.95. These are both fantastic options for people who don't want to look like they're wearing an activity tracker, and don't want to spend a lot of money. And they both have the core tools you need to get the most out of a smartwatch.
New Fitbit Inspire features
Touchscreen
Assorted Clock Faces
On-Device Dashboard
Activity Tracking
Sleep Tracking
Reminders to Move
Calories Burned
Phone alerts
Swim-proof
Up to 5 Days of Battery Life
Fitbit Inspire HR features
The Fitbit Inspire HR has all of that, plus
24/7 Heart Rate Tracking
Real-Time Heart Rate Zones
Sleep Stage Tracking
15 Goal-Based Exercise Modes
Connects to Your Phone's GPS for Real-Time Pace and Distance Info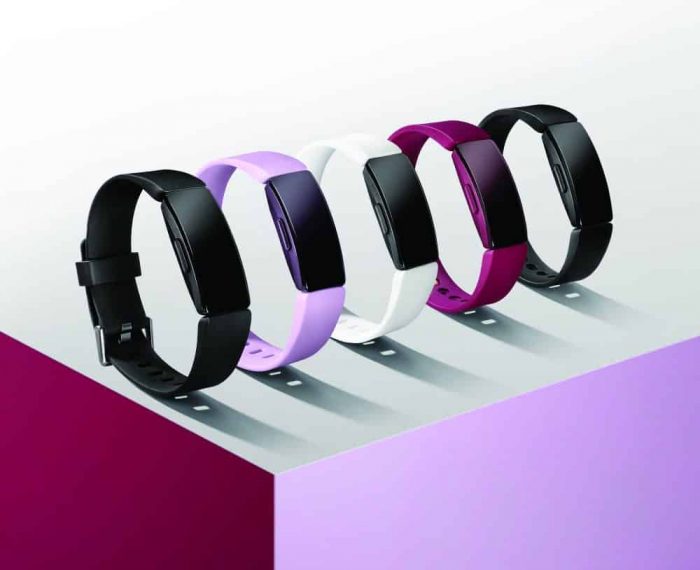 Both versions of the Inspire come with a silicone band, but that can easily be swapped out for a fancier one. The Inspire comes in black with a black band, or Sangria with a Sangria band. The Inspire HR comes in black with a black band, black with a white band, or Lilac with a Lilac band. And there are plenty of bands available, so you can swap them out based on how you're dressed.
I'll be putting my Versa aside for the time being to try out my new Inspire HR, and I'll report back soon.