This post may contain affiliate links and/or codes. You won't pay anything extra, but I might make a commission.
Wondering how to make Kraft Mac and Cheese better? I've got four simple tricks that will make box mac and cheese creamy and delicious! In fact, two of them are so basic I can't believe they're not in the instructions on the box.
How much do I love Kraft Mac and Cheese?
I love Kraft Macaroni and Cheese (or Kraft Dinner, as my Canadian friends call it). I will eat it hot, cold, leftover, for breakfast, and even massively expired, apparently:
And although it will taste OK if you just follow the instructions on the blue box, I always use four simple tricks to make it so much creamier and even more delicious! Trust me, once I show you how to make boxed macaroni and cheese better, you won't want to go back to the Kraft Mac and Cheese box instructions. This is absolutely the best way!
Plus, I've added a bunch more ways to doctor up boxed mac and cheese, plus even more info, like how to store, freeze, reheat, and keep mac and cheese warm.
How to make boxed mac and cheese even better!
There are four easy things you can do to make boxed mac and cheese even better: salt the water, don't overcook the pasta, make the sauce separately, and replace half of the butter with American cheese.
1. Salt the water
My first trick is to add salt to the water before cooking the pasta. I can't believe that Kraft doesn't tell you to do this. Adding salt to pasta water should just be automatic, no matter what you're making. This is your only chance to season the macaroni itself (the rest of the flavor will be on the outside of the pasta), so go ahead and put a spoonful of kosher or table salt in there.
Now, I add the salt as soon as I put the water in, because otherwise I forget, every time. But if you're using a pot with a non-stick bottom, you may want to wait and add the salt after the water comes to a boil, because supposedly the undissolved salt sitting on the bottom of the pan as the water heats up can make marks on the non-stick surface.
This could be an old wives' tale, I have no idea—it's never happened to me, and I boil long pasta in this awesome pasta pot all the time. But I mention it because I don't want to be responsible for ruining your non-stick cookware.
2. Don't overcook the pasta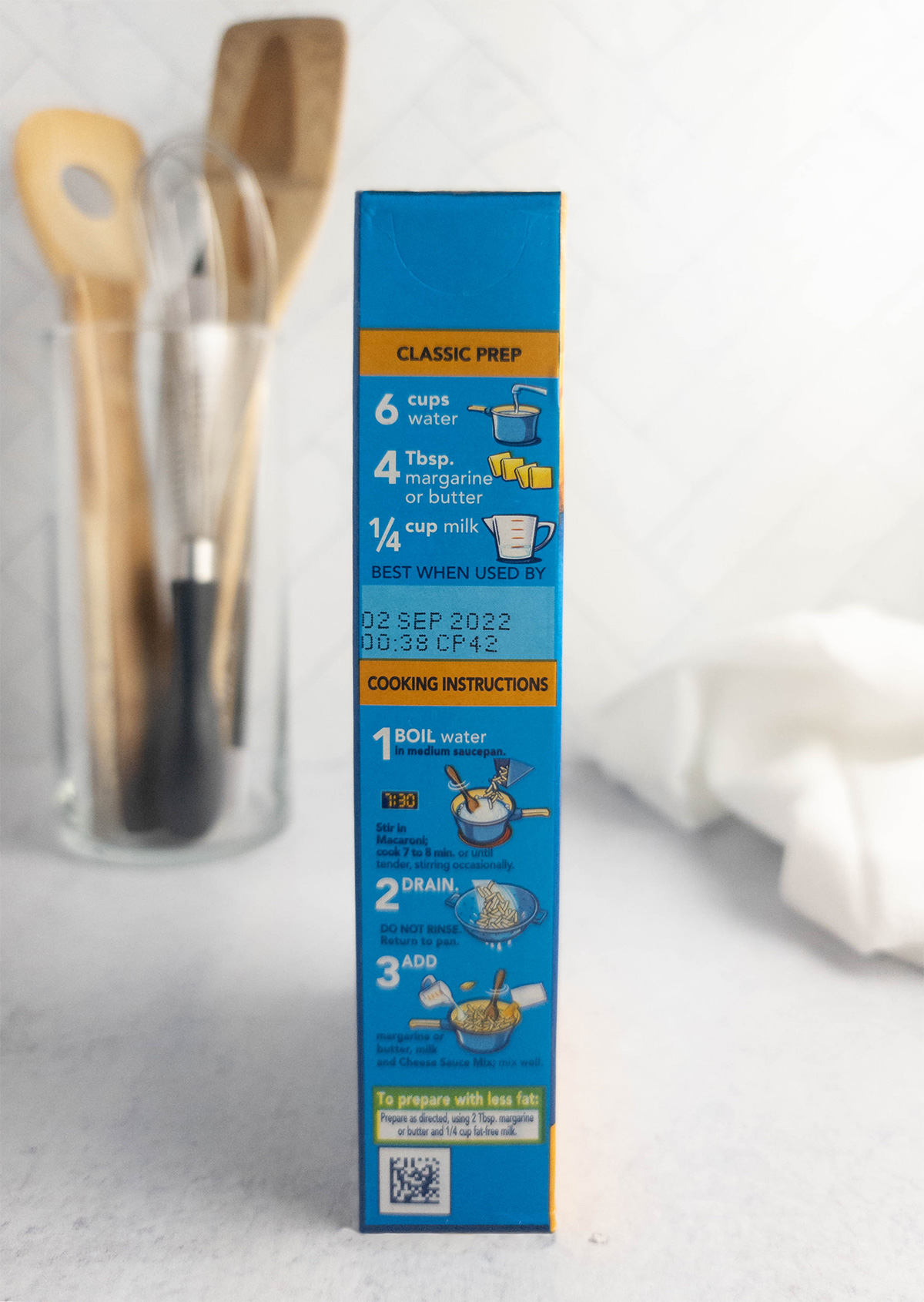 My second trick is to cook the elbow macaroni for less time than the instructions on the box of Kraft Mac and Cheese say to. If you follow the box instructions the pasta will definitely be mushy, because they say to boil the pasta for seven or eight minutes "or until tender". But "tender" for pasta is overdone, and seven or eight minutes is way too far!
Start tasting it after five minutes, and drain it as soon as it's al dente (just a hair short of soft), because it's going to keep cooking while it sits.
And remember, don't ever rinse cooked pasta, unless you're making the rare recipe that specifically calls for it (some cold pasta salads, for example).
3. Make the sauce separately
My third trick is to never, ever try to make the sauce while the elbow macaroni is in the pot. In order to get all of the powder from the cheese packet to dissolve, you have to stir the sauce a lot, and the macaroni gets totally beaten up during this process. Or, if you try to treat the pasta more gently, you end up with gritty bits of powdered cheese in your mac and cheese.
Instead, set the drained macaroni aside in a bowl (hey, you can use that bowl to serve it in, instead of the pot—fancy!), adding a tablespoon of the butter and giving it a gentle stir, so that the pasta doesn't stick together as it sits.
Then, after you've made a delicious and creamy sauce (with no bits of cheese powder left), you can gently stir the macaroni in to coat it.
Save a dish
Now, if you absolutely don't want to use another dish and just want to serve the mac and cheese in the pot, I get you. At the end of the day, one more bowl for each thing you cooked adds up. In that case, just let the pasta sit in the strainer or colander you used to drain it, and don't add the tablespoon of butter to it (add it to the sauce, instead).
You just have to be extra careful when it's time to add the pasta to the sauce, because it will tend to fall out of the strainer in one big clump, and that could make a big mess (I speak from experience, and yes, hot cheese sauce burns like a mofo). And you'll have to do a bit of extra stirring to get the pasta separated again, but it will separate, and taste great!
Or, use an extra pan to save time
If you don't mind having an extra pan to clean, you can make the sauce while the water is coming to a boil and the pasta is cooking. That way, when the pasta is done you can strain it, put it back in its pot, and stir in the sauce!
4. Replace half of the butter with American Cheese
My fourth trick is to replace half of the butter with two or three slices of American cheese. The difference this simple cheese hack makes is incredible!
The instructions say to use four tablespoons of butter (or margarine, but don't do that). We're only going to use two, plus some American cheese.
I get my American cheese sliced really thick, so two of my slices would be equal to about three slices of packaged stuff. But hey, go ahead and throw in a fourth if you want. It will just be even creamier and cheesier!
Can you use all of the butter the instructions call for, and the American cheese? Sure, but I actually like it better this way. It gets a little too greasy with the entire amount of butter the package directions tell you to add, plus the extra cheese.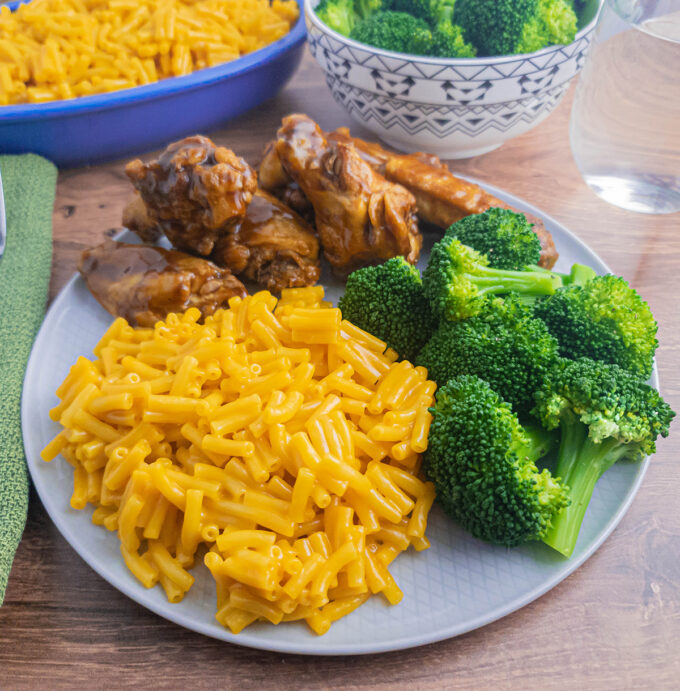 That's it! Four easy tips to upgrade your boxed mac and cheese from good to delicious!
Even more ways to make any boxed mac and cheese better!
My four tips aren't the only ways to improve boxed macaroni and cheese!
Delicious dairy substitutions:
American cheese is just one substitution that can take your boxed mac and cheese over the top.
Shredded cheddar
Instead of adding American cheese, use all of the butter that the box calls for (four tablespoons), and add half a cup of shredded sharp cheddar cheese.
Now, I love the shredded cheese that comes in a resealable pouch, I use it a lot. But we're making a sauce, so this time it has to be cheddar that you shredded, from a block of cheese.
Feta cheese
Instead of adding American cheese, use all of the butter that the box calls for (four tablespoons), and add one-third of a cup of feta cheese. Do NOT use feta crumbles, since they won't really melt.
Cream cheese
Instead of using American cheese, replace half of the butter with two tablespoons of cream cheese.
Half-and-half
Instead of a quarter cup of milk, use an equal amount of half-and-half.
Heavy cream
Substitute heavy cream (or heavy whipping cream) for some or all of the milk. Honestly, using all heavy cream and no milk is too rich for me, but I know some people who swear that this is their favorite way to make it.
Sour cream
Substitute some or all of the milk for an equal amount of sour cream. The more sour cream you use, the more tangy the mac and cheese will be!
Flavor it up:
Add one of these to the sauce (before you stir the macaroni in) for some extra flavor.
Hot sauce
If you like things spicy, add a bit of Frank's Red Hot, sriracha, or Tabasco to the sauce. If you like a slightly less tongue-burning flavor, add some Cholula.
BBQ sauce
I never would have thought of this myself, because I hate BBQ sauce. But my daughter puts it on everything.
Dijon mustard
Stir in a teaspoon or two of Dijon mustard for a deep and interesting flavor.
Mustard powder or yellow mustard will also work in a pinch, but won't give quite the same rich taste as Dijon.
Salsa
A quarter cup of salsa will add a delightful kick to mac and cheese!
If the salsa is on the thin side, start with half as much milk as the recipe calls for, and add more if the sauce is still too thick with the salsa added.
Crushed red pepper flakes
Add just a pinch for a little heat, and half a teaspoon for some fire.
Smoked paprika
Stir some of this into the sauce (to taste) for a smoky heat.
Cayenne pepper
Dried cayenne pepper is hotter than paprika, so adding it is a good choice if you like things a bit hotter.
Top it off:
Making boxed mac and cheese more special can be as easy as topping it with something before serving.
Flavored bread crumbs
Melt a tablespoon of butter in a small pan over medium heat, and add a half cup of panko bread crumbs (regular bread crumbs work too, but use one-third of a cup). Cook, stirring constantly, until the panko is golden brown. Remove from the heat and stir in two tablespoons of shredded or grated parmesan cheese, and salt and ground black pepper to taste. Sprinkle on top of the mac and cheese and serve.
Crispy fried onions
Fried onions make everything better. Top the mac and cheese with some of these to add a flavorful crunch.
Crushed Ritz Crackers
Crush up some Ritz crackers (or whatever butter crackers you have around), and sprinkle them on top of the mac and cheese right before serving.
Boxed Mac and Cheese add-ins:
Stir one or more of these delicious additions into your prepared macaroni and cheese for an extra kick of flavor. Adding these extra ingredients is also a great way to turn a side dish into a complete meal!
If you're making this as a main dish, you might want to use two boxes of Kraft Mac and cheese, and double the other ingredients in my instructions. And don't forget to use a larger pot!
Cooked diced ham
Crumbled cooked bacon
Shredded rotisserie chicken
Leftover chili
Cut-up hot dogs
Frozen peas (add them to the boiling water with the pasta)
Frozen broccoli florets (add them to the boiling water 4 minutes before you add the pasta, 2 minutes for baby florets)
Puréed butternut squash
Baby spinach (the hot pasta and sauce will wilt it)
Diced pickled jalapenos
Sautéed diced onion or shallot (sauté them in the butter when making the sauce, before adding the other ingredients)
Sliced scallions (cook the white parts for a minute or two in the melted butter, and add the green parts when you add the cooked macaroni)
Amazing combos:
These flavor combinations aren't just delicious, they turn your boxed mac and cheese into a complete meal! Unless otherwise noted, the combos below use my doctored mac and cheese recipe as a base, not the ingredients that the box calls for.
Buffalo Chicken Mac & Cheese
Instead of the two or three slices of American cheese I recommend substituting when making the cheese sauce, add three tablespoons of blue cheese dressing and some Frank's RedHot Wing Sauce. Then, when you're adding the cooked macaroni, stir in some shredded rotisserie chicken.
And if you really want to make it as close to real Buffalo chicken wings as you can, add some diced celery!
Taco Mac & Cheese
Brown some ground beef with taco seasoning, breaking it into small crumbles (I love using this tool for this job!) and set it aside. This would also be a great way to use up leftover taco meat from Taco Tuesday!
When making the sauce, leave out a tablespoon of the milk, and add a four-ounce can of diced green chiles. Stir in the seasoned ground beef when you add the cooked macaroni, along with a plum tomato that's been seeded and diced.
Spanakopita Mac & Cheese
For this one you're going to use all of the butter that the box calls for (one-quarter cup). After you melt the butter for the sauce, add a quarter cup of diced onions or shallots and half a teaspoon of dried dill, and sauté for a couple of minutes, until the onions/shallots are softening.
Instead of American cheese, add one-third cup of crumbled feta cheese (NOT the feta crumbles, a block of feta) when adding the rest of the sauce ingredients.
When you add the cooked macaroni, also add 2 cups (packed) baby spinach, and two Roma tomatoes that have been seeded and diced. Return to low heat for a couple of minutes, stirring constantly, until the baby spinach is wilted and the tomatoes are warm.
More mac & cheese info!
How do you store mac and cheese?
Let it cool to room temperature, then put it in an airtight container (or cover the container tightly with plastic wrap). Store it in the fridge for up to three days.
Can you reheat Kraft Mac and Cheese?
Absolutely! In fact, you can do it in the oven, on the stove-top, or in the microwave.
Oven method:
-Preheat your oven to 350 degrees Fahrenheit with a rack in the middle position
-Put the cold mac and cheese in a casserole dish and add about a tablespoon of milk and a teaspoon of butter for every two cups of mac and cheese (don't bother stirring it yet)
-Cover tightly with aluminum foil and bake for 15 minutes
-Remove the dish from the oven and gently stir, checking to see if the macaroni has warmed up yet; if not, cover it tightly again and put it in for another 10-20 minutes, until warm
-If the macaroni is getting dry, add another splash of milk
Stove-top method:
-Heat a saucepan on low, and add about half a tablespoon of butter for every two cups of mac and cheese
-When the butter has melted, add the cold macaroni and cheese, along with about a tablespoon of milk for every two cups of mac and cheese
-Increase heat to medium low and cook, stirring gently, until all of the mac and cheese is warm
-If the mac and cheese gets dry, add a splash more milk
Microwave method:
-Put the cold mac and cheese in a microwave-safe bowl and add about a teaspoon of butter and half a tablespoon of milk for every two cups of macaroni and cheese
-Microwave on high in 30-second increments, stirring in between
-If the macaroni and cheese gets dry, stir in a bit more milk
Can you freeze mac and cheese?
Yes! I like to freeze it in individual portions, but you can freeze larger amounts too. Let it cool to room temperature first, and then put it in a freezer-safe container.
Or, put individual portions in small plastic containers (deli containers are great for this!), and once they're frozen solid (at least eight hours), run the containers under cold water to loosen the mac and cheese, and then pop the blocks out into a plastic bag, or wrap each one tightly in plastic wrap and then put into a larger plastic bag (this is better for longer-term storage, so that the mac and cheese doesn't get freezer burn).
They can stay frozen for about three months. You can put a block into the fridge to thaw the night before you need it, or thaw it on low power in a microwave.
How do you keep mac and cheese warm in a lunchbox?
Mac and cheese makes a great lunch to send to school! Here's how you keep it warm until lunchtime:
-Warm the mac and cheese using one of the methods above until it is very hot
-While the macaroni is heating up, fill a food Thermos with very hot water
-When the macaroni and cheese is ready, pour the water out of the Thermos and dry it quickly
-Put the mac and cheese into the warmed Thermos and put the lid on
Yield: servings 3
4 Easy Tricks for the Creamiest Kraft Mac & Cheese Ever!
Want to make Kraft Mac and Cheese even better? These hacks will make the best boxed mac and cheese you've ever had!
Ingredients
1-2 tsp salt
2 tbsp salted butter, divided
1/4 cup milk, whole tastes best
2-3 slices American cheese, torn into smaller pieces
Instructions
Bring a medium saucepan of salted water to a boil over high heat
Add the elbow macaroni from the box and cook, stirring occasionally (especially in the beginning), until al dente (start tasting after 5 minutes)
Drain the macaroni and put into a bowl with 1 tablespoon of the salted butter, stirring gently to incorporate the butter; set aside while you make the sauce
Return the empty pot to low heat and stir together the remaining tablespoon of butter, the milk, the American cheese, and the cheese powder from the box
Keep stirring until you have a creamy sauce with no traces of powder
Add the pasta to the sauce and stir carefully, until all of the pasta is coated with the sauce
Remove from the heat and serve hot
Recommended Products
As an Amazon Associate and member of other affiliate programs, I earn from qualifying purchases (but you won't pay anything extra!)
Nutrition Information
Yield
3
Serving Size
1
Amount Per Serving
Calories

430
Total Fat

17g
Saturated Fat

10g
Trans Fat

0g
Unsaturated Fat

5g
Cholesterol

49mg
Sodium

1190mg
Carbohydrates

55g
Net Carbohydrates

0g
Fiber

1g
Sugar

11g
Sugar Alcohols

0g
Protein

13g
Nutritional information is an estimate only.
[This post was updated in July 2022 to add additional information.]