Wondering how to make Kraft Mac and Cheese better? I've got four simple tricks that will make boxed mac and cheese creamy and delicious! In fact, two of them are so basic I can't believe they're not in the instructions on the box.
How much do I love Kraft Mac and Cheese?
I love Kraft Mac and Cheese (or Kraft Dinner, as my Canadian friends call it). I will eat it hot, cold, leftover, for breakfast, and even massively expired, apparently:
And although it will taste fine if you just follow the instructions on the blue box, I always use four simple tricks to make it so much creamier and even more delicious! Trust me, once I show you how to make box Mac and Cheese better, you won't want to go back to the box instructions.
How to make box mac and cheese better
There are four easy things you can do to make box mac and cheese better: salt the water, cook the pasta for less time than the directions say, replace half of the butter with American cheese, and make the sauce in a separate pan.
Salt the water
My first trick is to add salt to the water before cooking the pasta. I can't believe that Kraft doesn't tell you to do this. Adding salt to pasta water should just be automatic, no matter what you're making. This is your only chance to season the macaroni itself (the rest of the flavor will be on the outside of the pasta), so go ahead and put a spoonful of kosher or table salt in there.
Now, I add the salt as soon as I put the water in, because otherwise I forget, every time. But if you're using a pot with a non-stick bottom, you may want to wait and add the salt after the water comes to a boil, because supposedly the undissolved salt sitting on the bottom of the pan as the water heats up can make marks on the non-stick surface.
This could be an old wives' tale, I have no idea—it's never happened to me, and I boil long pasta in this awesome pasta pot all the time. But I mention it because I don't want to be responsible for ruining your non-stick cookware.
Don't over-cook the pasta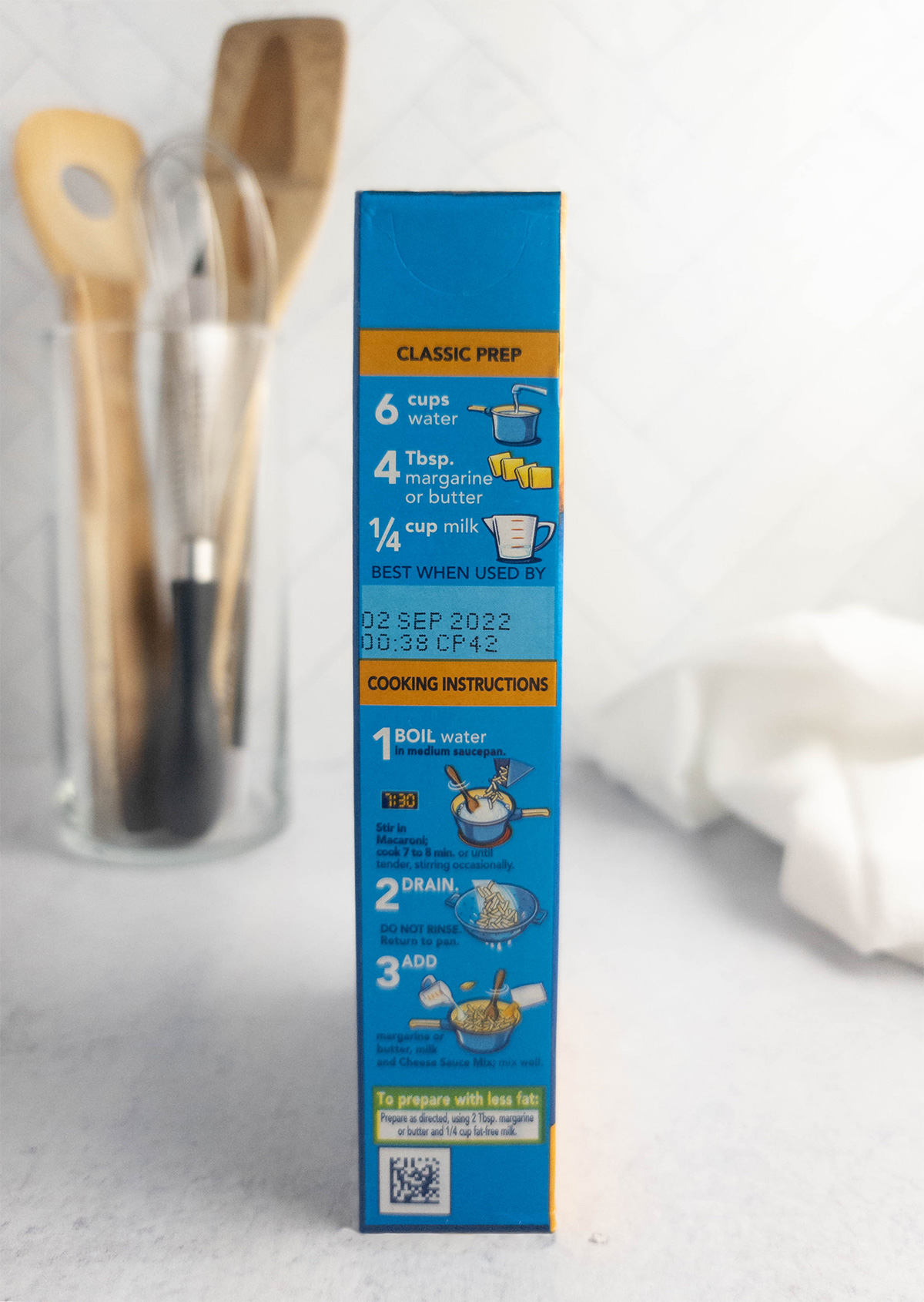 My second trick is to cook the elbow macaroni a minute or two less than the package says, otherwise the pasta will be mushy. The instructions say to boil the pasta for seven or eight minutes "or until tender," but tender is overdone, and seven or eight minutes is way too far!
Start tasting it after five minutes, and drain it as soon as it's al dente (just a hair short of soft), because it's going to keep cooking while it sits.
And remember, don't ever rinse cooked pasta, unless you're making the rare recipe that specifically calls for it (some cold pasta salads, for example).
Replace half of the butter with American Cheese
My third trick is to replace half of the butter with two or three slices of American cheese. The difference is incredible!
The instructions say to use four tablespoons of butter (or margarine, but don't do that). We're only going to use two, plus some American cheese.
I get my American cheese sliced really thick, so two of my slices would be equal to about three slices of packaged stuff. But hey, go ahead and throw in a fourth if you want. It will just be even creamier and cheesier!
Can you use all of the butter the instructions call for, plus the American cheese? Sure, but I actually like it better this way. It gets a little too greasy with all that butter added to the extra cheese.
Make the sauce separately
My fourth trick is to never, ever try to make the sauce while the elbow macaroni is in the pot. The macaroni gets totally beaten up during this process, and it's almost impossible to get rid of every little bit of powder, leaving the mac and cheese gritty.
Instead, set the drained macaroni aside in a bowl (hey, you can use that bowl to serve it in, instead of the pot—fancy!), adding a tablespoon of the butter and giving it a gentle stir, so that the pasta doesn't stick together as it sits.
Then, over low heat, stir the remaining tablespoon of butter with the quarter cup of milk, the packet of cheese powder, and the two or three slices of American cheese.
Now, if you absolutely don't want to use another dish and just want to serve the mac and cheese in the pot, I get you. At the end of the day, one more bowl for each thing you cooked adds up. In that case, just let the pasta sit in the strainer or colander you used to drain it, and don't add the tablespoon of butter to it (add it to the sauce, instead).
You just have to be extra careful when it's time to add the pasta to the sauce, because it will tend to fall out of the strainer in one big clump, and that could make a big mess (I speak from experience, and yes, hot cheese sauce burns like a mofo). And you'll have to do a bit of extra stirring to get the pasta separated again.
That's it! Easy tips to upgrade your boxed mac and cheese from good to delicious!
Yield: servings 3
Creamier Kraft Mac and Cheese Recipe
Want to make Kraft Mac and Cheese creamier and better? These four simple tricks will make the best boxed mac and cheese you've ever had!
Ingredients
1-2 tsp salt
2 tbsp salted butter, divided
1/4 cup milk, whole tastes best
2-3 slices American cheese, torn into smaller pieces
Instructions
Bring a medium pot of salted water to a boil over high heat
Add the elbow macaroni from the box and cook, stirring occasionally (especially in the beginning), until al dente (start tasting after 5 minutes)
Drain the macaroni and put into a bowl with 1 tablespoon of the salted butter, stirring gently to incorporate the butter; set aside while you make the sauce
Return the empty pot to low heat and stir together the remaining tablespoon of butter, the milk, the American cheese, and the cheese powder from the box
Keep stirring until you have a creamy sauce with no traces of powder
Add the pasta to the sauce and stir carefully, until all of the pasta is coated with the sauce
Remove from the heat and serve hot
Notes
Weight Watchers
1 serving is 14 points, although you can reduce that to 12 points by using only 1 tablespoon of butter.
Recommended Products
As an Amazon Associate and member of other affiliate programs, I earn from qualifying purchases (but you won't pay anything extra!)
Nutrition Information
Yield
3
Serving Size
1
Amount Per Serving
Calories

430
Total Fat

17g
Saturated Fat

10g
Trans Fat

0g
Unsaturated Fat

5g
Cholesterol

49mg
Sodium

1190mg
Carbohydrates

55g
Net Carbohydrates

0g
Fiber

1g
Sugar

11g
Sugar Alcohols

0g
Protein

13g
Nutritional information is an estimate only.