Wondering about the big changes that just came to Weight Watchers? I've spent the morning getting used to the new Weight Watchers program, called PersonalPoints, and got some answers directly from their customer service. Here's everything I know!
The old plans
I've been on the Weight Watchers Purple Plan since February of 2020. The way it worked was there were three plans to choose from (the Purple, Blue, and Green Plan), each with their own daily and weekly points, and their own lists of Zero Point foods—foods that, theoretically, didn't have to be tracked or counted in any way. If your plan had more free foods, you had fewer points to eat with, and vice versa.
I was really excited to be able to eat things like brown rice, whole wheat pasta, and potatoes without having to measure or count them—they were all Zero Point foods on the Purple Plan, along with starchy vegetables, pretty much all fruits, popcorn, and other things I love. This was a weight loss program I knew I could stick to!
When I started, I didn't even know that I liked whole wheat pasta, but it turns out that I do, and I eat a lot of it. (This is probably the pasta recipe that I make the most, because it's so easy and delicious.)
I'd quit Weight Watchers before. The first time was almost 20 years ago, when the program was really basic, and wasn't much more advanced than calorie counting (if a banana is the same number of points as pretzels, I'm going to eat the pretzels every time!!). The second time was in 2018, when they had just changed to the Freestyle program, and while I didn't hate it, I did get sick of all of the counting and measuring.
I rejoined when a friend told me about the changes, including all of the free foods. Less counting and measuring! Yay!
This particular Weight Watchers plan had worked really well for me. My husband was also on Purple, and is almost at his goal weight. My son, who doesn't like things like whole wheat pasta and brown rice, chose the Blue Plan when he joined back in January. When I was cooking for all of us, it was nice to be able to look at the lists of free foods for the different colors, and plan accordingly. Between the three of us, we've had a lot of weight loss success on the old plans.
Change can be good
Still, when I heard last week that changes were coming, I wasn't upset. Sometimes change can good, and based on what I was reading from Australia, where the new PersonalPoints plan had already rolled out at that point, it sounded like there were some changes that I would like, such as avocados being fewer points. I was excited to see the new plan, but we all had to wait until today for it to roll out in the United States.
I've been on the new points plan all of eleven hours, two meals, and three snacks, but I spent the morning exploring the changes, and talking to Weight Watchers customer service when I couldn't find answers on my own.
Despite my hatred of change (I'm very much an "If it ain't broke, don't fix it!" kind of person), I don't think this will have a major impact on what I'm eating, and the impact it will have will be positive. This morning, social media is filled with people complaining that they liked the old plans, but since that isn't an option I'm going to move forward and get used to this new plan as quickly as I can, and try to not complain about it too much.
What if you aren't a member of Weight Watchers yet? Then this is a great time to join, because you'll be learning something new anyway!
Do you have to switch?
The first question a lot of people had when they heard about the changes was, do I have to switch to PersonalPoints? And the answer is yes. You don't have to do it immediately, but according to Weight Watchers customer service, you'll get reminders for the next week, and then on the 16th of November you'll have no choice but to start the new plan.
If your weekdays are busy, I'd suggest waiting until this weekend, when you have a little time to explore the new program.
Do you need a smart phone?
According to Weight Watchers customer service, you can start the new plan on the website, but they really urge you to use the app to get the best experience. I've found two four instances so far where not having the app will be super inconvenient.
First, I noticed that the website no longer has a tab for Activity like it did before. I asked customer service how people without the app would track their activities manually, and was told that they can't.
Second, there is literally no way to access your zero points food list on the website. If you take the assessment on the website, you have to make a note of your zero point foods categories, and then you can look up the categories in the Living WW tab on the website. There's also this page, which leads to more information for each category.
Update 11/9/2021: I've found two more things that you can't do on the website.
Third, there's no way to track water on the website and earn that one extra food point (discussed later in the post). You can search for "water" in the database and track it, but it will not show up in the app in the new water tracking area, and you won't earn a point for it.
Fourth, you can't manually add a cup of vegetables on the website towards earning extra food points (discussed later in the post). You can search for the specific vegetable and add it that way, and that will show up on the website and app under the big "Daily remaining" point count. But you can't take the app shortcut of just adding a cup of vegetables.
Switching to the new personal points program
The first step to switching over to the new plan is to take an assessment in the app, which asks you questions about your food preferences. If you're familiar with the plan, you'll see where each question is going: you're choosing your zero point foods.
Once your assessment is done, you'll see a graphic with a summary of your zero point foods. And can see them anytime in list form by clicking on the three lines in the upper left of the app, then Your ZeroPoint foods.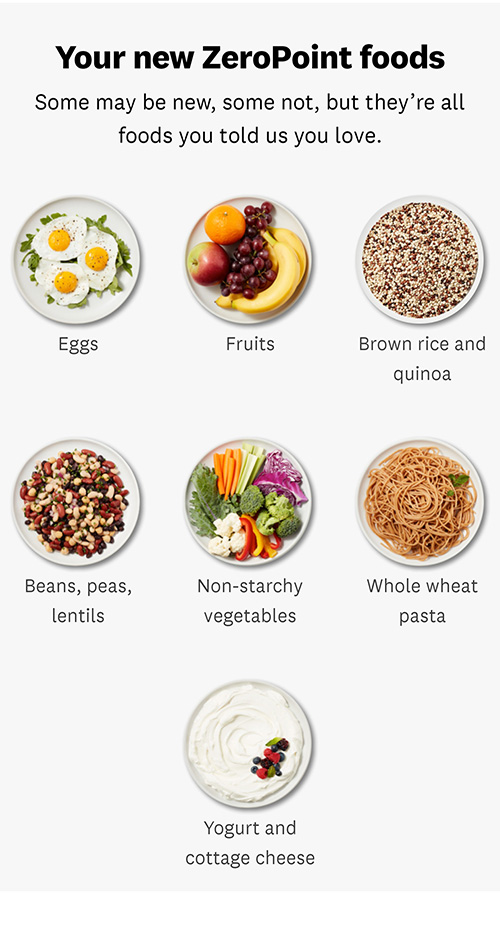 When you get to the end of the assessment, you get the option to not start the new plan yet. However, you only have until November 16th, then you have to switch over.
Can you change your zero point foods?
Yes! You can take the assessment over again as many times as you want. In the app, click on the three lines in the top left, then Settings, then Food Settings, the ZeroPoint Food Settings, and you'll be taken to the assessment. Just keep in mind, when you change your ZeroPoints foods, the points you're allowed to use may change as well.
What has changed
Following are all of the changes that I've noticed so far, with one big caveat: unless otherwise noted, I have no way of knowing what's happening on your plan. A points change for me might not be a change for you, or it might change by a different amount. But these are things to be aware of.
Food Points
Your own personal points
While the whole concept of daily and weekly points has not changed, your own personal points probably will. I gained one new personal point each day, but lost seven weekly personal points, so my total did not actually change, but everyone else I talked to had a change in total points. For example, my husband gained 3 points every day, but lost 14 weeklies.
Zero Point foods
Instead of three separate lists of zero point foods, you now basically get to choose your own groups of zero point foods when you take the assessment.
If you aren't happy with your zero point foods, you can take the assessment again. This list of ZeroPoint foods and their categories is really helpful if you want to see which groups of foods you'd like to have as zero points.
Other food points
So far, I've noticed that a lot of the foods I love have gone down a point per serving, while a few have gone up (for example, a tablespoon of butter is now 6 points, not 5). Unfortunately there's no way to know which ones have changed, you just have to look them up.
In general, foods with good fats went down in points a little, foods with sugar went up a bit, and whole grains went down some.
Some have changed ever so slightly, which is going to give me a headache. I do almost everything by weight, and I've found many foods that changed enough to give them one more point in a recipe, but if I reduce the amount by literally a gram, it goes back down a point. So this is another thing that I'm going to be spot-checking for a while.
For example, I was expecting the egg and cheese sandwich I have several mornings a week—light wheat English muffin, egg, American cheese—to go down a point, since I'd noticed that the English muffins I buy had gone from three points to two (yay!). But the sandwich was still four points!
When I went into the recipe to investigate, I discovered that the nine grams of American cheese I normally put on had gone up to two points. But if I changed that to eight grams of cheese (a difference nobody would notice), it would go back down by a point. Things like that will be driving me crazy for a while. I wish there were some way to highlight all of the changes so that I could look them over all at once.
Recipe points
The points in all of my recipes updated automatically once I took the assessment.
However, I realized that my laziness in entering recipes is coming back to bite me now. I never bothered adding zero-point foods to my own personal recipes, and now, if those recipes had potatoes in them, or corn, or peas, or other foods that are no longer zero point for me, then the points are no longer accurate. So I need to take a good look at each recipe and make sure it has all of the ingredients added.
Earning Food Points by eating and drinking
This is new! Before, the only way to earn more food points was to exercise. Now, we have two new ways to earn food points!
Earn by eating vegetables
For every cup of non-starchy vegetables you eat, you will earn a food point. This is huge. You could actually lower the points of a recipe by adding more vegetables to it.
Veggie point tracking: automatic vs. manual
These are supposed to be tracked automatically, so if you enter a vegetable that qualifies, or you have qualifying vegetables in a recipe, they should show up as extra points. So make sure you add your vegetables to your recipes, even if they're zero points!
However, you can also add them manually, by pressing the plus sign. You can't manually add a half serving, but if you track half servings of qualifying vegetables, they will be added together and reflected in your points. For example, I added one-and-a-half cups of lettuce and half a cup of tomatoes, and was rewarded with two points.
If you look up a vegetable (spinach in the example below) you'll see a plus on the points, meaning that that food will actually earn you points.
If a recipe has a qualifying vegetable, that recipe will also have a plus sign.
The weird thing about it is that these veggies are just measure in cups. It doesn't matter if they're raw or cooked. For a lot of vegetables that wouldn't matter, but a cup of cooked spinach is a heck of a lot more spinach than a cup of raw spinach. So I could see this being confusing.
Updated 11/8/2021: I did find some clarification on this. Weight Watchers specifies that you should track the amount of vegetable you eat, not the amount you start with. So if you eat four cups of raw spinach, you can count that as four cups. And if you cook it down and eat it, you can only count the amount that it cooked down to.
The one technical hiccup right now seems to be packaged foods that contain vegetables. If that specific food hasn't been updated by Weight Watchers, the vegetables won't be added to your extra veggie points. If you encounter this, I would encourage you to contact customer service and ask them to update that food. In the meantime, you can add the veggie serving manually.
Earn by drinking water
I am not as excited about this one, but it may be beneficial for others. If you drink 60 ounces of water in a day, you will earn an extra food point. Extra water does not earn you more points, though. One per day is all you can earn.
No, coffee and tea don't count. But sugar-free flavored seltzer and unsweetened sparkling water do.
Now, 60 ounces of water is a lot for me, especially in winter. I don't think I'll be hitting that goal. But if you drink a lot of water, make sure you track it and get that point! You can change the amount of a serving (or "container") of water by pressing the little gear icon next to "Water" in My Day.
Activity points
When I finished my weights workout this morning, I noticed I only earned one point for it, when usually I would get three points. However, that point showed up in my weeklies immediately.
In the old plans, you had to bank three or four activity points before you could spend any. This is no longer the case. Any activity points you earn will now be added to your weekly points immediately. I confirmed this with customer service. We will be earning fewer points for exercising, but we can use all of them.
What has stayed the same
Daily and Weekly Points
The whole concept of daily points and weekly points has not changed. They've always been somewhat personalized anyway, based on which color plan you were on, how much you weighed, and other factors. And those points changed as you lost weight. That has all remained the same, even if the amount of your own points changed.
Rollover points
You can still choose to use rollover points, up to four each day. Rollover points are points that you didn't use in a day, that then get carried over into your weekly points.
Where can you get more information?
Weight Watchers actually has a ton of good info about the new program, so if you're feeling confused, reading through these guides will be helpful.
For starters, if you just want to dive into the new plan, this guidebook is a great place to start. It has a lot of information about PersonalPoints, with lots of visualizations and comparisons.
If you want details, there are some good articles here about different aspects of the new program. And you can see all of the possible ZeroPoint foods here.
If you want to go into even more detail, there are these articles. And these pages have specific info about each ZeroPoints category, with explanations and recipes.
So how's it going?
So far, for what I've eaten today (scrambled eggs and veggie sausage, popcorn, a couple of soft tacos, a hard boiled egg, and a banana with a tiny, zero point amount of peanut butter), I'm about where I would usually be with points. My gut feeling is that my eating won't change much on this new plan, although I will definitely be eating fewew air fried French fries (one of my faves, since before I only had to count a teaspoon of oil and some ketchup). Maybe every once in a while, I'll change my zero point foods for a week or so to indulge in something different. Like, I could have Potato Week, then Avocado Week.
I've just been trying to maintain for the past year. I found a comfortable number of points where I could go over and still keep my weight loss from being undone. Now that I have to pay a bit more attention, this new plan might encourage me to lose weight again. I'm still thirty or forty pounds from my goal.
It's worth noting that the app (Android) is being very buggy for me today when it comes to recipes. Any recipes that I already have in the system updated its points automatically to my new plan, but I'm not able to make any changes to recipes in the app, or add new ones (I can still edit and add recipes on the website, however). Hopefully that resolves itself soon. I checked on my husband's iPhone, and his is still working fine.
In the meantime, I can still edit and add recipes on the website. If all you have handy is your phone, remember, you can go to the website in your phone's browser, you don't need to use the app.
The biggest issue I see for myself going forward, aside from more measuring and tracking, is cooking for my husband. I used to know his zero point foods, because they were mine. But now they're different. I need to write down his categories, and see how many of our favorite recipes will be affected.
There's also no easy way for me to see what his points will be for a given recipe. Sometimes when we're figuring out what to eat, one of us will say "OK, I have eight points to work with." Now, I don't know how many points my recipes are for him. We'll figure it out, but I really wish there were an easy way to just see it. If I send him a link to a recipe I've entered into the app, it will automatically calculate the points for his plan, but I'd like to be able to do it myself.
Other than that though, I think things will stay pretty much the same.